Continental Divide South To La Leña Hike
In Cabezon Region
Map File Source: DeLorme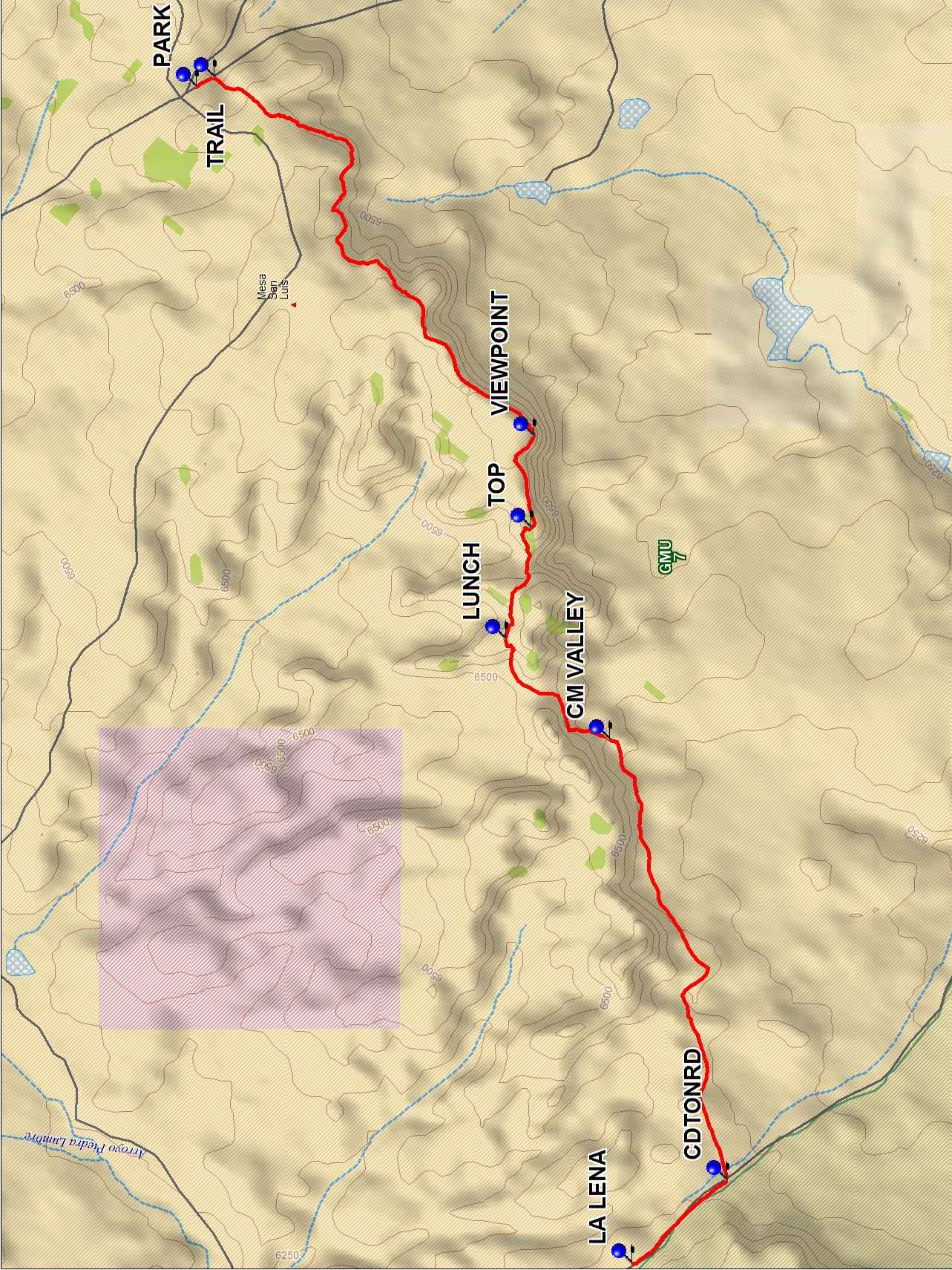 Hike Key:
H10266
Last Updated:
12/15/2020 12:00am
Last Updated By:
Marilyn Warrant
Hike Class:
B (Moderate)
Hike Distance:
5.5 mi
Minimum Elevation:
6364 ft
Elevation Change:
356 ft
Total Uphill:
762 ft
Total Downhill:
848 ft
Avg. Grade:
5 %
Route Type:
Oneway
On Trail:
Yes
Paved or Gravel Roads:
No
GPS Advised:
Yes
Drive Distance Round Trip:
150 mi
Drive Time One-Way:
1:45
Hiking Seasons:
Spring, Fall, and Winter
New Mexico Game Unit:
7
Hike Status:
Published
Access Description:
Cabezon Area Access
Highlights
Sandstone formations, hoodoos, hike on the Continental Divide Trail along mesa edge with views of Cabezon.
Cautions
None.
Trailhead Directions
Continental Divide South TH: From Albuquerque take I-25 north to Bernalillo. At Bernalillo take US 550 to San Ysidro. Drive west 18 mi. past intersection of SR 4 and US 550 in San Ysidro to San Luiz Rd. Turn left and drive 8.5 miles to TORREON RD just after a cattle guard. Turn right and drive 3.6 miles to a cattle guard at the top of the rise. 0.1 mile beyond the cattle guard, TURN LEFT onto a dirt road. Go 0.4 miles to a cross road at RTE 197. Turn left and drive 0.1 mile to a "Y" in the road. PARK (0.0 mi) your vehicle here.
La Leña TH: Same directions except go 12 mi. on San Luis Road (past Torreon Rd.), veer to the right at TURN1 then turn right at TURN2 after another 2 mi. Go uphill for another 4.4 mi, and park at LA LENA on or slightly off of a two-track road on the right. Walk down the road a short distance to the cairn just off the road CDTONRD. The road crosses an arroyo at one point, but the bottom is mostly rock.
Actual Hike
The following directions are written for the group that starts from the north end of the hike. From PARK, go a short distance south on the road until you come to a cairn marking the TRAIL (0.1 mi). On the southwest side of the road. Follow the cairns along the rims of the scenic mesas. The trail is well marked (with cairns) on mostly rocky terrain with sandy patches along a mostly north-south track. The trail is also marked with metal plates on tree trunks and the initials CD and an arrow punched into the metal. Stop at VIEWPOINT (2.0 mi) for a great view of Cabezon in the distance. Continue past the high point of the hike at TOP (2.3 mi) to LUNCH (2.8 mi) where you can watch out for the other group approaching from the south. After exchanging keys, continue down a steep slope to the "Continental Divide Monument Valley" (CM VALLEY (3.4 mi) ). Enjoy the views of the cliffs. You can follow the Continental Divide Trail all the way to where it meets the road at CDTONRD (5.0 mi), or if you can see the other van, just hike towards it.
Comments
Spectacular views of the Rio Puerco Valley, Cabezon Peak and many other cinder cones and volcanic plugs. The sandstone bluffs contain many intense reds and you'll find odd eggshell forms and hollows in them. Twisted juniper trees abound. This hike requires a shuttle or two vans and a key exchange. If you do a cross-over hike with another center and meet up at Bernalillo, both groups should end up at the lunch location at nearly the same time.
Waypoints
RTE 197: N35 42.451, W107 06.701
TORREON RD: N35 40.177, W107 03.665
TURN LEFT: N35 42.486, W107 06.312
TURN1: N35 37.926, W107 06.500
TURN2: N35 38.135, W107 07.938
PARK: N35 42.406, W107 06.653
TRAIL: N35 42.356, W107 06.618
VIEWPOINT: N35 41.433, W107 07.895
TOP: N35 41.443, W107 08.218
LUNCH: N35 41.514, W107 08.614
CM VALLEY: N35 41.214, W107 08.970
CDTONRD: N35 40.877, W107 10.534
LA LENA: N35 41.151, W107 10.830
Map Filename:
ContinentalDivideSouthToLaLenaMap_MW.jpg
Hike GPS File Name:
ContinentalDivideSouthToLaLenaWayTrack_MWMW.gpx
Hike GPS File:
Click
link
to download hike waytrack file
Text Author:
Marilyn Warrant
Map Author:
Marilyn Warrant
Waypoints Author:
Marilyn Warrant
Track Author:
Marilyn Warrant
Maintainer:
Marilyn Warrant
Editor:
Howard Carr