Canoncito – Crest – Bart's Loop Hike
In Sandia Mountain East Region
Map File Source: NG Topo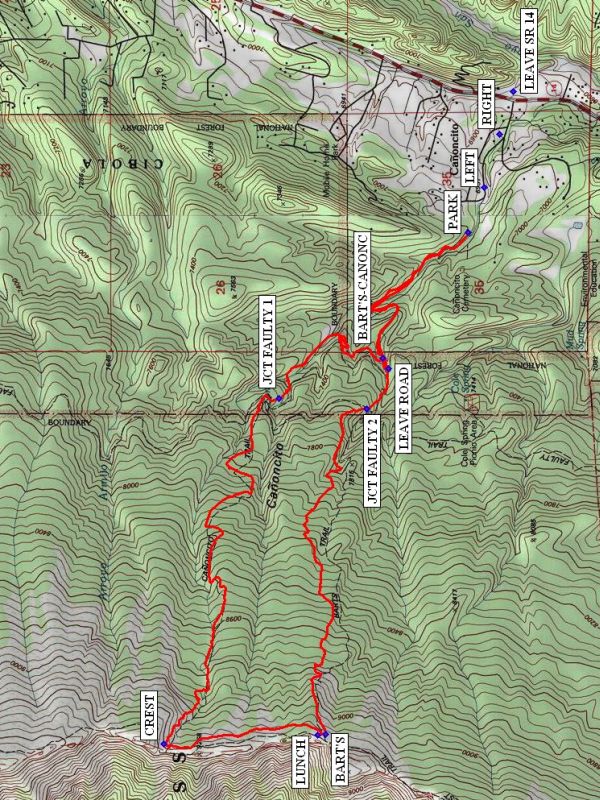 Hike Key:
H10015
Last Updated:
03/20/2023 2:11pm
Last Updated By:
Marilyn Fixer
Hike Class:
E (Most difficult)
Hike Distance:
8.2 mi
Minimum Elevation:
6968 ft
Elevation Change:
2247 ft
Total Uphill:
2337 ft
Total Downhill:
2337 ft
Avg. Grade:
12 %
Route Type:
CCW Loop
On Trail:
Paved or Gravel Roads:
GPS Advised:
Hiker Limit (NF/BLM/NP):
15 (Sandia Wilderness)
Drive Distance Round Trip:
45 mi
Drive Time One-Way:
0:30
Hiking Seasons:
Summer and Fall
New Mexico Game Unit:
8
Hike Status:
Inactive
Highlights
A challenging, great workout hike with great views from the top.
Cautions
The Canoncito access from Cole Springs Rd is now closed-too bad.
Trailhead Directions
From Albuquerque take I-40 east to Tijeras exit 175. Exit north on SR 14 and go 3.4 miles to LEAVE SR 14 and turn left onto Canoncito. It will be 0 .7 miles to parking from the turn. At the first Y keep RIGHT. At the second Y and the pavement's end keep LEFT. PARK (0.0 mi) at the locked gate.
Actual Hike
The road and property beyond the gate is private. Please stay on the road and observe the rules posted on the gate. Hike the road and LEAVE ROAD (1.0 mi) to the right, and at BART'S-CANONC (1.0 mi) find a trail that doubles back up the hill at a traverse. This is Canoncito Trail. Along this segment of the hike there will be numerous travertine falls. Pass JCT FAULTY 1 (2.1 mi) and continue all the way to the CREST (4.4 mi) Trail. Follow the Crest Trail south to find the beginning of BART'S (5.1 mi) Trail, and eat LUNCH (5.1 mi) nearby with a great view to the west. Hike back down along Bart's, passing JCT FAULTY 2 (6.9 mi) on the way back to the junction of Bart's and Canoncito, to rejoin the road back to the van.
Comments
Some of Bart's Trail has an 18% grade, so bring trekking poles to help with the downhill part of the hike.
This hike is marked inactive because the trailhead using Cole Springs Road is now closed to the public and there is no other nearby access. Click the link to read the road closure notice from the Cibola National Forest Sandia Ranger District.
Waypoints
LEAVE SR 14: N 35 07.940, W 106 21.988
LEFT: N 35 08.046, W 106 22.414
RIGHT: N 35 07.992, W 106 22.179
PARK: N 35 08.104, W 106 22.615
BART'S-CANONC: N 35 08.417, W 106 23.171
LEAVE ROAD: N 35 08.396, W 106 23.217
JCT FAULTY 1: N 35 08.795, W 106 23.347
CREST: N 35 09.213, W 106 24.881
BART'S: N 35 08.623, W 106 24.837
LUNCH: N 35 08.654, W 106 24.841
JCT FAULTY 2: N 35 08.475, W 106 23.393
Map Filename:
Canoncito-Crest-Bart'sLoopImage_MW.jpg
Hike GPS File Name:
Canoncito-Crest-Bart'sLoopWayTrack_KS.gpx
Hike GPS File:
Click
link
to download hike waytrack file
Text Author:
Ken Smith
Map Author:
Marilyn Warrant
Waypoints Author:
Ken Smith
Track Author:
Ken Smith
Maintainer:
Ken Smith
Editor:
Marilyn Warrant