Blue Dot – Red Dot Trails Loop Hike
In Los Alamos Region
Map File Source: NG Topo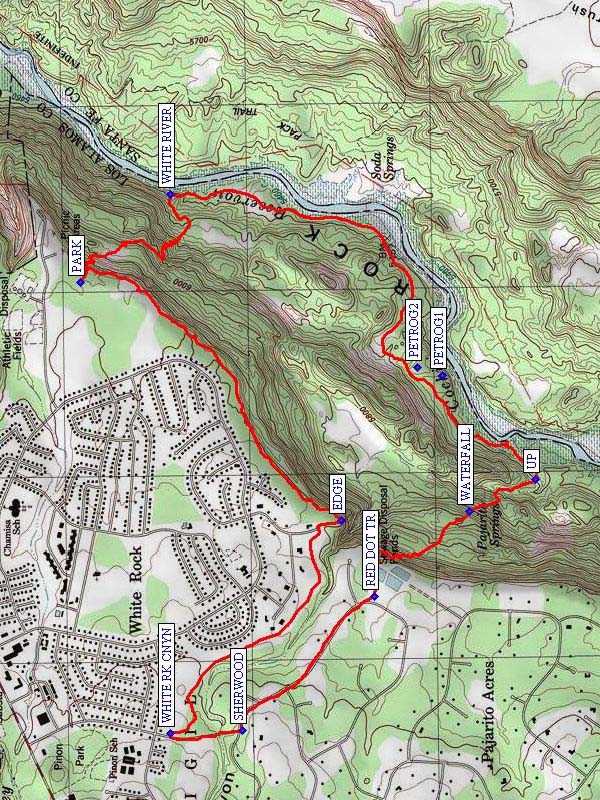 Hike Key:
H10283
Last Updated:
12/15/2020 12:00am
Last Updated By:
Marilyn Warrant
Hike Class:
D (Difficult)
Hike Distance:
7.4 mi
Minimum Elevation:
5425 ft
Elevation Change:
1025 ft
Total Uphill:
1420 ft
Total Downhill:
1420 ft
Avg. Grade:
10 %
Route Type:
Loop
On Trail:
No
Paved or Gravel Roads:
Yes
GPS Advised:
Yes
Drive Distance Round Trip:
180 mi
Drive Time One-Way:
1:45
Hiking Seasons:
Spring, Fall, and Winter
New Mexico Game Unit:
6C
Hike Status:
Published
Highlights
Challenging hike given the steep grades both down and up. View the petroglyphs on way up during rest stops. Views of Rio Grande from the top of ridge.
Cautions
Steep slopes. Trekking poles recommended.
Trailhead Directions
From Albuquerque, take I-25 to US 84/285 to the Pojoaque exit, west on NM 502, south on NM 4 to White Rock. From NM 4 turn left on Rover; take first left onto Meadow Ln then turn left at Overlook Rd. Stay on Overlook Rd past the athletic fields and turn right opposite park maintenance shed. PARK (0.0 mi) at rear of parking area at trailhead sign for the Blue Dot Trail.
Actual Hike
From parking follow the Blue Dot Trail that makes a steep descent down to the WHITE RIVER (0.8 mi) Trail and follow that trail south and west along the Rio Grande. Ascend the Red Dot Trail starting at UP (2.9 mi), and reach the WATERFALL (3.2 mi) near Pajarito Springs. This is a good place for a lunch stop or a break. Continue on up the Red Dot Trail. There are large, extensive petroglyphs that can be seen from the trail at PETROG1 and PETROG2. To return to Overlook Park turn right on Piedra Loop just past the Red Dot trailhead at RED DOT TR (4.0 mi) and walk to SHERWOOD (4.6 mi) Blvd. Turn right at gate on dirt road where a small sign marks the start of White Rock Canyon Rim Trail (WHITE RK CNYN (4.9 mi)). Follow this trail to EDGE (6.0 mi) of canyon and bear left along canyon rim to Overlook Park and the van.
Comments
This hike is most easily done by going down the Blue Dot Trail and up the Red Dot Trail. Even though the average grade is 10%, because of the steep slopes of the Blue Dot and Red Dot trails (17% grade), the hike rating is increased to D. The waterfall at Pajarito Spring makes this a perfect place to stop and have lunch. If you have a shuttle vehicle or two vans, park one of them at WHITE RK CNYN and the other near the RED DOT TR and start the hike from WHITE RK CNYN going southeast to avoid the walk in the residential neighborhood (This decreases hike distance by 0.6 mi; but, it's still a D hike). The waypoints were determined from the track and topo as well as from GPS data provided with the book Hiking Adventures in Northern New Mexico, by Salzman and Salzman.
Waypoints
PETROG1: N35 48.392, W106 11.410
PETROG2: N35 48.466, W106 11.381
PARK: N35 49.453, W106 11.077
WHITE RIVER: N35 49.190, W106 10.758
UP: N35 48.119, W106 11.785
WATERFALL: N35 48.314, W106 11.900
RED DOT TR: N35 48.592, W106 12.204
SHERWOOD: N35 48.979, W106 12.686
WHITE RK CNYN: N35 49.189, W106 12.697
EDGE: N35 48.690, W106 11.933
Map Filename:
BlueDot-RedDotTrailsLoopImage_MW.JPG
Hike GPS File Name:
BlueDot-RedDotTrailsLoopWayTrack_LMMW.gpx
Hike GPS File:
Click
link
to download hike waytrack file
Text Author:
Vivian Heyward
Map Author:
Marilyn Warrant
Waypoints Author:
Marilyn Warrant
Track Author:
Larry Mounger
Maintainer:
Vivian Heyward
Editor:
Marilyn Warrant