Holy Ghost – Stewart Lake – Winsor Creek Hike
In Pecos Region
Map File Source: NG Topo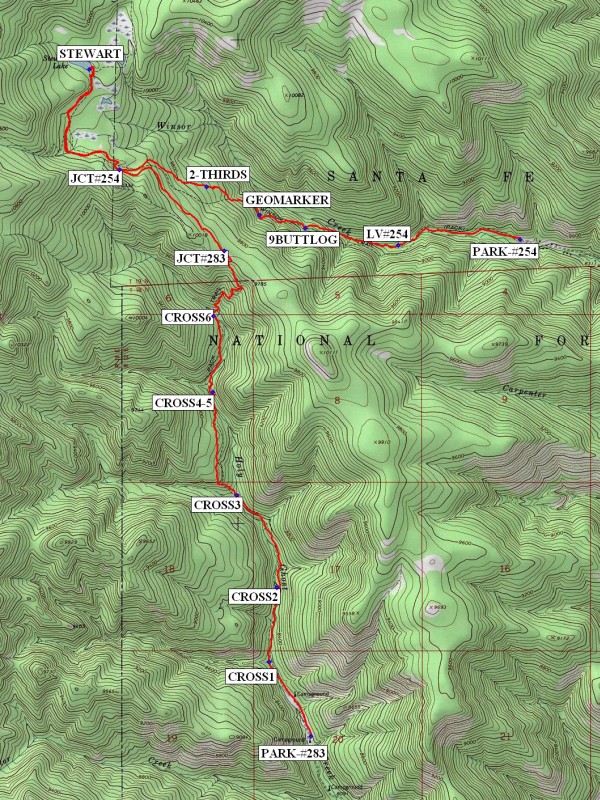 Hike Key:
H10297
Last Updated:
03/13/2021 12:00am
Last Updated By:
Marilyn Fixer
Hike Class:
D (Difficult)
Hike Distance:
9.9 mi
Minimum Elevation:
8210 ft
Elevation Change:
2032 ft
Total Uphill:
2111 ft
Total Downhill:
1850 ft
Avg. Grade:
9 %
Route Type:
Oneway
On Trail:
Yes
Paved or Gravel Roads:
Yes
GPS Advised:
No
Hiker Limit (NF/BLM/NP):
15 (Pecos Wilderness)
Drive Distance Round Trip:
190 mi
Drive Time One-Way:
2:00
Hiking Seasons:
Spring, Summer, and Fall
New Mexico Game Unit:
45
Hike Status:
Published
Highlights
A strenuous hike in the woods with lush wildflowers along the trail, as well as at the lake.
Cautions
Hiking poles recommended.
Trailhead Directions
Holy Ghost TH: I-25 north past Santa Fe, Take exit 299 (Glorieta/Pecos). Follow SR 50 to Pecos where it ends at SR 63. For a rest stop, there is a Ranger Station 1/4 mile to right on 63 on your right. Otherwise go left on 63 for about 14 miles (milepost 18) almost to Terrero. Bear left just before bridge across Pecos River taking Holy Ghost Canyon Rd 122 approx. 3 mi. to trailhead of Holy Ghost Trail 283. Pay $4 fee with Golden Age Passport and drive all the way to end to gate for Groups Only to park. You could avoid the small fee and park at sign for Trailhead Parking, but have to walk 20-25 min. on paved road through the campground each way. Winsor Creek: Go north on I-25 to Exit 299 Glorieta. Cross over the highway, turn right onto NM 50, and travel 6 mi to the town of Pecos and a junction with NM 63. Turn left, and proceed 20.2 mi to Cowles. Make a left turn over the Pecos River onto Forest Road 121. Continue on this road for a little over a mile to the end of the road and Winsor Creek Campground.
Actual Hike
This hike requires two groups of hikers in two vans, one to start from the Holy Ghost Creek trailhead and the other to start from the Winsor Creek trailhead near Cowles. Both groups hike uphill to Stewart Lake for lunch, exchange van keys, and then hike downhill to the other trailhead. See the hike descriptions: Holy Ghost Creek (you'll extend this hike) and Winsor Creek to Stewart Lake for details.
Comments
This is a strenuous hike either way, but about 250 ft more climbing elevation for the group starting on the Holy Ghost side. Allow extra time (2-3 hours extra), leaving early to try to get to the lake before afternoon rains. This hike description uses the old trail from Winsor Creek to Stewart Lake that is not being maintained by the Forest Service, so you might want to check it out before leading a group. The trail was fine in 2010, with a few trees to step over, but there will be increasing amounts of deadfall.
Waypoints
DQ: N35 34.509, W105 41.763
TERRERO: N35 44.548, W105 40.579
PARK: N35 46.399, W105 42.069
CROSS1: N35 46.785, W105 42.342
CROSS2: N35 47.168, W105 42.293
CROSS3: N35 47.647, W105 42.549
CROSS4-5: N35 48.180, W105 42.699
CROSS6: N35 48.574, W105 42.696
JCT#283: N35 48.911, W105 42.626
JCT#254: N35 49.331, W105 43.292
STEWART: N35 49.849, W105 43.482
2-THIRDS: N35 49.244, W105 42.690
GEOMARKER: N35 49.096, W105 42.403
9BUTTLOG: N35 49.030, W105 42.112
LV#254: N35 48.942, W105 41.525
PARK-#254: N35 48.971, W105 40.748
Map Filename:
HolyGhost-StewartLake-WinsorCreek_Nnew.jpg
Hike GPS File Name:
HolyGhost-StewartLake-WinsorCreekWayTrack_MWMW.gpx
Hike GPS File:
Click
link
to download hike waytrack file
Text Author:
Marilyn Warrant
Map Author:
Marilyn Warrant
Waypoints Author:
Marilyn Warrant
Track Author:
Marilyn Warrant
Maintainer:
Marilyn Warrant
Editor:
Howard Carr