Bluebird Mesa Hike
In Cuba Region
Map File Source: Garmin BaseCamp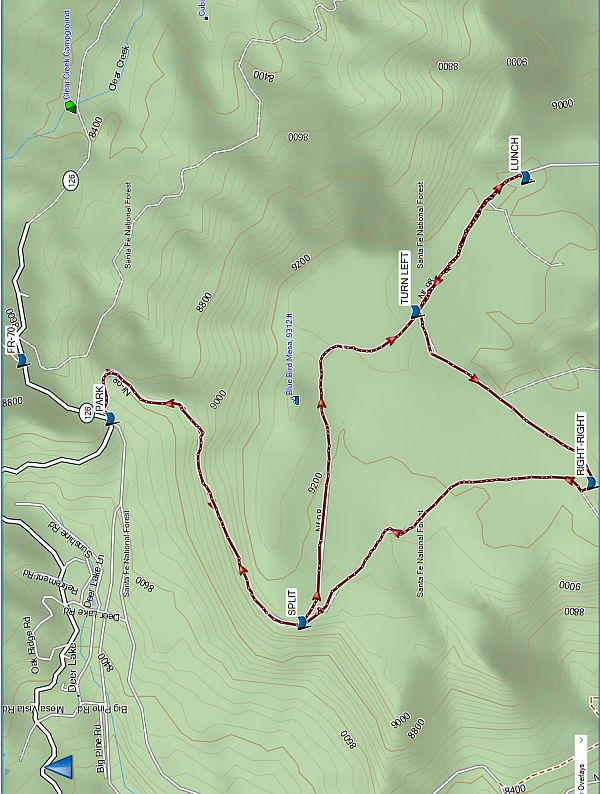 Hike Key:
H10690
Last Updated:
09/13/2023 1:09pm
Last Updated By:
Dawn McIntyre
Hike Class:
C (Challenging)
Hike Distance:
7 mi
Minimum Elevation:
8750 ft
Elevation Change:
490 ft
Total Uphill:
680 ft
Total Downhill:
680 ft
Avg. Grade:
4 %
Route Type:
Messy
On Trail:
No
Paved or Gravel Roads:
Yes
GPS Advised:
Yes
Drive Distance Round Trip:
190 mi
Drive Time One-Way:
2:00
Hiking Seasons:
Spring and Summer
New Mexico Game Unit:
6A
Hike Status:
Published
Attractions:
Forest, Meadows, and Views
Highlights
The trail climbs about 700 ft in 1.5 miles to a spectacular view looking north and west toward Chaco. On the rest of the hike, the trail crosses some large meadows lined with fir and aspens, along with dense stands of Spruce. Pond and springs abundant on this trail.
Cautions
None.
Trailhead Directions
I-25 north to Bernalillo exit 242, west on US 550 to Cuba. East on SR 126 about 10 mi. Park at the trail head that is on the right at NF 98. (If you reach FR-70, you've gone too far.)
Actual Hike
From PARK, head up the hill on a rock old NF-98, taking the left-had option at SPLIT (1.3 mi). The trail becomes mostly level, with meadows and forest. Continue on past TURN LEFT (2.5 mi) to have LUNCH (3.1 mi) up on the mesa. On the way back, turn off NF-98 at TURN LEFT (3.7 mi) and go southwest. At RIGHT-RIGHT (4.5 mi), take a right turn and quickly another right turn. Now you're going north then north-west. Keep on this trail, which intersects with SPLIT (5.7 mi), and return to PARK.
Comments
If you're here in the fall, keep an eye out for hunters.
Waypoints
FR: N35 59.930, W106 50.407
PARK: N35 59.690, W106 50.602
SPLIT: N35 59.167, W106 51.254
TURN LEFT: N35 58.864, W106 50.242
LUNCH: N35 58.565, W106 49.790
TURN LEFT: N35 58.861, W106 50.206
RIGHT-RIGHT: N35 58.388, W106 50.819
SPLIT: N35 59.169, W106 51.290
Map Filename:
BluebirdMesaMap_MW
Hike GPS File Name:
BluebirdMesaWayTrack_MW.gpx
Hike GPS File:
Click
link
to download hike waytrack file
Text Author:
Cindy McConnell
Map Author:
Marilyn Warrant
Waypoints Author:
Marilyn Warrant
Track Author:
Marilyn Warrant
Maintainer:
Marilyn Warrant
Editor:
Dawn McIntyre