Trail Canyon South To Ojo Del Indio Hike
In Manzano Mountains East Region
Map File Source: DeLorme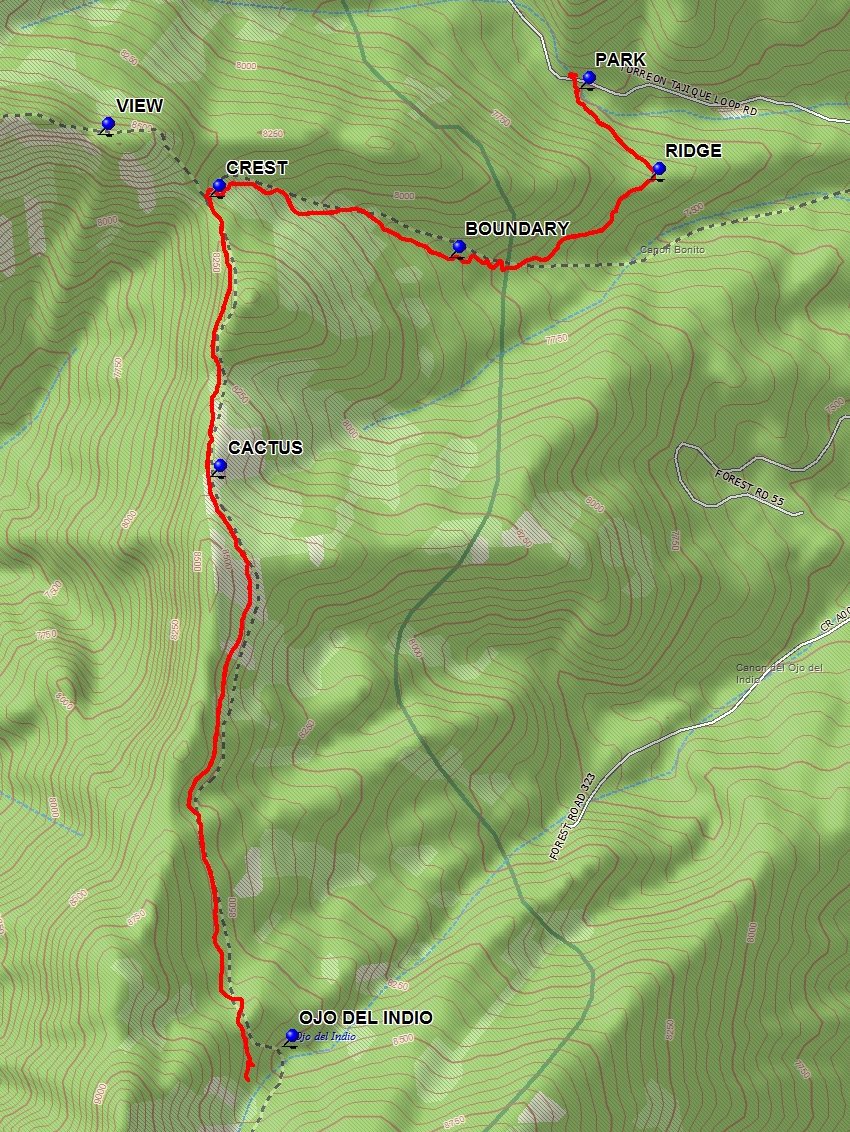 Hike Key:
H10667
Last Updated:
12/15/2020 12:00am
Last Updated By:
Marilyn Warrant
Hike Class:
D (Difficult)
Hike Distance:
7.9 mi
Minimum Elevation:
7540 ft
Elevation Change:
1150 ft
Total Uphill:
1590 ft
Total Downhill:
1590 ft
Avg. Grade:
9 %
Route Type:
InOut
On Trail:
Yes
Paved or Gravel Roads:
No
GPS Advised:
Yes
Drive Distance Round Trip:
120 mi
Drive Time One-Way:
1:30
Hiking Seasons:
Summer and Fall
New Mexico Game Unit:
14
Hike Status:
Published
Highlights
A forest hike in oaks, ponderosa pines, and Rocky Mountain maples that are beautiful in the fall. Views and a field of pincushion cactus that bloom in June.
Cautions
Some steep portions, so hiking poles are recommended.
Trailhead Directions
I-40 east to Tijeras exit 175. South on 337 (14) to its end (mile 0). West on SR 55 to Tajique and on to Torreon. Follow the track named "Access Torreon" in the GPS file labeled "Route".
(The following directions haven't been checked since Sept 2010.) At the far end of Torreon turn right onto La Questa Street (red roofs). There is also a sign there: "SUFI Foundation of America Retreat Center." Then immediately take a right onto (what may be unnamed) FR 55 (yes, SR 55 and FR 55 have the same number). It also is called Tajique-Torreon Loop Road (T-T Lp Rd). You will come to a tee with a white pipe fence and a pillar with a golden lion on top. That is the Sufi Center. Turn right there. Pass over two cattle guards and see sign: "Cibola Forest." Watch for the trailhead sign for Trail Canyon Trail. Drive across stream and PARK on your left near the mapboard.
Another option is to drive to the 4th of July trailhead, go past the Bosque Peak trailhead, then reach the Trail Canyon trailhead. The total distance is about the same, but your time on the rutted, narrow Tajique-Torreon Loop Road is much greater.
Actual Hike
From the mapboard, the trail goes south over a small RIDGE (0.4 mi) and down into the canyon on the other side. Then the trail goes up the canyon, comes to the wilderness BOUNDARY (1.0 mi), and then to the intersection of the Trail Canyon Trail with the Manzano Crest Trail 170 at CREST (1.7 mi). (Take a few steps to your right to see the start of the Comanche Canyon Trail that goes down the west side of the mountain. If desired, go about half a mile north to VIEW.) Take a left to go south on the Crest Trail. The trail is well-marked with cairns, and the oaks haven't completely overgrown the path. This part of the hike is mostly uphill, but with a more gradual slope. Start with a narrow section with a steep dropoff to the west side. After that, the trail goes through wooded sections interspersed with meadows. Notice the meadow filled with pincushion CACTUS (2.4 mi) that bloom in June. Continue on through a shady ponderosa forest to look for the spring at OJO DEL INDIO (4.0 mi) and have lunch just off the trail or down at the spring.
Comments
Only a driver experienced driving on 4-wheel roads should volunteer for this hike.
Don't try to do this hike if there has been significant rain in the recent past or rain is expected on the hike day.
Waypoints
Access
HWY55-CRA008: N34 43.107, W106 17.978
T-T LP RD: N34 44.132, W106 20.782
Hike
PARK: N34 44.577, W106 23.385
RIDGE: N34 44.394, W106 23.213
BOUNDARY: N34 44.238, W106 23.703
CREST: N34 44.359, W106 24.291
VIEW: N34 44.484, W106 24.563
CACTUS: N34 43.797, W106 24.289
OJO DEL INDIO: N34 42.651, W106 24.113
Map Filename:
TrailCanyonToOjoDelIndioMap.jpg
Hike GPS File Name:
TrailCanyonToOjoDelIndio500_MW.gpx
Hike GPS File:
Click
link
to download hike waytrack file
Text Author:
Marilyn Warrant
Map Author:
Marilyn Warrant
Waypoints Author:
Marilyn Warrant
Track Author:
Marilyn Warrant
Maintainer:
Randy Simons
Editor:
Dawn McIntyre