Continental Divide Trail near Echo Canyon Hike
In Ghost Ranch Region
Map File Source: Garmin BaseCamp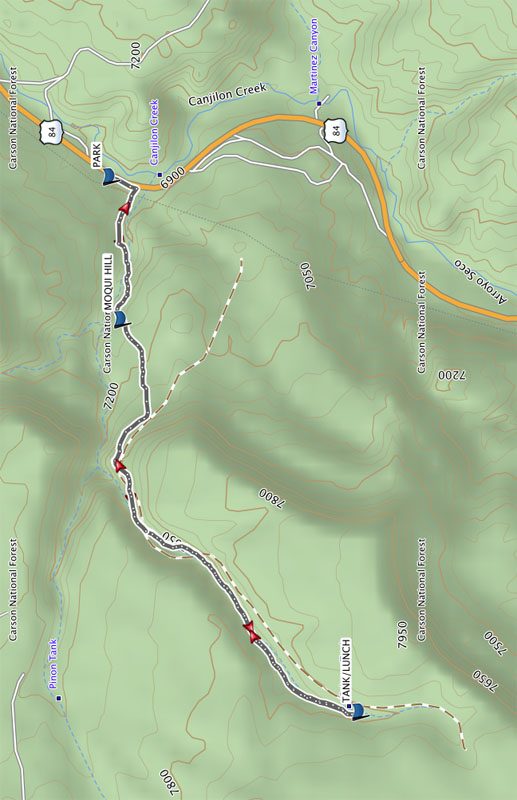 Hike Key:
H10650
Last Updated:
03/12/2021 12:00am
Last Updated By:
Marilyn Fixer
Hike Class:
C (Challenging)
Hike Distance:
5.3 mi
Minimum Elevation:
6950 ft
Elevation Change:
911 ft
Total Uphill:
1230 ft
Total Downhill:
1230 ft
Avg. Grade:
8 %
Route Type:
InOut
On Trail:
Yes
Paved or Gravel Roads:
Yes
GPS Advised:
No
Drive Distance Round Trip:
252 mi
Drive Time One-Way:
2:00
Hiking Seasons:
Spring, Summer, and Fall
New Mexico Game Unit:
5B
Hike Status:
Published
Highlights
CDT trail is well marked with a moderately steep ascent through a ponderosa pine forest with views to the north. Turn around is at Salazar Tank but the hike could be as long as desired. A variety of wild flowers in the spring include the pasque flower.
Cautions
Poles are encouraged for those who need them for rocky and steep hiking.
Trailhead Directions
Take I-25 to 599 Santa Fe bypass. At the end, take exit 84-285 to Espanola. Take either route in Espanola to get to US 84/285. At mile marker 192, the divided highway ends and you are now on US 84. Continue on past Abiquiu Lake, Ghost Ranch and former wildlife preserve. There are bathroom facilities at Echo Canyon turnoff if needed. Continue past mile marker 232 and Blue Angel Canyon. At the end of the guard rail, on the west side, is a santuario to Mary. The Continental Divide Trail Section 27 begins before the bridge, and parking is wherever it is available, especially if the road is muddy.
Actual Hike
The CDT trail marker shows the beginning of the trail which is well marked with blazes and cairns. The climb starts gently from PARK to MOQUI HILL (0.6 miles). At this waypoint, look for the unique moqui marbles. The stony spheres are concretions– sandstone balls cemented by a hard shell of iron oxide minerals. They are more often seen in Arizona and Utah.
Proceed on the steady uphill climb until you get to the pond at the TANK/LUNCH waypoint (2.7 mi). In the spring, it's possible to see a variety of wildflowers on this stretch, and if you time it right, you will see the pasque flower which blooms for about 2 weeks; we saw them in mid April.
The trail has two steep inclines but levels out at the top. Elevation at PARK is 6903′ and 7814′ at Salazar Tank which is the turnaround point, but it's possible to continue further.
After lunch, return the way you came and return to PARK (5.3 mi). If time allows, walk a short distance to explore the santuario of La Virgen Maria.
Comments
An additional hike to Poshuouinge Ruins is optional. 2.5 miles south of Abiquiu on U.S. Highway 84 and 22 miles south of the CDT trail, a National Forest Service sign on the west side of US 84 marks the entrance. There is a small parking area next to the trailhead. The hike is a 1 mile round trip up a steep hill that overlooks ancient unexcavated ruins and views of the Chama River Valley.
If you plan to add on the hike to the ruins, schedule Continental Divide Trail Near Echo Canyon and Poshuouinge Ruins hike instead.
Waypoints
PARK: N36 24.075, W106 29.711
MOQUI HILL: N36 24.038, W106 30.280
TANK/LUNCH: N36 23.261 W106 31.842
Map Filename:
CDT NEAR ECHO.jpg
Hike GPS File Name:
CDTNearEcho_DM.gpx
Hike GPS File:
Click
link
to download hike waytrack file
Text Author:
Dawn McIntyre
Map Author:
Dawn McIntyre
Waypoints Author:
Dawn McIntyre
Track Author:
Dawn McIntyre
Maintainer:
Cathy Intemann
Editor:
Marilyn Warrant