Challenge-Capulin-Balsam Glade Loop Hike
In Sandia Mountain East Region
Map File Source: DeLorme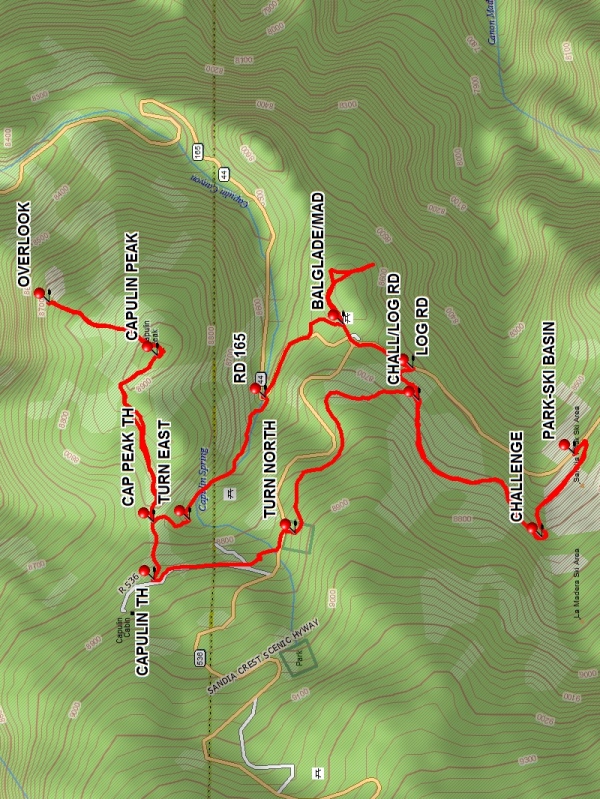 Hike Key:
H10580
Last Updated:
12/15/2020 12:00am
Last Updated By:
Marilyn Warrant
Hike Class:
C (Challenging)
Hike Distance:
5.1 mi
Minimum Elevation:
8584 ft
Elevation Change:
367 ft
Total Uphill:
988 ft
Total Downhill:
988 ft
Avg. Grade:
8 %
Route Type:
Messy
On Trail:
Yes
Paved or Gravel Roads:
Yes
GPS Advised:
Yes
Drive Distance Round Trip:
56 mi
Drive Time One-Way:
0:45
Hiking Seasons:
Spring, Summer, and Fall
New Mexico Game Unit:
8
Hike Status:
Published
Highlights
Views from Capulin Peak of eastern slope of Sandia Mountains, ski area, and Palomas Peak. Enjoy Balsam Glade Nature Trail up to Madera Canyon Overlook. Discover how to link up with Challenge Trail to close loop.
Cautions
None.
Trailhead Directions
From Albuquerque take 1-40 east to Tijeras exit 175, then go north on SR 14 to SR 536. Go east up the mountain to the Sandia Ski Area, and park along the road at PARK-SKI BASIN.
Actual Hike
From parking, walk across the ski basin parking lot to the north side. Go up the road west to the CHALLENGE Trail (0.3 mi). Continue on the Challenge Trail past the intersection CHALL/LOG RD (0.7 mi) with an old logging road, going northwest. When you see the entrance across the Crest Hwy into the Capulin PG and Snowplay area, TURN NORTH (1.2 mi), descend the slope, and cross the highway. Walk on the paved PG road until it deadends in a small, circular parking lot. Look for a path on the right CAPULIN TH (1.6 mi), marked with blue diamonds. At a trail split CAP PEAK TH (1.7 mi), take the left branch marked with a straight arrow and blue diamond. Continue through a forested area and follow the rocky path as it breaks out into a high, open area. Follow the path marked with cairns to CAPULIN PEAK (2.1 mi) and enjoy the scenery. This route circles to the west and down through the forest; then opens up as you proceed down to the OVERLOOK (2.4 mi) where there is direct view of Palomas Peak. Have a bite to eat here. Retrace the route back to the trail split (3.0 mi). Go left (south), descend into a meadow, TURN EAST (3.1 mi), and continue to the intersection with RD 165 (3.4 mi). Turn right (southeast) across from the Balsam Glade PG. Stroll through the PG to its parking area. Then, take the nature trail BALSAM GLADE/LA MADERA (BALGLADE/MAD (4.1 mi)) up to the Madera Canyon Overlook with nice views of the canyon. Return to the PG parking area, cross Crest Hwy, and find an old LOG RD (4.2 mi) on the right. Follow the road a short distance to the intersection with the Challenge Trail at CHALL/LOG RD (4.3 mi) and retrace your trail back to the Ski Basin parking lot.
Waypoints
PARK-SKI BASIN: N35 12.433, W106 24.752
CHALLENGE: N35 12.489, W106 24.926
CHALL/LOG RD: N35 12.698, W106 24.642
TURN NORTH: N35 12.909, W106 24.918
CAPULIN TH: N35 13.149, W106 25.016
CAP PEAK TH: N35 13.151, W106 24.895
CAPULIN PEAK: N35 13.144, W106 24.547
OVERLOOK: N35 13.328, W106 24.436
TURN EAST: N35 13.089, W106 24.890
RD 165: N35 12.960, W106 24.636
BALGLADE/MAD: N35 12.827, W106 24.482
LOG RD: N35 12.707, W106 24.574
Map Filename:
Challenge-CapulinLoopMapDL_MW.jpg
Hike GPS File Name:
Challenge-CapulinLoopWayTrack_DV.gpx
Hike GPS File:
Click
link
to download hike waytrack file
Text Author:
Dennis Vick
Map Author:
Marilyn Warrant
Waypoints Author:
Dennis Vick
Track Author:
Dennis Vick
Maintainer:
Not Assigned
Editor:
Howard Carr