El Porvenir Hike
In Las Vegas Region
Map File Source: NG Topo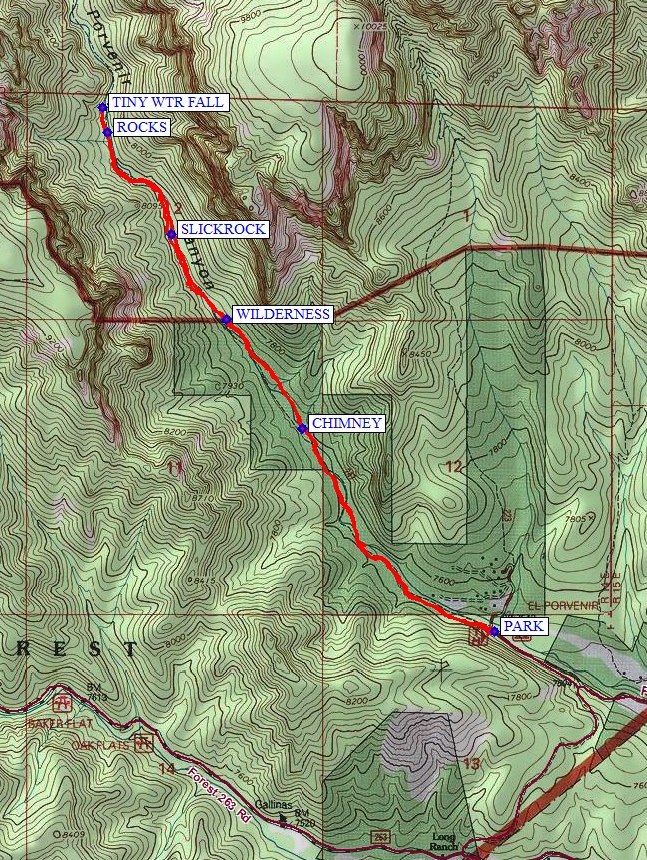 Hike Key:
H10564
Last Updated:
01/04/2023 7:51pm
Last Updated By:
Marilyn Fixer
Hike Class:
B (Moderate)
Hike Distance:
5.1 mi
Minimum Elevation:
7500 ft
Elevation Change:
490 ft
Total Uphill:
345 ft
Total Downhill:
345 ft
Avg. Grade:
4 %
Route Type:
InOut
On Trail:
Yes
Paved or Gravel Roads:
Yes
GPS Advised:
Yes
Drive Distance Round Trip:
282 mi
Drive Time One-Way:
2:30
Hiking Seasons:
Spring, Summer, and Fall
New Mexico Game Unit:
45
Hike Status:
Published
Highlights
A walk along a beautiful stream with wildflowers and views of the cliffs above. Slickrock and a small waterfall.
Cautions
Hiking poles useful when crossing the stream or rocky areas. Water shoes recommended for spring or summer hikes.
Trailhead Directions
From Albuquerque, take I-25 north to Exit 343 in Las Vegas, turn left and follow Hwy. 85 north 1 mile, turn left at Hwy 329 at UWC sign, in 2 miles turn left on Hot Springs Rd. (Hwy 65) and proceed north for 13 miles. Take the right fork at the El Porvenir sign. Proceed 3 miles to a small parking area on the right. The trail starts across the road from the parking area.
Actual Hike
Cross the road from the small parking area to start on the trail which follows the stream on one side or the other. There are a number of stream crossings, not enough to require water shoes in the fall but could be more challenging earlier in the year. The first part of the trail has several wooden bridges and one metal swinging bridge. The trail is easy to follow, shady, and runs mostly north-south. An early landmark is the CHIMNEY (1.2 mi). About half a mile later, the trail passes into the Pecos WILDERNESS (1.7 mi) area. Take time to look over the trail down into the river, where you'll see some SLICKROCK (2.1 mi) and small cascades. There are glimpses of the canyon walls on either side, and peaks off in the distance (El Cielo (about 9800 ft) to the west and Hermit Peak (about 10000 ft) to the east). Take your time over some ROCKS (2.65 mi) and reach a deep pool with a TINY WTR FALL (2.7 mi). Look for fish in the pool.
Comments
The Hermit Peak fire of 2022 burned this area, so this hike has been marked "Inactive".
Waypoints
PARK: N35 42.625, W105 24.844
CHIMNEY: N35 43.220, W105 25.535 (1.2 mi)
WILDERNESS: N35 43.538 W105 25.807 (1.7 mi)
SLICKROCK: N35 43.789 ,W105 26.006 (2.1 mi)
ROCKS: N35 44.086, W105 26.237 (2.65 mi)
TINY WTR FALL: N35 44.161, W105 26.255 (2.7 mi)
Map Filename:
ElPorvenirMap1_MW.JPG
Hike GPS File Name:
ElPorvenirWayTrack1_MW.gpx
Hike GPS File:
Click
link
to download hike waytrack file
Text Author:
Marilyn Warrant
Map Author:
Marilyn Warrant
Waypoints Author:
Ken Smith
Track Author:
Ken Smith
Maintainer:
Frank Ernst
Editor:
Howard Carr