El Calderon Cinder Cone Hike
In El Malpais Region
Map File Source: DeLorme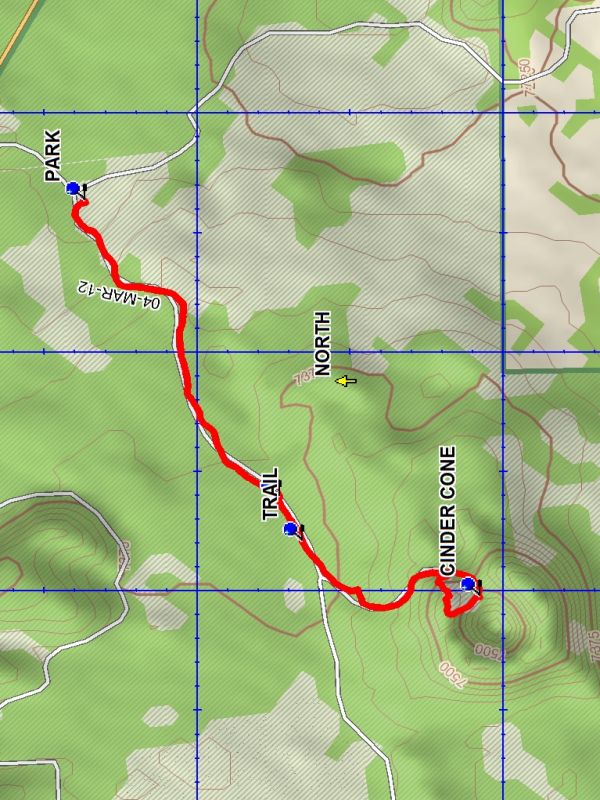 Hike Key:
H10475
Last Updated:
12/15/2020 12:00am
Last Updated By:
Marilyn Warrant
Hike Class:
B (Moderate)
Hike Distance:
2.8 mi
Minimum Elevation:
7265 ft
Elevation Change:
285 ft
Total Uphill:
295 ft
Total Downhill:
295 ft
Avg. Grade:
4 %
Route Type:
InOut
On Trail:
No
Paved or Gravel Roads:
No
GPS Advised:
No
Drive Distance Round Trip:
180 mi
Drive Time One-Way:
1:30
Hiking Seasons:
Spring and Fall
New Mexico Game Unit:
13
Hike Status:
Published
Highlights
Hike to a cinder cone and back.
Cautions
The hike is off trail. Poles may be useful.
Trailhead Directions
From Albuquerque take I-40 west to exit 81 at the west end of Grants. Go south on SR 53 for 19.3 miles to TURN. Turn left and travel 0.3 miles to PARK.
Actual Hike
From PARK (0.0 mi) go to the west end of parking and follow the road. At the WYE (0.8 mi) stay right. At TRAIL (0.9 mi) there will be a trail marker on the left. Leave the road and follow the trail. You will arrive at a sign "EL CALDERON CINDER CONE". Continue on the trail upward and through a depression in the lip of the cone to CINDER CONE (1.4 mi). At this point you have a view down to the bottom of the center of the cone. The trail goes right and up a steep ascent to the top of the rim where there is a good view. Since the descent down the outside of the cone is very steep you may wish to turn back while inside the cone. Return the way you came to parking.
Waypoints
TURN: N 34 58.415, W 108 00.128
PARK: N 34 58.184, W 108 00.184
WYE: N 34 57.865, W 108 00.804
TRAIL: N 34 57.828, W 108 00.898
CINDER CONE: N 34 57.539, W 108 01.013
Map Filename:
ElCalderonCinderConeImage_DB.jpg
Hike GPS File Name:
ElCalderonCinderConeWayTrack_DBDB.gpx
Hike GPS File:
Click
link
to download hike waytrack file
Text Author:
Dick Brown
Map Author:
Dick Brown
Waypoints Author:
Dick Brown
Track Author:
Dick Brown
Maintainer:
Not Assigned
Editor:
Marilyn Warrant