Rio Bravo Bosque Hike
In Albuquerque Region
Map File Source: DeLorme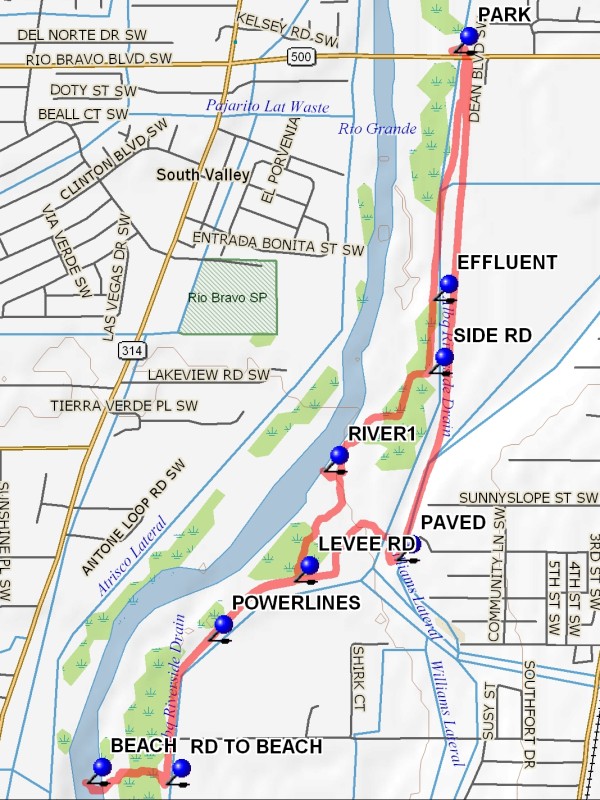 Hike Key:
H10436
Last Updated:
06/29/2021 12:00am
Last Updated By:
Marilyn Fixer
Hike Class:
B (Moderate)
Hike Distance:
5.7 mi
Minimum Elevation:
4911 ft
Elevation Change:
20 ft
Total Uphill:
20 ft
Total Downhill:
20 ft
Avg. Grade:
%
Route Type:
CCW Loop
On Trail:
Yes
Paved or Gravel Roads:
Yes
GPS Advised:
No
Drive Distance Round Trip:
30 mi
Drive Time One-Way:
0:45
Hiking Seasons:
Spring, Fall, and Winter
New Mexico Game Unit:
9
Hike Status:
Published
Highlights
This is a good hike to see bosque wildlife in the winter, such as coyotes, bald eagles, ducks, geese, and cranes.
Cautions
None.
Trailhead Directions
Take I-25 south to the Rio Bravo exit, then Rio Bravo west to a sign for the Rio Bravo picnic area. Turn right on Poco Loco. Park east of the Rio Grande, north side of Rio Bravo Blvd. at the Rio Bravo picnic area.
Actual Hike
Cross under Rio Bravo Blvd. and take the levee road going south. You will come to the EFFLUENT (0.7 mi) from the ABQ South Side Water Reclamation Plant. Shortly past the plant, take the SIDE RD (0.9 mi) towards the river into a clearing on the west side of the levee. The clearing provides access to the river bank with great views of seasonal waterfowl, such as RIVER1 (1.4 mi). Continue on the road until you can see the end of the paved part of the Tijeras arroyo. Cross the dirt arroyo (below the paved end).
Here you have some options:
(1) You can find a 2-track heading southwest to rejoin the LEVEE RD (1.8 mi), as shown on the map.
(2) Better would be to pick up the road again going south. About 0.2 miles further the road leads back to the levee to the east but take a cross-country route to the south and along the river through a clearing created by recent mowing and mulching of riverside Tamarisk (salt cedar). This route will provide a lengthy river bank access and a look at recent beaver activity. Continue south until you see overhead power lines, then head east to POWERLINES (2.1 mi) where they cross the levee.
From POWERLINES, take the levee south again. Pass the 7 1/4 mi SE milepost on the levee road. After that, look for a big rusty hay storage structure flanked by two white tanks. Just south of that structure, turn west on a RD TO BEACH (2.5 mi) that goes through some Tamarisk at the bank to a nice sandy BEACH (2.8 mi) on the river that provides a great view of seasonal waterfowl. Return to the levee. You could retrace your path back to PARK, or make a loop as shown on the map by crossing the arroyo further east, going over a short metal bridge, and joining the PAVED (4.3 mi) path.
Comments
This is a good hike to see bosque wildlife. In 12/2010 we saw one coyote, bald eagles, ducks, geese, and cranes. There are enough visual cues that you can do this hike without a GPS track. You could encounter difficult wet clay and mud in the Tijeras arroyo if we have had recent rain or snow. This hike can be lengthened by going further south on the levee and exploring the adjacent bosque.
For more information about Albuquerque's Drinking Water or Wastewater (Sewage) Treatment Plants, see their Virtual Tours website which also includes how to schedule an in-person tour.
Waypoints
PARK: N35 01.642, W106 40.186
EFFLUENT: N35 01.061, W106 40.243
SIDE RD: N35 00.891, W106 40.256
RIVER1: N35 00.661, W106 40.556
LEVEE RD: N35 00.403, W106 40.641
POWERLINES N35 00.265, W106 40.887
RD TO BEACH: N34 59.928, W106 41.008
BEACH: N34 59.931, W106 41.235
PAVED: N35 00.453 W106 40.349
Map Filename:
RioBravoBosqueDnew.jpg
Hike GPS File Name:
RioBravoBosqueWayTrack_MW.gpx
Hike GPS File:
Click
link
to download hike waytrack file
Text Author:
John Holmes
Map Author:
Marilyn Warrant
Waypoints Author:
Marilyn Warrant
Track Author:
Marilyn Warrant
Maintainer:
Marilyn Warrant
Editor:
Howard Carr