Paliza Canyon – Goblin Colony Hike
In Jemez Mountains Region
Map File Source: NG Topo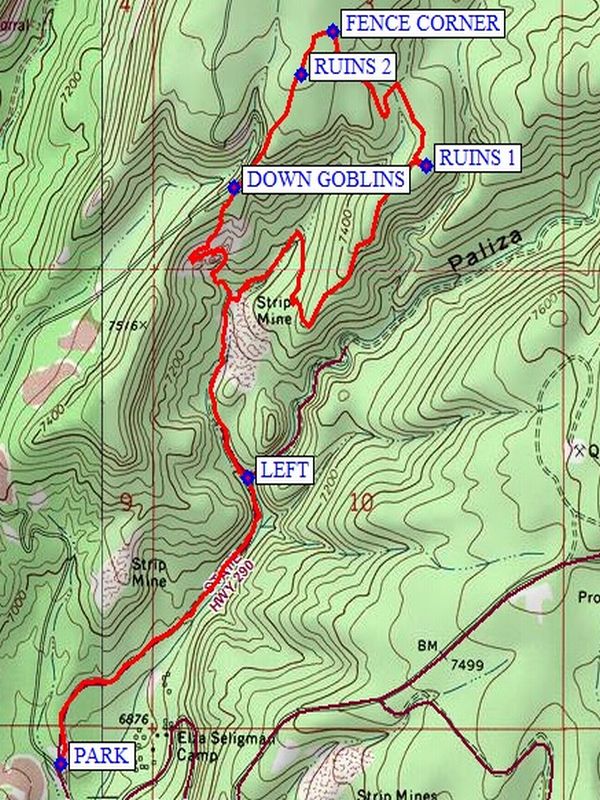 Hike Key:
H10403
Last Updated:
12/15/2020 12:00am
Last Updated By:
Marilyn Warrant
Hike Class:
C (Challenging)
Hike Distance:
5.3 mi
Minimum Elevation:
6855 ft
Elevation Change:
830 ft
Total Uphill:
830 ft
Total Downhill:
830 ft
Avg. Grade:
8 %
Route Type:
Lollypop
On Trail:
No
Paved or Gravel Roads:
Yes
GPS Advised:
Yes
Drive Distance Round Trip:
110 mi
Drive Time One-Way:
1:15
Hiking Seasons:
Spring, Summer, and Fall
New Mexico Game Unit:
6A
Hike Status:
Published
Highlights
Explore the structure of these unique outer-space-like rock formations.
Cautions
Hiking poles recommended for the steep decline near Goblin rocks.
Trailhead Directions
From Bernalillo take US 550 to San Ysidro. Take SR 4 north to the intersection with SR 290. Turn right onto SR 290 and proceed through the town of Ponderosa and past the Paliza campgrounds to a branch in the road. Go left, this is FR 10. About 0.4 miles from the branch there will be an old road bearing right. This is the return route. PARK (0.0 mi) on the right side of the road.
Actual Hike
The direction of this hike is counter clockwise. Leave FR 10 and take the side road at PARK (0.0 mi). Continue up this old road. When the road branches, take the LEFT (0.9 mi) branch. The old road becomes a trail that goes off to the right and makes two switchbacks before it goes steadily northeast. Visit some Indian ruins at RUINS 1 (2.4 mi). At about 800 feet after leaving the ruins, you will encounter a Y intersection, go left. Then go on up the road to the FENCE CORNER (2.9 mi). Go left along the north side of the fence to a point where the fence is down and cross over the fence. There will be piles of rocks ahead. These are the RUINS 2 (3.0 mi). Wander south through the ruins. There is a "Respect your heritage" sign at the south end of the ruins. Pass over a second downed fence and follow a faint trail which will become an abandoned road above FR 100. Continue down to DOWN GOBLINS (3.4 mi). Go down through the goblin formations, traversing to the far side, then back across and down to the bottom. At this point you will be on the road that you started on. Go right and hike back to the van.
Comments
The Goblin Rocks have been shaped by wind and water into gigantic "Easter Island" heads. The route down through the Goblin Rocks area is steep and difficult. Bring your hiking sticks.
Waypoints
PARK: N 35 42.569, W 106 37.646
LEFT: N 35 43.109, W 106 37.160
RUINS 1: N 35 43.703, W 106 36.691
FENCE CORNER: N 35 43.958, W 106 36.937
RUINS 2: N 35 43.877, W 106 37.020
DOWN GOBLINS: N 35 43.662, W 106 37.193
Map Filename:
PalizaCanyon-GoblinColonyImage_DB.JPG
Hike GPS File Name:
PalizaCanyon-GoblinColonyWayTrack_DBDB.gpx
Hike GPS File:
Click
link
to download hike waytrack file
Text Author:
Vivian Heyward
Map Author:
Dick Brown
Waypoints Author:
Dick Brown
Track Author:
Dick Brown
Maintainer:
Vivian Heyward
Editor:
Marilyn Warrant