Sevilleta National Wildlife Refuge Hike
In Socorro Region
Map File Source: USFWS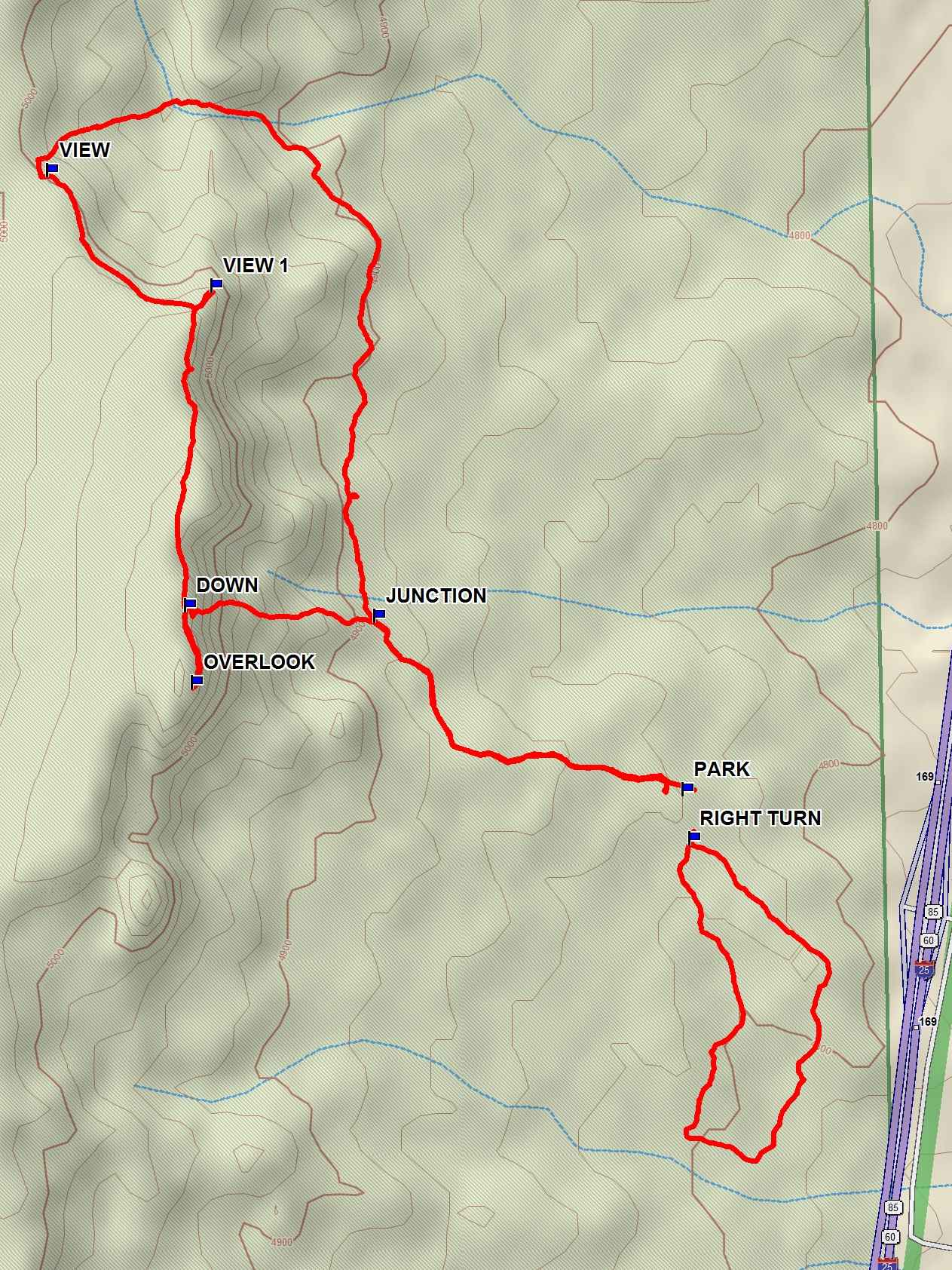 Hike Key:
H10348
Last Updated:
12/15/2020 12:00am
Last Updated By:
Marilyn Warrant
Hike Class:
B (Moderate)
Hike Distance:
5 mi
Minimum Elevation:
4820 ft
Elevation Change:
300 ft
Total Uphill:
350 ft
Total Downhill:
350 ft
Avg. Grade:
5 %
Route Type:
Multiple Hikes
On Trail:
Yes
Paved or Gravel Roads:
Yes
GPS Advised:
No
Drive Distance Round Trip:
120 mi
Drive Time One-Way:
1:00
Hiking Seasons:
Spring, Fall, and Winter
New Mexico Game Unit:
13
Hike Status:
Published
Highlights
Multiple hikes near the Visitor's Center. Great views of Ladron Peak, surrounding mountains, the Rio Grande Valley.
Cautions
None.
Trailhead Directions
I-25 south to exit 169. Take exit and make a sharp right turn and proceed 0.25 miles to the Visitor's Center. Park in the Visitor's Center Lot.
Actual Hike
This consists of three hikes the first of which is the Mesa View Trail. This trail is a 3.5 mile, 350 ft total uphill journey that climbs the mesa west of the visitor's center and skirts the mesa's edge before dropping back down into the valley. This trail provides some wonderful views of the Ladrone and surrounding mountains, as well as a wide diversity of awe inspiring landforms. This moderate hike is great for viewing lizards in the spring and fall and sparrows in the winter. It is best to do this hike in a counter clockwise direction to avoid a steep set of steps leading up to the top of the mesa. This hike can be accessed through the back door of the visitor's center.
The second hike is the Nature Loop located just south of the refuge's visitor center. This trail is a 1.1 mile loop with no elevation gain that takes you through an arroyo and back up onto higher ground. This hike has several resting spots that are good for taking in the views. Look for coyote, rabbit and deer tracks, and lizards.
The third hike is the Wildflower Loop located just east of the refuge's visitor center. This hike is a paved 0.25 mile loop that provides great views of the Rio Grande Valley, surrounding mountains and stunning flowers in season.
Comments
Though most of the Sevilleta National Wildlife Refuge is closed to visitors and is used as a research and study area, the hikes listed above are open to the public. The visitor's center is open Monday through Saturday year round. The hours are Monday through Friday 7:30 AM to 4:00 PM, and Saturday 9:00 AM to 4:00 PM. The visitor's center is well done with several interesting displays in several rooms for viewing by visitors. Restroom facilities are available as well as outdoor picnic tables on the visitor's center back patio. If bringing a group to hike, contact the Visitor's Center Services Manager at (505)864-4021 to arrange for a powerpoint presentation on the refuge and their research activities.
Waypoints
Mesa View Trail
PARK: N34 21.091, W106 52.930
JUNCTION: N34 21.288, W106 53.353 (0.5 mi)
VIEW: N34 21.792, W106 53.801 (1.7 mi)
VIEW 1: N34 21.661, W106 53.576 (2.0 mi)
DOWN: N34 21.299, W106 53.612 (2.4 mi)
OVERLOOK: N34 21.212, W106 53.603 (2.6 mi)
Nature Loop
RIGHT TURN: N34 21.036, W106 52.921
Map Filename:
SevilletaMap1_MW.jpg
Hike GPS File Name:
Sevilletta NWR Hike_ksks.gpx
Hike GPS File:
Click
link
to download hike waytrack file
Text Author:
Dick Brown
Map Author:
Marilyn Warrant
Waypoints Author:
Ken Smith
Track Author:
Ken Smith
Maintainer:
Dawn McIntyre
Editor:
Marilyn Warrant