Diablo Canyon Hike
In Santa Fe Region
Map File Source: DeLorme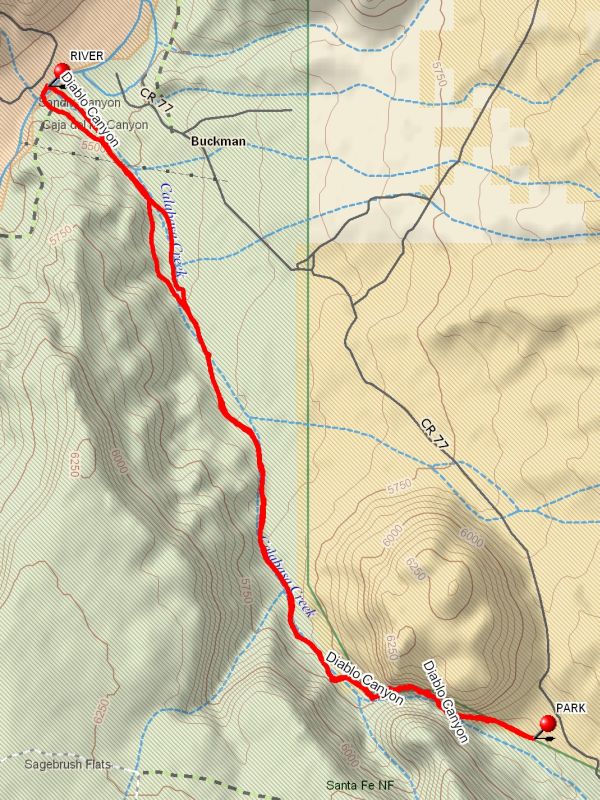 Hike Key:
H10321
Last Updated:
06/29/2021 12:00am
Last Updated By:
Marilyn Fixer
Hike Class:
B (Moderate)
Hike Distance:
6.3 mi
Minimum Elevation:
5470 ft
Elevation Change:
530 ft
Total Uphill:
620 ft
Total Downhill:
620 ft
Avg. Grade:
7 %
Route Type:
InOut
On Trail:
No
Paved or Gravel Roads:
Yes
GPS Advised:
No
Drive Distance Round Trip:
150 mi
Drive Time One-Way:
1:15
Hiking Seasons:
Spring and Fall
New Mexico Game Unit:
6C
Hike Status:
Published
Highlights
Walk through an interesting notch which shows prominent uplift contours. Then on a floodplain to the Rio Grande and a peasant place to watch the water rush by.
Cautions
Some of the terrain is sandy.
Trailhead Directions
From Albuquerque go north on I-25 for 47 miles to Exit 276, known as the Relief Route (NM 599). Go 9.5 miles to the Camino La Tierra/Las Campanas Exit. Travel northwest on the main road for 4.7 miles then bear right onto the gravel road called OLD BUCKMAN ROAD. This dirt road is easy to miss, then go 7.3 miles, you'll see the "notch" in the Canyon, turn left into parking area and PARK(0.0 mi).
Actual Hike
The trail begins SW of the parking area in the adjacent arroyo. Follow the fence line west until you reach a barbed-wire gate. If it is closed, be sure to close it behind you. Once in the arroyo, follow the meandering dry river bed through the canyon and admire the beautiful rock walls. The canyon opens up to a wide dry river bed and remains like this for 3 miles to the Rio Grande RIVER (3.1 mi). This is a great place to have lunch. Return to parking area the way you came.
Comments
Do not take the track literally when going through the notch as satellite reception is poor in the notch. Stay in the bottom of the notch.
Waypoints
PARK: N 35 48.262, W 106 08.170
RIVER: N 35 50.101, W 106 09.888
Map Filename:
DiabloCanyonImage_CM.jpg
Hike GPS File Name:
DiabloCanyonWayTrack_CMCM.gpx
Hike GPS File:
Click
link
to download hike waytrack file
Additional File 1 Link
Click
link
to download an additional file.
Text Author:
Cindy McConnell
Map Author:
Cindy McConnell
Waypoints Author:
Cindy McConnell
Track Author:
Cindy McConnell
Maintainer:
Cindy McConnell
Editor:
Marilyn Warrant