Chamisa Trail Hike
In Sangre De Cristos Region
Map File Source: DeLorme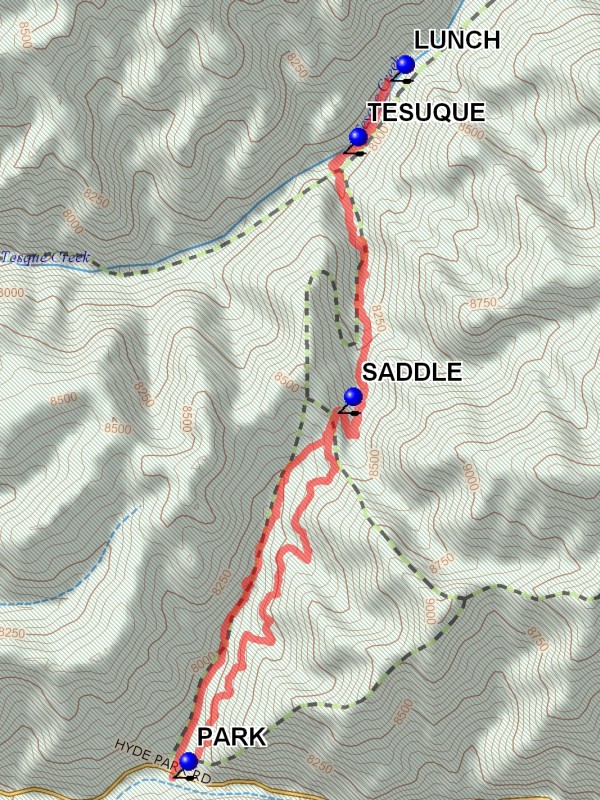 Hike Key:
H10300
Last Updated:
12/15/2020 12:00am
Last Updated By:
Marilyn Warrant
Hike Class:
C (Challenging)
Hike Distance:
5.1 mi
Minimum Elevation:
7820 ft
Elevation Change:
630 ft
Total Uphill:
1260 ft
Total Downhill:
1260 ft
Avg. Grade:
12 %
Route Type:
InOut
On Trail:
Yes
Paved or Gravel Roads:
Yes
GPS Advised:
No
Drive Distance Round Trip:
120 mi
Drive Time One-Way:
1:30
Hiking Seasons:
Spring, Summer, and Fall
New Mexico Game Unit:
44
Hike Status:
Published
Highlights
Hike in the woods off the road to the Santa Fe Ski Area.
Cautions
Hiking poles recommended for steep sections. Uphill after lunch. Can be hot.
Trailhead Directions
Take I-25 north to Santa Fe. Take the Old Pecos Trail exit 284 and follow to Paseo de Peralta. Turn right and follow to Washington Avenue, just before the pink Masonic Temple. Turn north on Washington, then east on Artist Road, which becomes Hyde Park Rd. Follow it to past mile marker 6 (6 miles from the turn at Artist Rd.). A place to PARK (0.0 mi) on both sides of the road and a sign for Chamisa Trail 183 is there.
Actual Hike
This is one of those hikes that is as tough coming back as it was going in. There are two trails going up from the parking area but both end up at a SADDLE (1.4 mi) on top. The east (right) one has more shade, so if you want to make a loop from the saddle, take the west one up and the east one back down. There are six trails radiating out like a star from the saddle. If you take either of the two going off to the left (northwest) they will end up at an overlook of Santa Fe. The main Chamisa Trail goes straight ahead and down the other side. When you get to TESUQUE (2.4 mi) Creek and Winsor Trail, have lunch there and return, or go a little ways up the creek for LUNCH (2.7 mi).
Comments
When you reach the stream, you can go to the right and intersect the Borrego-Bear Wallow hike, or go left and intersect the Tesuque Creek hike. In the early summer you may find wild iris near the creek. There are outcroppings of pink granite along the uphill part of the trail. Returning by the trail from the saddle that ends up down in the canyon results in some steep downhill sections.
Waypoints
PARK: N35 43.706, W105 51.973
SADDLE: N35 44.559, W105 51.497
TESUQUE: N35 45.167, W105 51.483
LUNCH: N35 45.336, W10 51.346
Map Filename:
ChamisaTrail_Dnew.jpg
Hike GPS File Name:
ChamisaTrailWayTrack_DBMW.gpx
Hike GPS File:
Click
link
to download hike waytrack file
Text Author:
Roger Holloway
Map Author:
Marilyn Warrant
Waypoints Author:
Marilyn Warrant
Track Author:
Dick Brown
Maintainer:
Not Assigned
Editor:
Howard Carr