Piedra Lisa North – Del Agua Loop Hike
In Placitas Region
Map File Source: NG Topo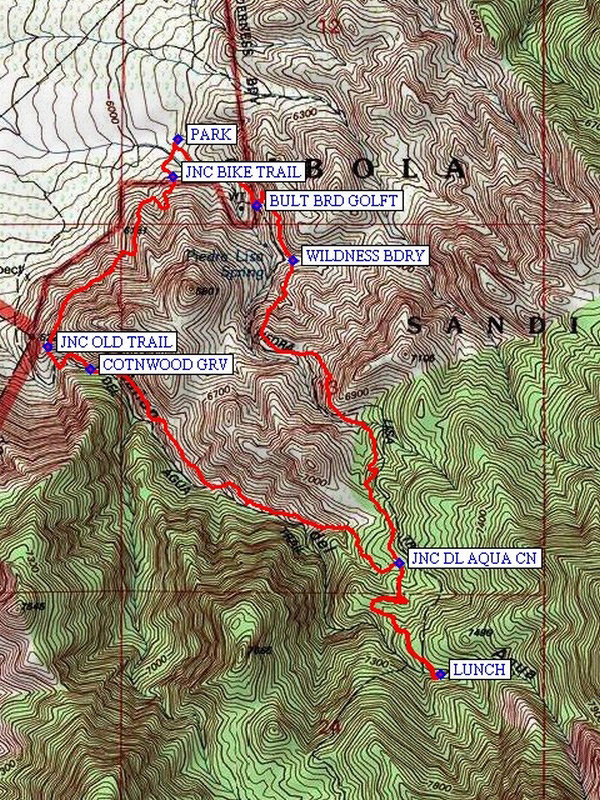 Hike Key:
H10175
Last Updated:
03/20/2023 2:34pm
Last Updated By:
Marilyn Fixer
Hike Class:
C (Challenging)
Hike Distance:
5.1 mi
Minimum Elevation:
5960 ft
Elevation Change:
1318 ft
Total Uphill:
1413 ft
Total Downhill:
1413 ft
Avg. Grade:
11 %
Route Type:
CW Loop
On Trail:
No
Paved or Gravel Roads:
Yes
GPS Advised:
Yes
Hiker Limit (NF/BLM/NP):
15 (Sandia Wilderness)
Drive Distance Round Trip:
50 mi
Drive Time One-Way:
0:45
Hiking Seasons:
Spring and Fall
New Mexico Game Unit:
8
Hike Status:
Published
Highlights
Lots of variation in terrain and plant life, as well as stunning views to the west.
Cautions
Trekking poles recommended. Some stream crossings and climbing on rocks. Steep narrow rocky trail on the return.
Trailhead Directions
I-25 north to Placitas exit (exit 242). Go east on SR 165 to the second Forest Rd 445 immediately after milepost 3. Go 1.9 miles and turn left at the hiking trail sign. Just ahead is the trailhead, PARK (0.0 mi), and a very clean outhouse.
Actual Hike
Hike the loop part of this track in a clockwise direction. Walk up the sandy wash until you come to a bulletin board on your left. At BULT BRD GOLFT (0.3), go left. At this point the Piedra Lisa Spring Trail 135 takes you in a generally south-easterly direction steeply up the mountain. This steep, rocky trail requires trekking poles. On your way up, you will pass the WILDNESS BDRY (0.6) sign. After about 1.4 miles, you will come to an area of ponderosa pines, providing some shade and a more gradual ascent. A little farther on you come to the JNC DL AQUA CN (1.7 mi) Trail (Trail 248) which you will take on the return. Look for this intersection, marked by a small cairn, just after two 4-foot boulders straddling the trail. Proceed up the Piedra Lisa trail for another twenty minutes to LUNCH (2.3 mi) at the shady stream area. (This is the usual lunch spot for the Piedra Lisa All cross-over hike). After lunch, retrace your steps on the Piedra Lisa trail to the JNC DL AQUA CN (3.0 mi) and proceed down the canyon. This section of the hike is a bit of a scramble over rocks and boulders, but the canyon is beautiful and quite different from the earlier part of the hike. As you descend, you will come to an area that is less steep and requires a small stream crossing during wetter times of year. At COTNWOOD GRV (4.0 mi), stop for a break and enjoy the large shade trees. At JNC OLD TRAIL (4.3 mi), bear right and go uphill. Left, downhill, is the old trail which was blocked off after the reroute of this trail in 2008. Continue on to JNC BIKE TRAIL (5.0) where you go straight to get back to PARK.
Comments
This hike is challenging at the beginning but once you get past the initial steep parts, it's fairly easy. You will see lots of variation in terrain and plant life, as well as stunning views to the west. Do not attempt the Del Agua section of this hike in winter or early spring, since icy patches in the narrow canyon make for slippery and treacherous footing. It is not advisable to do the loop part of the hike in a counterclockwise direction because at the end there is a long, steep descent on little round rocks which makes it dangerous.
Waypoints
PARK: N 35 16.743, W 106 28.706
BULT BRD GOLFT: N 35 16.589, W 106 28.481
WILDNESS BDRY: N 35 16.459, W 106 28.377
JNC DL AQUA CN: N 35 15.751, W 106 28.072
LUNCH: N 35 15.490, W 106 27.956
COTNWOOD GRV: N 35 16.205, W 106 28.956
JNC OLD TRAIL: N 35 16.258, W 106 29.078
JNC BIKE TRAIL: N 35 16.658, W 106 28.718
Map Filename:
PiedraLisaNorth-DelAguaLoopImage_MW.jpg
Hike GPS File Name:
PiedraLisaNorth-DelAguaLoopWayTrack_HCHC.gpx
Hike GPS File:
Click
link
to download hike waytrack file
Text Author:
Bill Davidson
Map Author:
Marilyn Warrant
Waypoints Author:
Howard Carr
Track Author:
Howard Carr
Maintainer:
Nancy Carr
Editor:
Marilyn Warrant