Tablezon – Pinyon Loop Hike
In Cedro Peak Region
Map File Source: NG Topo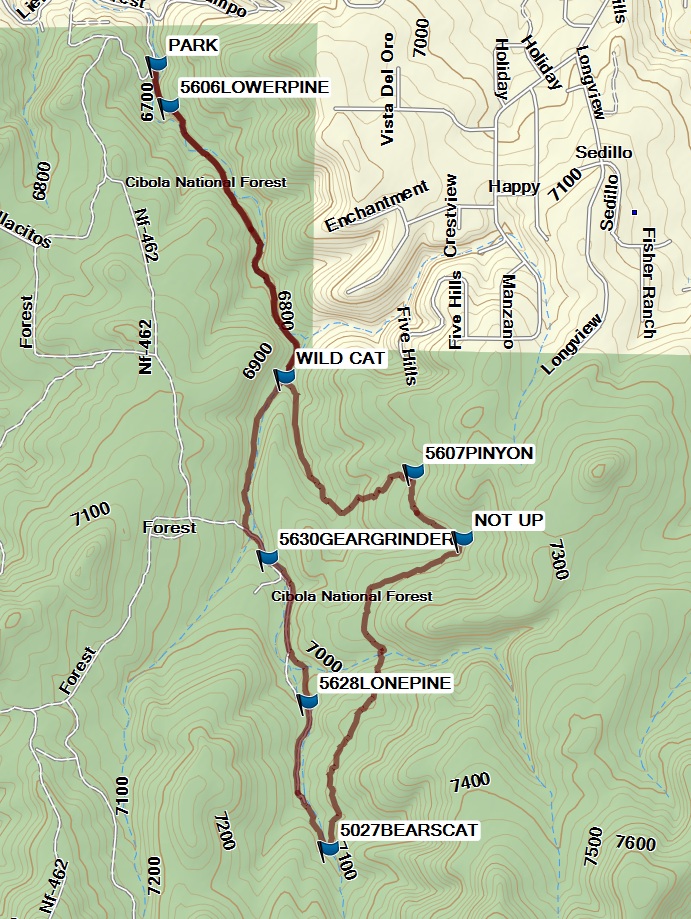 Hike Key:
H10128
Last Updated:
09/13/2023 11:47am
Last Updated By:
Dawn McIntyre
Hike Class:
B (Moderate)
Hike Distance:
6.1 mi
Minimum Elevation:
6680 ft
Elevation Change:
433 ft
Total Uphill:
662 ft
Total Downhill:
662 ft
Avg. Grade:
4 %
Route Type:
CW Loop
On Trail:
Yes
Paved or Gravel Roads:
Yes
GPS Advised:
No
Drive Distance Round Trip:
40 mi
Drive Time One-Way:
0:30
Hiking Seasons:
Spring, Summer, and Fall
New Mexico Game Unit:
14
Hike Status:
Published
Highlights
A lovely, mostly shaded and wind-protected walk through the woods and meadows.
Cautions
In warmer weather remember to bring enough sun protection and water. Trekking poles may be helpful to some senior hikers.
Trailhead Directions
From Albuquerque take I-40 west through Tijeras Canyon to exit 178 (Zuzax). Exit south and go west on SR 333 for a short distance to BARTOLO BACA (see Access Waypoint). Turn left (south) then stay on the paved road which quickly joins Kennedy to the right. Follow Kennedy as it winds around, generally south and east. At some point, it becomes Liebre Lane, then Forest Road. After 1 mile from SR 333, before the road traverses up the hill, turn right on a dirt/gravel road and go 0.15 mile to the small parking area on the left and PARK (0.0 mi).
Actual Hike
Go south from the parking area to the Lower Pine Trail 5606LOWERPINE (0.2 mi). Stay on this trail until the WILD CAT (1.1 mi) turnoff to the left. Take this trail that goes east out of the canyon to the 5607PINYON (1.9 mi) trail, where you'll see the northeast beginning of the Gear Grinder trail.
Turn right at NOT UP (2.2 mi) continuing on the Pinyon Trail. Go to a junction where you take a two track trail 5027BEARSCAT (3.4 mi) and head back to the north. The trail enters Tablazon Canyon and becomes 5628LONEPINE (3.9 mi). You will see another sign for the Gear Grinder trail to north. The intersection with this trail is at 5630GEARGRINDER (4.4 mi). You will need keen eyes to pick out the trail heading up over a granite dried-up waterfall to the right (east). Ignore the Gear Grinder trail and continue on the single track through the lovely Tablazon Canyon on the trail bearing its name (#5629). You will reach WILD CAT (5.0 mi) a second time. From there you retrace your steps back to PARK (6.1 mi).
Comments
The Tablazon-Pinyon Loop hike trails are shown in the upper right (northeast) part of the Manzanita Mountains Trail System map.
Hike data were determined using a Garmin GPSMap 62 and Garmin BaseCamp's DEM for TOPO US 24K Southwest.
Waypoints
Access
BARTOLO_BACA_TURN LEFT: N35 06.236, W106 20.592
Hike
PARK: N35 05.830, W106 19.853
5606LOWERPINE: N35 05.721, W106 19.8143
WILD CAT: N35 05.016, W106 19.435
5607PINYON: N35 04.768, W106 19.019
NOT UP: N35 04.593, W106 18.860
5027BEARSCAT: N35 03.787, W106 19.294
5628LONEPINE: N35 04.171, W106 19.361
5630GEARGRINDER: N35 04.546, W106 19.490
Map Filename:
Tblezn-PinynMap_MW.jpg
Hike GPS File Name:
TBLEZN_PINYN_160315_BG-1.gpx
Hike GPS File:
Click
link
to download hike waytrack file
Text Author:
Bill Gloyd
Map Author:
Marilyn Warrant
Waypoints Author:
Bill Gloyd
Track Author:
Dick Brown
Maintainer:
Bill Gloyd
Editor:
Dawn McIntyre