Armijo Canyon – El Malpais Hike
In El Malpais Region
Map File Source: NG Topo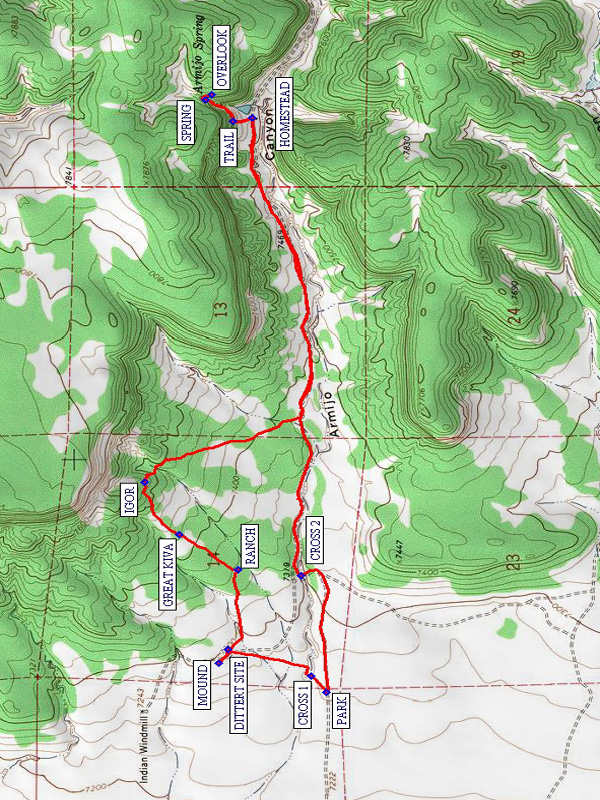 Hike Key:
H10123
Last Updated:
12/15/2020 12:00am
Last Updated By:
Marilyn Warrant
Hike Class:
B (Moderate)
Hike Distance:
6.3 mi
Minimum Elevation:
7255 ft
Elevation Change:
480 ft
Total Uphill:
660 ft
Total Downhill:
660 ft
Avg. Grade:
5 %
Route Type:
Lollypop
On Trail:
No
Paved or Gravel Roads:
No
GPS Advised:
Yes
Drive Distance Round Trip:
220 mi
Drive Time One-Way:
2:15
Hiking Seasons:
Spring, Summer, and Fall
New Mexico Game Unit:
13
Hike Status:
Published
Highlights
Visit the Dittert Site, a great kiva, and interesting petroglyphs including the great Igor. Ends at a homestead before returning.
Cautions
The first 2 miles of the hike is off-trail over brushy country.
Trailhead Directions
From Albuquerque take I-40 west for about 70 miles to Exit 89 at Grants. Go south on SR 117 for about 32 miles to the Pie Town gravel road (County 41), turn left here (actually straight, the paved state highway curves to the right). Go about 3.8 miles to the road sign marked Armijo Canyon on your left (TO ARMIJO CNYN). Turn left and go east about 1.2 miles to the BLM wilderness fence and PARK (0.0 mi).
Actual Hike
Pass thru the fence and go north northeast and CROSS1 (0.1 mi) the large arroyo and head for the DITTERT SITE (0.4 mi). The Dittert site can be seen in the distance soon after you cross the arroyo. A short distance northwest of the site is the Burnt Corn MOUND (0.5 mi). Small old burnt corncobs might be found here. From the Dittert site, go east about 0.4 miles to some RANCH (0.9 mi) ruins. Then go northeast 0.3 miles and locate a large circular depression, the GREAT KIVA (1.2 mi). To the northeast from the kiva there will be a large rock with a distinctive dark surface. This is the home of IGOR (1.4 mi) and other petroglyphs on its east facing side. Go south and pick up the old road on the north side of the same large arroyo and continue east up the canyon staying on the north side all the way to the ranch homestead. It's about 1.2 easy miles on the road to the HOMESTEAD (3.3 mi). Go north of the house uphill to an old road (now a rough TRAIL (3.4 mi)) going up the west slope of the ravine to visit the SPRING (3.5 mi) house (now dry) which has a nice little Santo inside in a niche alter. From the spring continue on up the ravine to a rather nice OVERLOOK (3.6 mi) to view the canyon below. Looking down on the homestead, marvel at the industry and labor needed to make a living in this place. Return down the canyon following the old road which will CROSS2 (5.7 mi) to the south side of the arroyo about 0.4 mile from parking.
Waypoints
BLM HDQRTRS: N34 58.190, W107 48.734
TO ARMIJO CNYN: N34 39.432, W107 59.855
PARK: N34 39.271, W107 58.507
CROSS1: N34 39.317, W107 58.438
DITTERT SITE: N34 39.556, W107 58.329
MOUND: N34 39.583, W107 58.387
RANCH: N34 39.527, W107 57.997
GREAT KIVA: N34 39.699, W107 57.853
IGOR: N34 39.797, W107 57.635
HOMESTEAD: N34 39.487, W107 56.129
TRAIL: N34 39.541, W107 56.142
SPRING: N34 39.620, W107 56.054
OVERLOOK: N34 39.603, W107 56.033
CROSS2: N34 39.347, W107 58.022
Map Filename:
ArmijoCanyon-ElMalpaisImage_NGTopo.jpg
Hike GPS File Name:
ArmijoCanyon-ElMalpaisWayTrack_DBDB.gpx
Hike GPS File:
Click
link
to download hike waytrack file
Text Author:
Ken Smith
Map Author:
Ken Smith
Waypoints Author:
Dick Brown
Track Author:
Dick Brown
Maintainer:
Ken Smith
Editor:
Marilyn Warrant