Bosque-Calabacillas Hike
In Albuquerque Region
Map File Source: DeLorme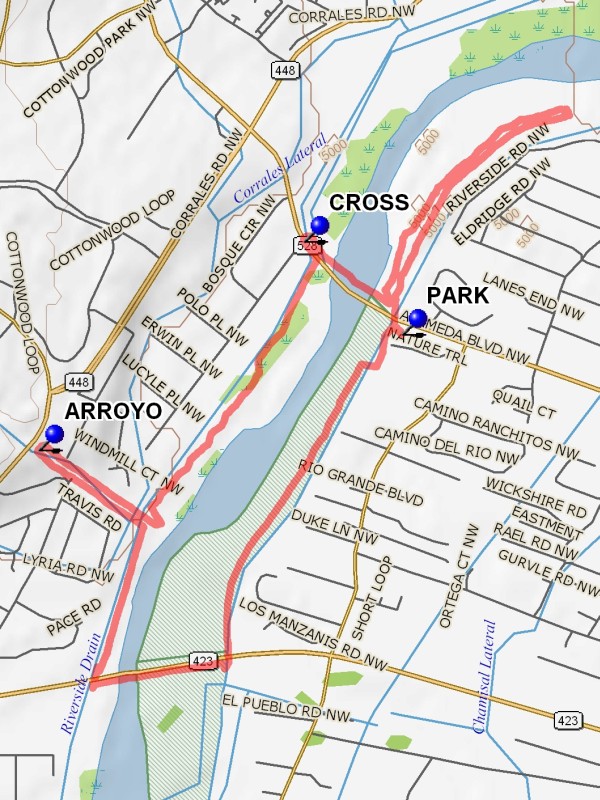 Hike Key:
H10071
Last Updated:
12/15/2020 12:00am
Last Updated By:
Marilyn Warrant
Hike Class:
A (Easy)
Hike Distance:
5.6 mi
Minimum Elevation:
4985 ft
Elevation Change:
50 ft
Total Uphill:
10 ft
Total Downhill:
10 ft
Avg. Grade:
1 %
Route Type:
CW Loop
On Trail:
Yes
Paved or Gravel Roads:
Yes
GPS Advised:
No
Drive Distance Round Trip:
15 mi
Drive Time One-Way:
0:15
Hiking Seasons:
Spring, Fall, and Winter
New Mexico Game Unit:
9
Hike Status:
Published
Highlights
Bosque walk and a tour of the art lining the Callabacitas arroyo.
Cautions
None.
Trailhead Directions
In Albuquerque take Alameda west from I-25 to beyond the last light before the Alameda Bridge and enter the Open Space parking area before the bridge on the south side of Alameda and PARK (0.0 mi).
Actual Hike
From the parking lot go south and across a footbridge to the paved ditch bank path. Go south to the Paseo Bridge and take the underpass to the south side of the bridge. Take the walkway on the south of the bridge west across the Rio Grande. On the other side go south on the ditch bank a short distance and down and through the tunnel under Paseo. Find a path just east of the ditch bank and go north until a small parking area is reached. Just beyond find the Callabacitas Arroyo. Go west on the south side of the arroyo. This area has interesting "artifacts" imbedded on the side walls. Reach the Coors overpass and turn north across the ARROYO (2.3 mi) "dam" to the north side of the arroyo. Then go back east and reenter the Bosque. Walk the path to the Alameda Bridge. At the bridge do not try to cross the roadway. Walk west to the traffic light to CROSS (3.6 mi). Once on the north side of Alameda, walk east across the old bridge. Once across the bridge there are two choices. Go down and under the Alameda Bridge southward to parking for a shorter hike, or turn north into the Bosque and go north until pueblo land is reached (or short of that point) then east up onto the ditch bank and back south and under the Alameda bridge to parking for a longer hike.
Comments
The image shows the extended hike which has a distance of 5.6 miles.
Waypoints
PARK: N35 11.711, W106 38.400
ARROYO: N35 11.443, W106 39.432
CROSS: N35 11.928, W106 38.679
Map Filename:
Bosque-Callabacitos_Dnew.jpg
Hike GPS File Name:
Bosque-CallabacitosWayTrack_DBDB.gpx
Hike GPS File:
Click
link
to download hike waytrack file
Text Author:
Dick Brown
Map Author:
Marilyn Warrant
Waypoints Author:
Dick Brown
Track Author:
Dick Brown
Maintainer:
Joan Weissman
Editor:
Marilyn Warrant