Continental Divide Trail FR193 South Short Hike
In Mount Taylor Region
Map File Source: Garmin BaseCamp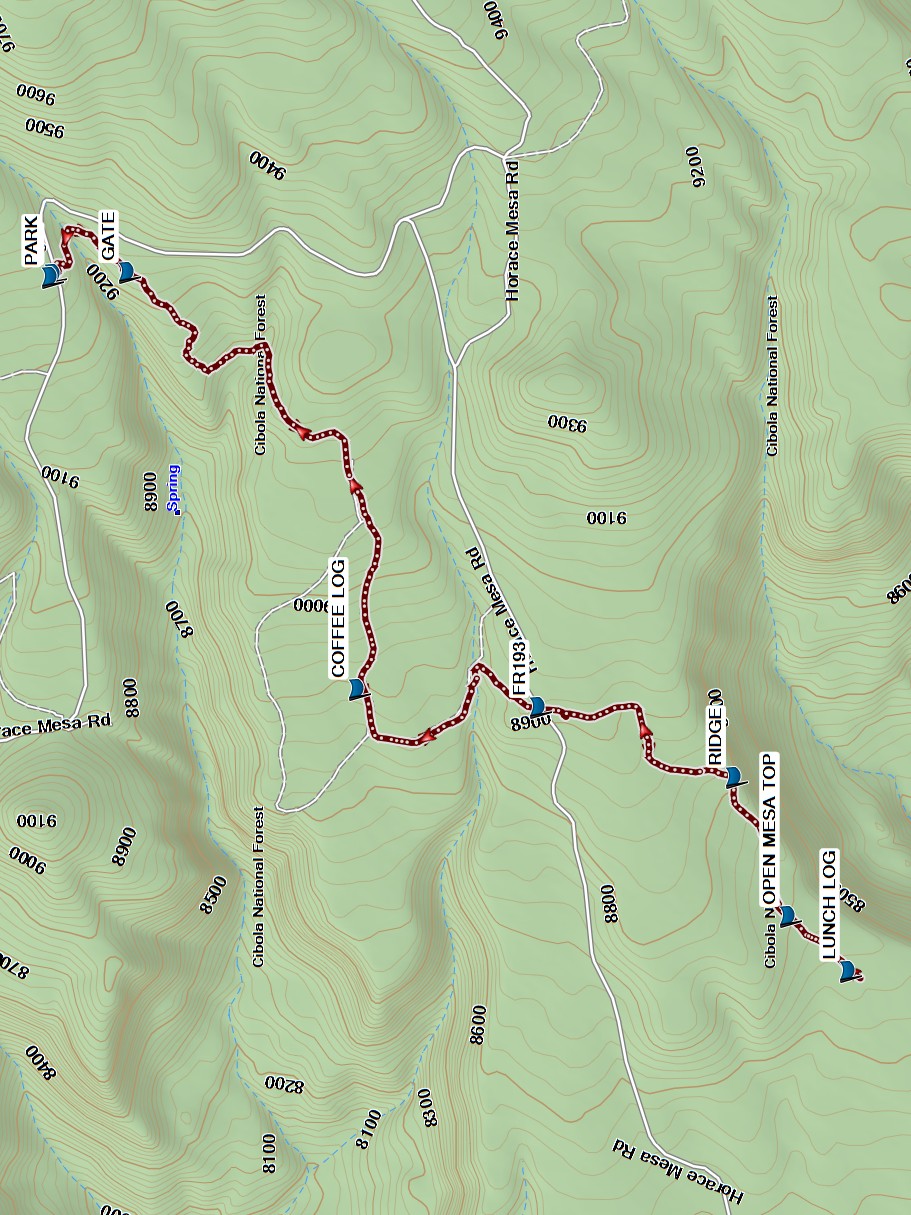 Hike Key:
H10654
Last Updated:
03/23/2021 12:00am
Last Updated By:
Marilyn Fixer
Hike Class:
C (Challenging)
Hike Distance:
6.3 mi
Minimum Elevation:
8460 ft
Elevation Change:
584 ft
Total Uphill:
917 ft
Total Downhill:
917 ft
Avg. Grade:
4 %
Route Type:
InOut
On Trail:
Yes
Paved or Gravel Roads:
Yes
GPS Advised:
No
Drive Distance Round Trip:
197 mi
Drive Time One-Way:
1:45
Hiking Seasons:
Spring, Summer, and Fall
New Mexico Game Unit:
9
Hike Status:
Published
Highlights
Hike through forest of magnificent ponderosa pines. The ridge overlook provides beautiful views of the mountains and the vastness of the forest.
Cautions
Poles helpful but not necessary for those who do not use them. There are game trails and old trails in this area. Always look for cairns and/or CDT tree markers sometimes 200 feet up trail.
Trailhead Directions
From Albuquerque take I-40 west for about 75 miles to the first Grants exit, I-40B exit 85. Go through town to SR547 (First St) and turn right. Continue northeast on SR547 which becomes Lobo Canyon Road for about 13 miles. At top of hill, turn right on FR193 and proceed approximately 3.7 miles. A large unmarked turn out for parking is on the left. If you pass 2 large cairns about 10′ off the road on each side, you have passed the parking area. From PARK, cross the road and walk about 100 feet east to the trailhead at the large cairn. The hike is south at this point.
Actual Hike
The CDT is a well marked trail. Always look for large cairns and CDT signs on trees. The hike starts in a forest of tall pines, aspens and scrub oak. The forest has been cleared so you can see out as you hike. Notice the huge ponderosa pines that are standing and also down. Continue the hike through the GATE (0.3mi). You will also hike on an old road and some lava rocks that are easy hiking.
Stop at the COFFEE LOG (1.6mi) if desired, then continue to FR 193 (2.2 mi). (This is the road that passes Gooseberry Springs parking for Mt. Taylor.). Follow the large cairns across the road. Proceed to the RIDGE (2.7 mi) (short up off trail) for beautiful views of the mountains. This is a good point for a break. Continue to hike down the CDT and the OPEN MESA TOP (3.0 mi). Notice the terrain has changed to junipers and some pines. Proceed to the LUNCH LOG (3.2 mi). The log is across the trail so if it has been moved, just pick a place for lunch. After lunch, return the same way you hiked in.
Comments
Beautiful hike late spring, summer and fall. Late fall should have golden aspens.
You can make this hike as short or long as you like. Just follow the cairns and CDT tree makers. The farther out you hike on the mesa, the better the views of Mt. Taylor.
Waypoints
PARK: N35 13.919, W107 38.462
GATE: N35 13.785, W107 38.452
COFFEE LOG: N35 13.384, W107 39.351
FR193: N35 13.070, W107 39.390
RIDGE: N35 12.729, W107 39.540
OPEN MESA TOP: N35 12.635, W107 39.841
LUNCH LOG: N35 12.530, W107 39.958
Map Filename:
ContinentalDivideFR193SouthShortMap_MW.jpg
Hike GPS File Name:
CDTFR193SouthShort_DM.gpx
Hike GPS File:
Click
link
to download hike waytrack file
Text Author:
Debbie Manoogian
Map Author:
Marilyn Warrant
Waypoints Author:
Debbie Manoogian
Track Author:
Debbie Manoogian
Maintainer:
Carl Gervais
Editor:
Howard Carr