Los Volcanos Hike
In Albuquerque Region
Map File Source: Other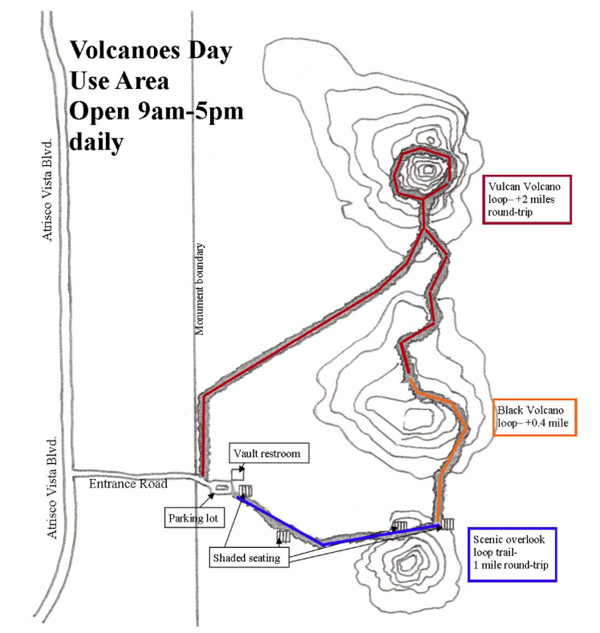 Hike Key:
H10115
Last Updated:
06/29/2021 12:00am
Last Updated By:
Marilyn Fixer
Hike Class:
A (Easy)
Hike Distance:
3.5 mi
Minimum Elevation:
5791 ft
Elevation Change:
159 ft
Total Uphill:
380 ft
Total Downhill:
380 ft
Avg. Grade:
2 %
Route Type:
Loop
On Trail:
Yes
Paved or Gravel Roads:
Yes
GPS Advised:
No
Drive Distance Round Trip:
40 mi
Drive Time One-Way:
0:45
Hiking Seasons:
Spring, Fall, and Winter
New Mexico Game Unit:
9
Hike Status:
Published
Highlights
Visit three volcano cinder cones on the west mesa in Petroglyph National Monument. Great views in all directions. A magical place on a foggy, snowy day.
Cautions
Hiking sticks recommended.
Trailhead Directions
From Albuquerque take I-40 west to exit 149, travel north on Atrisco Vista (previously named Paseo del Vulcan) about 4.8 miles. After sign: Shooting Range Rd, look for gate on right in between 1st and 2nd volcanos. Enter gate, follow road to parking area with toilets. Gates are open daily from 9AM-5PM. After hours parking is available outside the gate (after making the turn onto the access road).
Actual Hike
Follow trail east toward JA Volcano to a scenic overlook of the Sandia Mountains, Albuquerque and the Rio Grande Valley. There are four shaded rest areas along the way. From the scenic overlook, turn north toward the next cinder cone which is Black Volcano. The trail skirts the east side of this volcano and continues north to the largest cinder cone, Vulcan Volcano. The trail here is less obvious but continues along the eastern side of Vulcan with a gradual incline up the east side of Vulcan to a level, mini-valley on the north side. From here, the trail turns left to the west, then south to circle Vulcan. Follow the trail down, continuing south, then southwest on an old road which takes you back to PARK.
Comments
HIKERS MUST REMAIN ON DESIGNATED TRAILS. HIKING TO VOLCANO TOPS IS NOT PERMITTED!
See The Volcanoes website for more information.
Waypoints
PARK: N35 07.847, W106 46.819
TURN: N35 07.851, W106 47.131
Map Filename:
Volcanoes Map.jpg
Hike GPS File Name:
Volcanoes_DMDM.gpx
Hike GPS File:
Click
link
to download hike waytrack file
Text Author:
Dawn McIntyre
Map Author:
Dawn McIntyre
Waypoints Author:
Dawn McIntyre
Track Author:
Dawn McIntyre
Maintainer:
Dawn McIntyre
Editor:
Marilyn Warrant