4th of July Hike
In Manzano Mountains East Region
Map File Source: NG Topo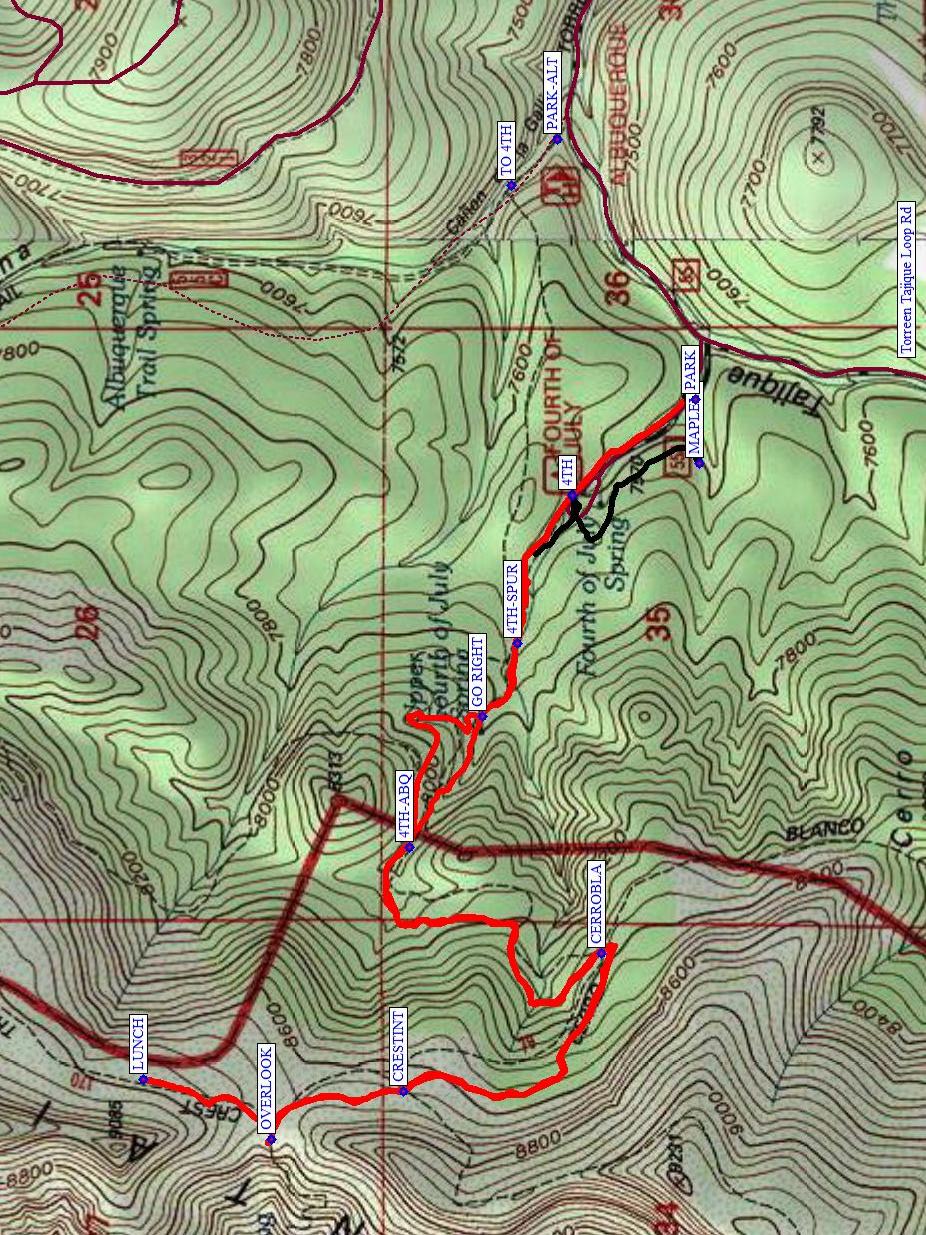 Hike Key:
H10038
Last Updated:
04/05/2021 12:00am
Last Updated By:
Marilyn Fixer
Hike Class:
C (Challenging)
Hike Distance:
5.7 mi
Minimum Elevation:
7539 ft
Elevation Change:
1250 ft
Total Uphill:
1260 ft
Total Downhill:
1260 ft
Avg. Grade:
9 %
Route Type:
InOut
On Trail:
Yes
Paved or Gravel Roads:
No
GPS Advised:
No
Drive Distance Round Trip:
110 mi
Drive Time One-Way:
1:30
Hiking Seasons:
Spring, Summer, and Fall
New Mexico Game Unit:
14
Hike Status:
Published
Attractions:
Fall Color, Forest, and Views
Highlights
Great views of the Rincon Mountains, spectacular views of the nearly vertical northwest face of the Sandias (The Shield), Sandia Crest, Mt. Taylor, and the city. Colorful maple leaves in fall.
Cautions
Hiking poles recommended for the downhill return.
Trailhead Directions
I-40 east to Tijeras exit. South on SR 337 30 miles to SR 55. SR 55 west to Tajique. Turn right in Tajique between the church and the water tower onto FR 55, yes, SR 55 to FR 55. Take FR 55 about 7 miles to 4th of July CG and [PARK] (0.0 mi). If the road looks bad beyond the Albuquerque Trail trailhead, park instead at PARK-ALT and take the 4th of July Spur Trail at TO 4TH over to the 4th of July.
Actual Hike
Start out with the optional short MAPLELP (0.2 mi) Trail if the leaves are colorful this low. Otherwise, start hiking the 4th of July Trail (4TH (0.3 mi)). You'll encounter intersections with the 4th of July Spur Trail (4TH-SPUR (0.6 mi)), a junction with a trail that goes by the spring (GO RIGHT (0.7 mi)), Albuquerque Trail (4TH-ABQ (1.2 mi)), the Cerro Blanco Trail 79 (CERROBLA (1.8 mi)) and the Manzano Crest Trail (CRESTINT (2.4 mi)). The OVERLOOK (2.7 mi) is a panoramic view. Continue north on the Manzano Crest Trail to a lovely grove of maples for LUNCH (2.9 mi), which is also out of the wind. Return the way you came but at 4TH-ABQ (4.7 mi), go straight to go by the spring. Then continue down the road to the van rather than taking the Maple Loop Trail.
Comments
This is a beautiful hike any time of the year, but especially in the fall. The 4th of July Trail is well-known for its red, orange, and yellow leaves of the Rocky Mountain maples. Even if the timing isn't right and the leaves are already on the ground, they are still gorgeous.
Waypoints
PARK-ALT: N34 47.616, W106 22.358
TO 4TH: N34 47.684, W106 22.439
PARK: N34 47.414, W106 22.820
MAPLELP: N34 47.408, W106 22.934
4TH: N34 47.594, W106 22.991
4TH-SPUR: N34 47.675, W106 23.256
GO RIGHT: N34 47.727, W106 23.385
4TH-ABQ: N34 47.834, W106 23.619
CAIRN: N34 47.816, W106 23.580
CERROBLA: N34 47.552, W106 23.808
CRESTINT: N34 47.841, W106 24.052
OVERLOOK: N34 48.035, W106 24.139
LUNCH: N34 48.224, W106 24.032
Map Filename:
4thOfJulyOptionsMap1_MW.JPG
Hike GPS File Name:
4thOfJulyWayTrackOptions_MW.gpx
Hike GPS File:
Click
link
to download hike waytrack file
Text Author:
Roger Holloway
Map Author:
Marilyn Warrant
Waypoints Author:
Marilyn Warrant
Track Author:
Marilyn Warrant
Maintainer:
Marilyn Warrant
Editor:
Howard Carr