Winsor Trail to Nambe Lake Hike
In Sangre De Cristos Region
Map File Source: NG Topo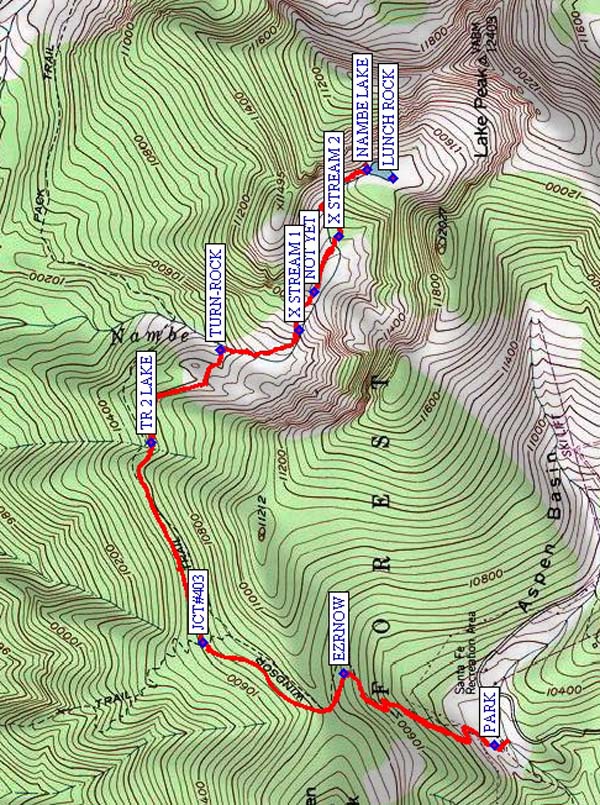 Hike Key:
H10003
Last Updated:
12/15/2020 12:00am
Last Updated By:
Marilyn Warrant
Hike Class:
D (Difficult)
Hike Distance:
6.6 mi
Minimum Elevation:
10260 ft
Elevation Change:
1129 ft
Total Uphill:
1906 ft
Total Downhill:
1906 ft
Avg. Grade:
13 %
Route Type:
InOut
On Trail:
No
Paved or Gravel Roads:
Yes
GPS Advised:
Yes
Hiker Limit (NF/BLM/NP):
15 (Pecos Wilderness)
Drive Distance Round Trip:
150 mi
Drive Time One-Way:
1:45
Hiking Seasons:
Summer and Fall
New Mexico Game Unit:
44
Hike Status:
Published
Highlights
A strenuous hike through lush aspen forest enroute to Nambe Lake.
Cautions
Trekking poles recommended for steep climb to and from lake. High altitude; not recommended for hikers with respiratory disorders.
Trailhead Directions
From Albuquerque take I-25 north to Santa Fe and take exit #284 north on Old Pecos Trail, which after about 3 miles becomes Old Santa Fe Trail, then turn right (east) on Paseo de Peralta. This street soon curves north and crosses the Santa Fe River where you turn right (east) on East Alameda St. Continue east about .75 mile and turn left (northeast) onto Gonzales Rd. Drive northeast just over 1 mile to Hyde Park Rd (NM 475) and turn right and drive about 14 miles to the Ski Area parking. PARK (0.0 mi) is on the northwest side near the privy and the trail information display board.
Actual Hike
Begin hiking north on Trail 254 up the hill and climb the switchbacks to EZRNOW (0.8 mi). The trail becomes less steep and you will soon reach the top of the saddle and the Pecos Wilderness boundary fence; from here our TR254 goes downhill passing JCT#403 (1.3 mi) and continues to an unmarked junction at TR 2 LAKE (1.9 mi). A visual cue is that there is a horseshoe bend in the trail and an optional fork well above the other one. Go to where the trails come together again. The trail to the lake starts diagonally to your right up a step of tree roots to the right of a big tree. From here on, the trail is not marked or maintained at all and is rough and steep thru most of the 900 ft climb to the lake. Turn right and go uphill and follow this sometimes dim trail thru the aspen woods for about 0.3 mi where you will hear the rushing waters of the Rio Nambe. When you reach the tumbling little creek turn right (south) at TURN-ROCK (2.3 mi) and stay on the right side (west) of the creek to X STREAM 1 (2.6 mi). Now cross the creek and continue upstream on the left side (northeast). You'll think you've made it to the lake when the trail levels off, but NOT YET (2.7 mi) ; you've got another 0.5 mi and 320 ft vertical to do. Continue to X STREAM 2 (2.9 mi). Cross to the right side (south and west); immediately on your left is a path that parallels the stream; follow this path uphill to your destination at NAMBE LAKE (3.3 mi). If you like, you can walk on the right (west) side of the lake to a nice rock outcrop at LUNCH ROCK. Return the way you came.
Comments
The elevation here is about 11,400 ft. and to the southeast is Lake Peak at 12,400 ft. In June 2009, there were snow drifts blocking the trail near the lake and large patches of snow higher on the slopes. The southwest end of the lake is marshy and is a giant mosquito factory, so be aware, and hope for a nice breeze to keep the bugs at bay. Return the same way you came in, just following the Rio Nambe downhill to TURN-ROCK and returning to Trail 254, then follow it west and south to the trail head.
Waypoints
LUNCH ROCK: N35 47.995, W105 46.627
PARK: N35 47.754, W105 48.279
EZRNOW: N35 48.112, W105 48.070
JCT#403: N35 48.446, W105 47.983
TR 2 LAKE: N35 48.567, W105 47.396
TURN-ROCK: N35 48.406, W105 47.127
X STREAM 1: N35 48.217, W105 47.072
NOT YET: N35 48.182, W105 46.959
X STREAM 2: N35 48.122, W105 46.798
NAMBE LAKE: N35 48.056, W105 46.603
Map Filename:
WinsorTrailtoNambeLakeImage_MW.JPG
Hike GPS File Name:
WinsorTrailtoNambeLakeWayTrack_MWKS.gpx
Hike GPS File:
Click
link
to download hike waytrack file
Text Author:
Ken Smith
Map Author:
Marilyn Warrant
Waypoints Author:
Ken Smith
Track Author:
Marilyn Warrant
Maintainer:
Ken Smith
Editor:
Marilyn Warrant