Water Canyon Mesa Hike
In Socorro Region
Map File Source: DeLorme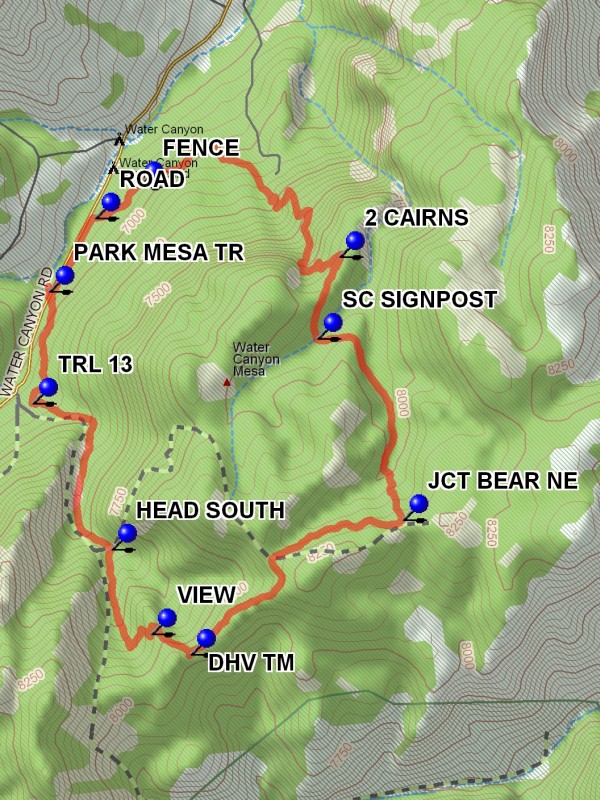 Hike Key:
H10411
Last Updated:
06/30/2021 12:00am
Last Updated By:
Marilyn Fixer
Hike Class:
D (Difficult)
Hike Distance:
5.2 mi
Minimum Elevation:
6860 ft
Elevation Change:
1340 ft
Total Uphill:
1600 ft
Total Downhill:
1600 ft
Avg. Grade:
12 %
Route Type:
CCW Loop
On Trail:
No
Paved or Gravel Roads:
Yes
GPS Advised:
Yes
Drive Distance Round Trip:
200 mi
Drive Time One-Way:
2:00
Hiking Seasons:
Spring, Summer, and Fall
New Mexico Game Unit:
17
Hike Status:
Published
Highlights
Challenging hike that circles the Water Canyon Mesa. Numerous alligator junipers.
Cautions
Hiking poles recommended.
Trailhead Directions
From Albuquerque take I-25 south to Exit 150 (NM 60 toward Magdalena) Bit over half way to Magdalena is turn off for Water Canyon Rd. Turn left (south) on Water Canyon Rd. Left to Picnic area. Past Picnic area, continue on Water Canyon Rd (also marked FR235). Ignore for the moment the '4 wheel drive only' signs as you proceed toward the Lab at the top of the mountain. Continue on for less than 1 mile and you will see parking on the right and another set of '4 Wheel drive only' signs. Park here. There is a new, clean, well stocked pit toilet in lot and sometimes vehicles that the university uses to drive further up the road.
Actual Hike
Start the hike across the road from the parking lot PARK (0.0 mi). The trail parallels the Water Canyon Road for about 0.5 mile to the TRL 13 (0.4 mi) signpost. Hike south and southeast, climbing to 8000 feet VIEW (1.5 mi). When you reach the top you will see a signpost for DHV TM (1.7 mi) Deadhorse Valley, downhill trail. Don't take this route. Hike to another junction JCT BEAR NE (2.6 mi) with no sign at 8200 feet, about 1 mile. Turn North here rather than continuing East. Reminder, this is a circle. The trail continues with gradual descent to dry stream bed to the SC SIGNPOST (3.3 mi). Look for 2 CAIRNS (3.6 mi) that mark the start of the switch backs which sometimes are very steep with great rock outcroppings. Take time to rest your muscles and look around to your side and behind you. You will also be able to see Water Canyon Road below you. Hike to the FENCE (4.7 mi) and then 1000 feet to an exit out to Water Canyon Road. You will need to walk less than 0.5 mile back to parking lot.
Comments
This is a 5.2 mile loop hike that circles the Water Canyon Mesa on the East side of Water Canyon Rd. The trail up 1300 ft in first 1.3 miles is challenging. A section of pleasant up down with view East, West and a few to the North before you descend. Numerous alligator junipers to enjoy. The descent is very steep with great rock outcroppings to distract you. Be careful of following old trails (some with signpost) in the wrong direction, remember you are trying to do a circle.
Waypoints
PARK: N 34 01.137, W 107 08.021
TRL 13: N 34 00.849, W 107 08.073
HEAD SOUTH: N 34 00.474, W 107 07.828
VIEW: N 34 00.256, W 107 07.705
DHV TM: N 34 00.203, W 107 07.583
JCT BEAR NE: N 34 00.549, W 107 06.924
SC SIGNPOST: N 34 01.015, W 107 07.189
2 CAIRNS: N 34 01.226, W 107 07.121
FENCE: N 34 01.406, W 107 07.746
ROAD: N 34 01.325, W 107 07.879
Map Filename:
WaterCanyonMesa_Dnew.jpg
Hike GPS File Name:
WaterCanyonMesaWayTrack_SPSP.gpx
Hike GPS File:
Click
link
to download hike waytrack file
Text Author:
Sue Pelletier
Map Author:
Marilyn Warrant
Waypoints Author:
Sue Pelletier
Track Author:
Sue Pelletier
Maintainer:
Vivian Heyward
Editor:
Marilyn Warrant