Villanueva St Park Viewpoint Loop Hike
In Villanueva Region
Map File Source: NG Topo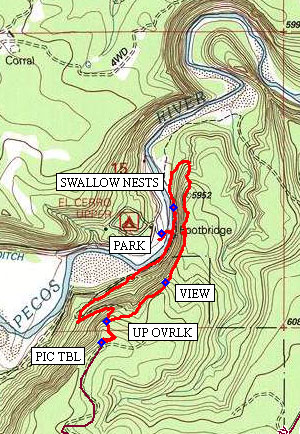 Hike Key:
H10558
Last Updated:
06/30/2021 12:00am
Last Updated By:
Marilyn Fixer
Hike Class:
B (Moderate)
Hike Distance:
2.2 mi
Minimum Elevation:
5726 ft
Elevation Change:
453 ft
Total Uphill:
599 ft
Total Downhill:
599 ft
Avg. Grade:
11 %
Route Type:
CCW Loop
On Trail:
Yes
Paved or Gravel Roads:
Yes
GPS Advised:
Yes
Drive Distance Round Trip:
212 mi
Drive Time One-Way:
2:00
Hiking Seasons:
Spring, Summer, Fall, and Winter
New Mexico Game Unit:
43
Hike Status:
Published
Highlights
There are great views of the Pecos Valley and River. Informative visitor center.
Cautions
This hike has enough up and down hill-climbing on various surfaces to recommend hiking poles.
Trailhead Directions
I-25 North past Santa Fe, Glorieta and Pecos to Exit 323 (Hwy 3). Proceed south about 12 miles to Villanueva, where you will follow the obvious signs to the State Park and campground.
For an interesting alternative for the route back (taking the same amount of time and traveling the same distance) follow Hwy 3 south to I-40, Exit 230. Turn right on I-40 and head for Clines Corners and Albuquerque.
Actual Hike
At PARK (0.0 mi) go across the foot bridge and turn right. Proceed on an easy trail for about a half mile where you will see a rock corral and wheat thrashing structure to your right. The next third of a mile is a steep climb (the toughest part of the hike), eventually reaching UP OVRLK (0.8). Then continue a bit more uphill to the PIC TBL (1.0 mi) for great views and lunch. After lunch backtrack to UP OVRLK, turn right and follow the well-traveled trail to VIEW (1.2 mi), where one can enjoy surveying the entire Pecos River valley and the immediate campground area. Continue around the loop of trail to SWALLOW NESTS (2.0 mi) where you will be nearly back to the footbridge and PARK.
Comments
On the way home, enjoy the old church and general store in the old, charming town of Villanueva shortly after heading south on NM3.
For those geography enthusiasts with a compass: Doesn't the Pecos River run from the Northern New Mexico Sangre de Cristo Mtns all the way south to Texas? In other words, from North to South? Isn't that right? Then why do you see the same Pecos River flowing in the opposite direction here?
Waypoints
PARK: N35 15.881, W105 20.042
UP OVRLK: N35 15.623, W105 20.236
PIC TBL: N35 15.564, W105 20.256
VIEW: N35 15.738, W105 20.025
SWALLOW NESTS: N35 15.957, W105 19.998
Map Filename:
Villanueva SP Lp_BG.jpg
Hike GPS File Name:
Villanueva SP Lp_BG_BG.gpx
Hike GPS File:
Click
link
to download hike waytrack file
Text Author:
Frank Ernst
Map Author:
Bill Gloyd
Waypoints Author:
Frank Ernst
Track Author:
Bill Gloyd
Maintainer:
Bill Gloyd
Editor:
Howard Carr