Valles Caldera National Preserve – Cerros del Abrigo Hike
In Jemez Mountains Region
Map File Source: NG Topo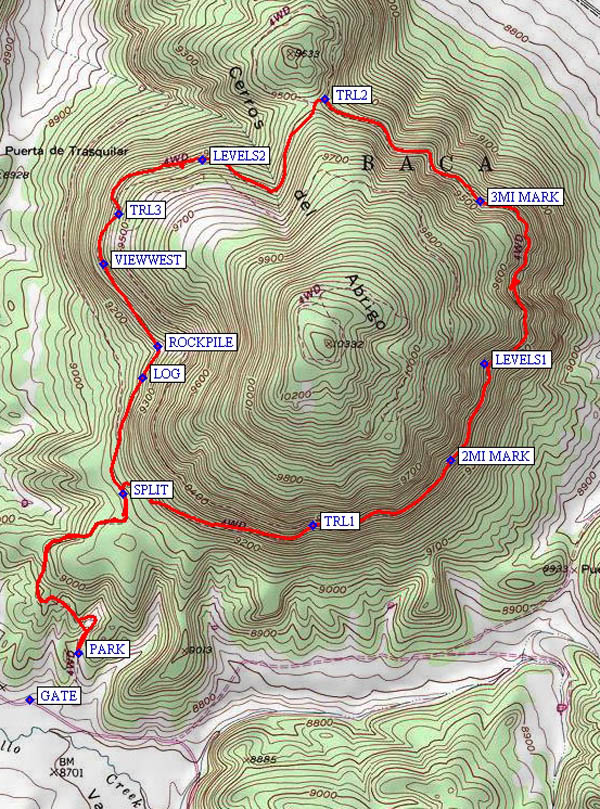 Hike Key:
H10351
Last Updated:
03/19/2021 12:00am
Last Updated By:
Marilyn Fixer
Hike Class:
C (Challenging)
Hike Distance:
6.8 mi
Minimum Elevation:
8795 ft
Elevation Change:
782 ft
Total Uphill:
1308 ft
Total Downhill:
1308 ft
Avg. Grade:
9 %
Route Type:
Loop
On Trail:
Yes
Paved or Gravel Roads:
Yes
GPS Advised:
Yes
Hiker Limit (NF/BLM/NP):
15 (National Preserve)
Drive Distance Round Trip:
172 mi
Drive Time One-Way:
2:00
Hiking Seasons:
Spring, Summer, and Fall
New Mexico Game Unit:
6B
Hike Status:
Published
Access Description:
Valles Caldera North Access
Highlights
A walk in the woods on old logging roads around a hill. Views of the Valles Caldera.
Cautions
In the Las Conchas burn scar.
Trailhead Directions
Take I-25 North and exit on to Highway 550. In San Ysidro, take Hwy 4 to Jemez Pueblo and Jemez Springs. Follow Highway 4 at fork at La Cueva (stay right). The Valles Caldera Preserve is about 22 miles from Jemez Springs. Look for the Main Gate at Mile Marker 39.2.
Actual Hike
This hike begins with a van ride through the central part of the Valles Caldera Preserve, passing by historical buildings and History Grove to the PARK (0.0 mi). Cerros del Abrigo is an eruptive dome located in the center of the Preserve. As you circumnavigate the dome along old logging roads from SPLIT (0.8 mi), you will discover scenic views of the Valle Grande, Valle Jaramillo, Valle Toledo and the Valle San Antonio. There are many old logging roads on the dome; some of which connect, others which do not. The hike was designed in the counterclockwise direction, so if you make the hike in that direction there are several mile markers to track your progress and fewer opportunities to get on the wrong road (see waypoints TRL1 (1.5 mi), TRL2 (3.8 mi), and TRL3 (4.8 mi) for some of these opportunities). Once you level off between LEVELS1 (2.4 mi) and LEVELS2 (4.4 mi), your elevation should be 9500 ft plus/minus 100 ft (if not, you've managed to get on the wrong logging road and need to retrace your steps).
Comments
It's a good idea to call them before scheduling this hike to make sure the area will be open for hiking and to reserve space for at least 14 people. Allow extra time for this hike. The Valles Caldera Preserve charges an $8 per person fee for seniors ($10 for adults) for a self-guided hike. Add 24 mi to the total driving distance and another 45 min to the one-way driving time.
The group is limited to 15 hikers unless you get a Special Use Permit.
Check the Valles Caldera website for current information.
Waypoints
GATE: N 35 54.916, W 106 29.636
MAINGATE: N 35 49.930, W 106 29.233
STAGING: N 35 51.391, W 106 29.480
PARK: N 35 55.041, W 106 29.477
SPLIT: N 35 55.473, W 106 29.326
TRL1: N 35 55.388, W 106 28.694
2MI MARK: N 35 55.562, W 106 28.238
LEVELS1: N 35 55.822, W 106 28.123
3MI MARK: N 35 56.263, W 106 28.138
TRL2: N 35 56.540, W 106 28.656
LEVELS2: N 35 56.376, W 106 29.062
TRL3: N 35 56.228, W 106 29.344
VIEWWEST: N 35 56.093, W 106 29.393
ROCKPILE: N 35 55.871, W 106 29.211
LOG: N 35 55.785, W 106 29.263
Map Filename:
VallesCaldera-CerrosdelAbrigoImage_MW.JPG
Hike GPS File Name:
VallesCaldera-CerrosdelAbrigoWayTrack_MWMW.gpx
Hike GPS File:
Click
link
to download hike waytrack file
Text Author:
Marilyn Warrant
Map Author:
Marilyn Warrant
Waypoints Author:
Marilyn Warrant
Track Author:
Marilyn Warrant
Maintainer:
Marilyn Warrant
Editor:
Howard Carr