Trigo Canyon Hike
In Manzano Mountains West Region
Map File Source: Roger Holloway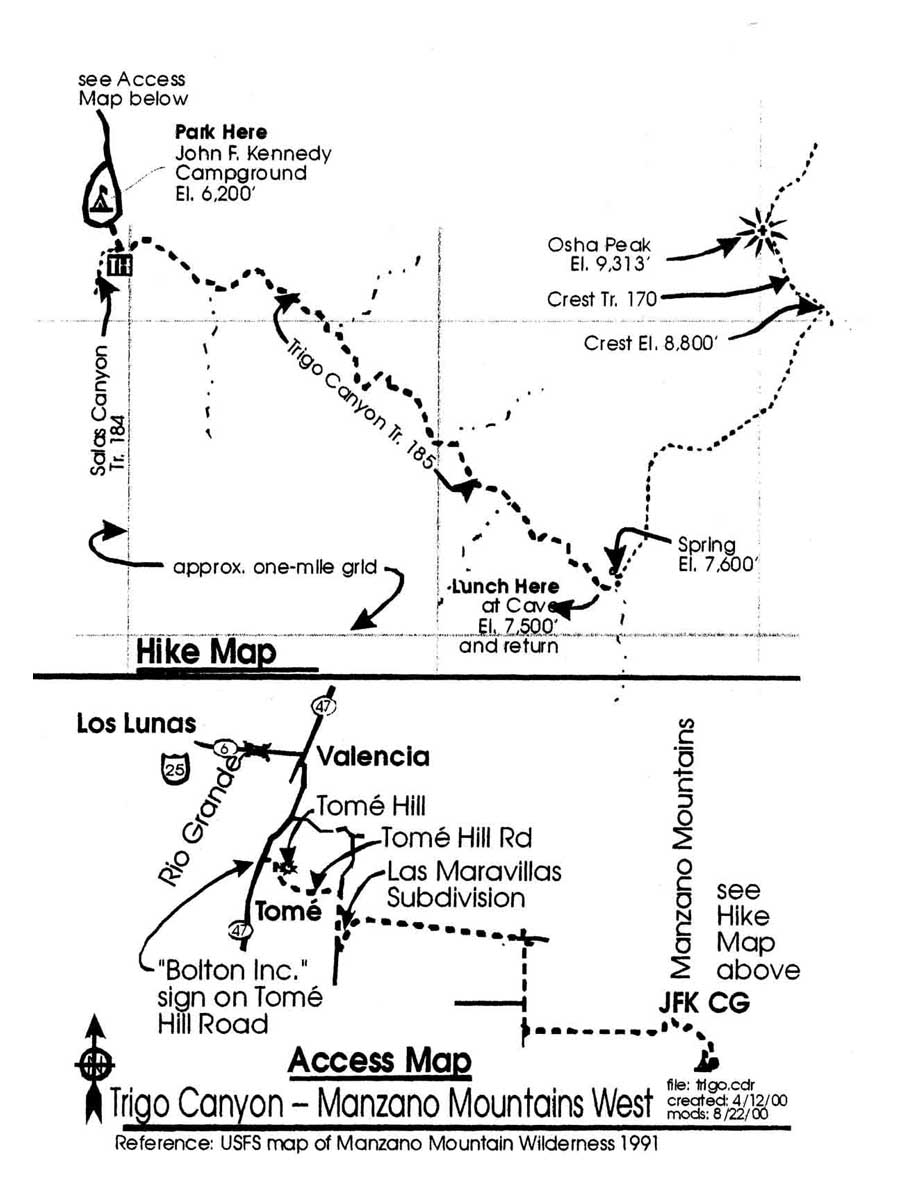 Hike Key:
H10219
Last Updated:
12/20/2022 9:17pm
Last Updated By:
Marilyn Warrant
Hike Class:
C (Challenging)
Hike Distance:
4 mi
Minimum Elevation:
0 ft
Elevation Change:
1300 ft
Total Uphill:
1300 ft
Total Downhill:
1300 ft
Avg. Grade:
%
Route Type:
InOut
On Trail:
Paved or Gravel Roads:
GPS Advised:
Drive Distance Round Trip:
100 mi
Drive Time One-Way:
1:00
Hiking Seasons:
Summer and Fall
New Mexico Game Unit:
14
Hike Status:
Inactive
Cautions
None.
Trailhead Directions
Take I-25 South to exit onto SR No. 47 at Isleta Pueblo or continue to Los Lunas exit 203 and drive east to SR 47 and then south to Tomé. Take note that 47 makes a sharp jog to the left just after sign to Los Lunas Visitors Center. Turn east at Tomé Hill Rd. Note sign that says "Bolton Inc." Continue east and south around Tomé Hill 2.8 miles on a gravel road and then a paved road that intersects a paved highway. Turn right (south) and continue 1.5 mi. to a gravel road just past Las Maravillas subdivision and turn left (east). Drive 6.4 mi. north-northeast and then east on a gravel road to an intersection with 3 tires on SE corner. Turn right (south). Drive south and then east about 1 mi. Turn right (south) and drive 2.7 mi., turn left (east). Drive 5.9 mi. from that corner to road leading
Actual Hike
Trigo Trail crosses the stream to east while the Salas Trail heads south. It's 1,300′ elevation gain to the lunch site at the cave. We will go no further, but it would be up 2,660′ to Manzano Crest.
Comments
Not a spring hike – too much water in stream that must be crossed many times. About halfway to the cave is a large vertical rock that climbers have used – see pitons driven into it. The rock formations in this canyon are stunning. They are often knife-edged. And the tall canyon walls just past the cave are nearly vertical. Lots of wildflowers and butterflies in this lush streambed.
Map Filename:
TrigoCanyonImage_RH.jpg
Text Author:
Vivian Heyward
Map Author:
Waypoints Author:
Track Author:
Maintainer:
Not Assigned
Editor:
Marilyn Warrant