Tree Spring Trail To Fossil Garden Hike
In Sandia Mountain East Region
Map File Source: NG Topo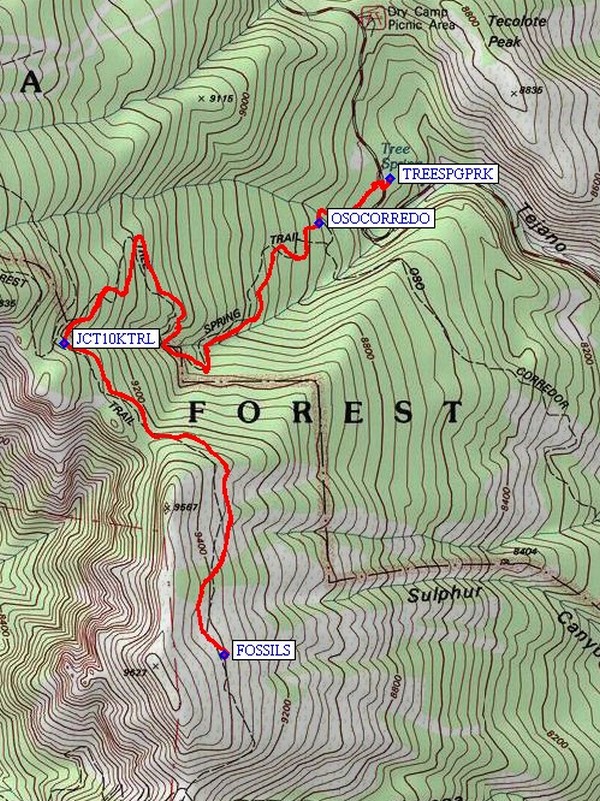 Hike Key:
H10270
Last Updated:
03/20/2023 2:44pm
Last Updated By:
Marilyn Fixer
Hike Class:
C (Challenging)
Hike Distance:
6.6 mi
Minimum Elevation:
8474 ft
Elevation Change:
1003 ft
Total Uphill:
1324 ft
Total Downhill:
1324 ft
Avg. Grade:
10 %
Route Type:
InOut
On Trail:
Yes
Paved or Gravel Roads:
Yes
GPS Advised:
No
Hiker Limit (NF/BLM/NP):
15 (Sandia Wilderness)
Drive Distance Round Trip:
54 mi
Drive Time One-Way:
0:45
Hiking Seasons:
Summer and Fall
New Mexico Game Unit:
8
Hike Status:
Published
Highlights
Lush forest; rock garden meadow with fossils. Wildflowers.
Cautions
Difficult footing due to exposed tree roots and rocky rough trail. Hiking poles recommended.
Trailhead Directions
From Albuquerque drive east on I-40 through Tijeras Canyon and take exit 175 north to Cedar Crest/Turquoise Trail on NM14. Drive north for 6 miles and turn left onto NM536 toward Sandia Crest, then at mile marker 5.5 miles, park on the left at the Tree Springs Trail area (TREESPGPRK). This is a fee area, so be prepared to display your Federal Recreational Lands Pass (Senior or Golden Age), or pay the $3 per vehicle.
Actual Hike
The trail begins near the pit toilets just up slope from the south edge of the parking area. This is a hike through a lush woodland of mixed conifer, oak, and aspen trees. There are just enough aspen to make it a worthwhile fall color hike. All along this well used trail there are many wildflowers in the spring and summer months. The trail climbs long switchbacks generally west and south at a moderate elevation gain of about 500 feet per mile. You will pass a junction with the Oso Corredor trail, OSOCORREDO (0.3 mi), and at nearly 2 miles you will reach the Sandia Wilderness Area boundary and another trail junction, JCT10KTRL. The 10K trail comes in from the north (your right), and the Crest Trail comes in from the west and turns to the south (your left). We want the South Crest Trail 130S so just step thru the fence opening and take the trail to the left. Now you will be heading in a southerly direction and there is actually a gentle downhill stretch here. The major part of the climbing is behind you now, so enjoy this easier part of the hike. From this last trail junction, we continue another 1 ¼ miles thru this nice woodland to a rock garden meadow (FOSSILS (3.3 mi)) with a good show of fossils in the rocks. Take some time here to wander about and notice the fossils in the Madera limestone: crinoids (stem or disc fragments), horn corals (curved or grooved cones), and brachiopods (clam shell like creatures). This is the turnaround point of the hike; we will return the same way we came in.
Comments
This trail is well used and weathered and has many tripping hazards such as exposed tree roots, pointy rocks and the like, so hikers should mind their footing while they enjoy the scenery. Tree Spring Trail #147 is outside of the Sandia Wilderness Area, so you may encounter bicycles on this portion of the hike.
Waypoints
PARK: N 35 11.632, W 106 24.283
OSOCORREDO: N 35 11.524, W 106 24.494
JCT10KTRL: N 35 11.232, W 106 25.250
FOSSILS: N 35 10.470, W 106 24.774
Map Filename:
TreeSpringTrailToFossilGarden_Nnew.jpg
Hike GPS File Name:
TreeSpringTrailToFossilGardenWayTrack_KSKS.gpx
Hike GPS File:
Click
link
to download hike waytrack file
Text Author:
Ken Smith
Map Author:
Ken Smith
Waypoints Author:
Ken Smith
Track Author:
Ken Smith
Maintainer:
Ken Smith
Editor:
Marilyn Warrant