Strawberry Canyon to McGaffey Lookout Hike
In Northwest New Mexico Region
Map File Source: Garmin BaseCamp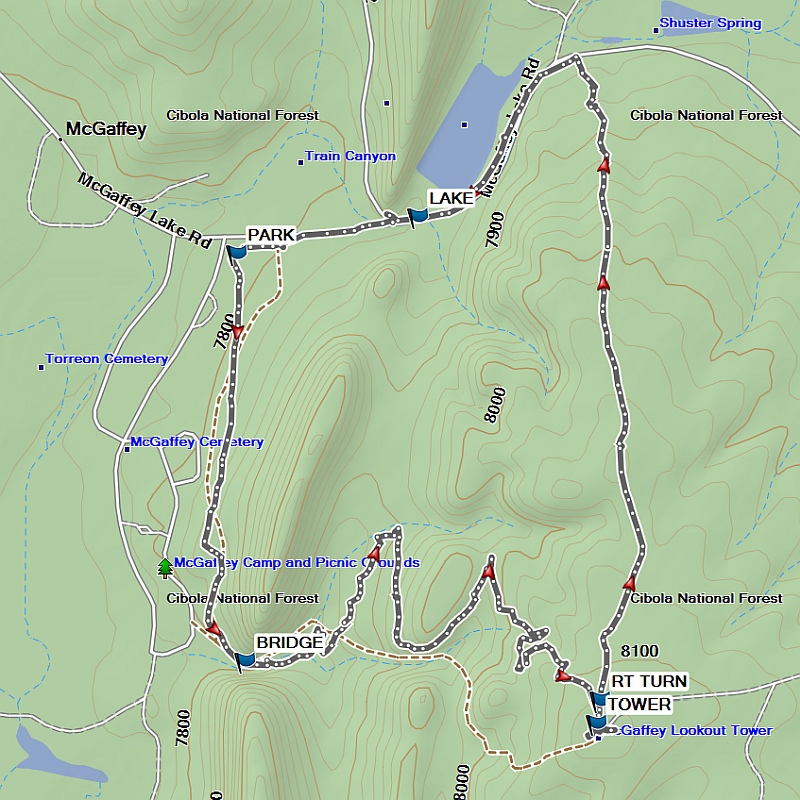 Hike Key:
H10637
Last Updated:
12/15/2020 12:00am
Last Updated By:
Marilyn Warrant
Hike Class:
B (Moderate)
Hike Distance:
4.4 mi
Minimum Elevation:
7790 ft
Elevation Change:
330 ft
Total Uphill:
450 ft
Total Downhill:
450 ft
Avg. Grade:
2 %
Route Type:
CCW Loop
On Trail:
Yes
Paved or Gravel Roads:
Yes
GPS Advised:
Yes
Drive Distance Round Trip:
285 mi
Drive Time One-Way:
2:30
Hiking Seasons:
Summer and Fall
New Mexico Game Unit:
10
Hike Status:
Published
Highlights
Beautiful hike on a forest service trail to a tower overlook. Visit a lake on the return.
Cautions
Hiking poles may be useful.
Trailhead Directions
West on I-40 to exit 33 (the same exit for the Crossover hike) , go south past Ft. Wingate on Hwy 400 for 10 miles to the Strawberry Canyon trailhead on the right at the end of the paved road.
Actual Hike
From PARK proceed south on the east (left) side of the McGaffey campground. Go over the wooden foot BRIDGE (0.7 mi) and turn left, then follow the main trail all the way up to the fire lookout TOWER (2.3 mi). Although the access to the tower at the top is locked, you can walk up the stairs going near the top for good views. After that, go back the way you came but take the trail to the right at RT TURN (2.5 mi) and proceed down the main trail to the dirt road. Find a safe way down the embankment to the dirt road FS 50. Once on the road hike left to the McGaffey LAKE (4.0 mi). After enjoying the lake, continue up the road in a westerly direction back to PARK.
Comments
Hwy 400 is paved all the way from Ft. Wingate to the trailhead.
The hike distance and total uphill/downhill were determined using the track captured by a Garmin 60Cx unit with the Topo US 24K Southwest digital elevation model in Garmin BaseCamp.
Waypoints
PARK: N35 22.489, W108 31.198
BRIDGE: N35 21.920, W108 31.184
TOWER: N35 21.835, W108 30.574
RT TURN: N35 21.867, W108 30.568
LAKE: N35 22.540, W108 30.884
Map Filename:
StrawberryCanyonToMcGaffeyLookout_MW.jpg
Hike GPS File Name:
StrawberryCanyonToMcGaffeyLookout_FE.gpx
Hike GPS File:
Click
link
to download hike waytrack file
Text Author:
Frank Ernst
Map Author:
Marilyn Warrant
Waypoints Author:
Frank Ernst
Track Author:
Frank Ernst
Maintainer:
Frank Ernst
Editor:
Howard Carr