Stable Mesa Hike
In Jemez Mountains Region
Map File Source: DeLorme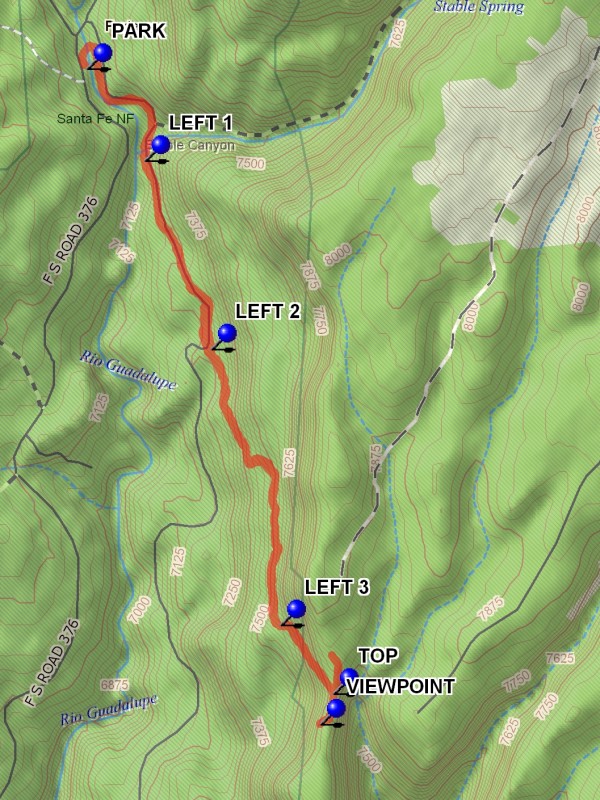 Hike Key:
H10243
Last Updated:
12/15/2020 12:00am
Last Updated By:
Marilyn Warrant
Hike Class:
C (Challenging)
Hike Distance:
5.3 mi
Minimum Elevation:
7160 ft
Elevation Change:
653 ft
Total Uphill:
724 ft
Total Downhill:
724 ft
Avg. Grade:
7 %
Route Type:
InOut
On Trail:
No
Paved or Gravel Roads:
Yes
GPS Advised:
Yes
Drive Distance Round Trip:
120 mi
Drive Time One-Way:
1:45
Hiking Seasons:
Spring, Summer, and Fall
New Mexico Game Unit:
6A
Hike Status:
Published
Highlights
Hike up to a mesa with views in all directions. Pueblo ruins.
Cautions
Very steep sections requiring hiking poles.
Trailhead Directions
From Albuquerque take I-25 north to Exit 242 at Bernalillo. Exit and go west on US 550 to San Ysidro. Go right (north) on SR 4 to SR 485. Turn left onto SR 485 and drive through the Gilman Tunnels. Follow the road (it becomes FR 376) for 7 miles to PARK (0.0 mi).
Actual Hike
From parking go north and cross the Rio Guadalupe on the bridge. Just after crossing the bridge take the faint path on the right. Go uphill for about 100 feet to a road which follows the east bank of the river southward. This segment of the hike is along the flowing Rio Guadalupe. At about 0.5 miles the mouth of Stable Canyon will be on the left. Continue past the canyon on the road for about 0.1 miles to LEFT 1 (0.5 mi). Take the road to the left uphill for about 0.6 miles to LEFT 2 (1.1 mi). There will be many opportunities during the ascent of the west side of the mesa for views out over the surrounding forest. Stay left, going uphill for about 1.0 miles to LEFT 3 (2.1 mi). Go left uphill on a steep ascent for about 0.2 miles. This section is rubble covered, stay on the left side of the "road". At the TOP (2.4 mi) turn right and go to the VIEWPOINT (2.7 mi) after 0.1 miles. This is a pleasant place for lunch and for enjoying the view of the western part of the Jemez.
Comments
This hike has a very steep and rough section of about 0.2 miles as the top is approached. The hike can be extended by going south on the ridge, and by going north on the ridge road beyond the top drop-off point where there are interesting rock formations.
Waypoints
PARK: N 35 49.053, W 106 47.255
LEFT 1: N 35 48.815, W 106 47.071
LEFT 2: N 35 48.331, W 106 46.861
LEFT 3: N 35 47.620, W 106 46.641
TOP: N 35 47.443, W 106 46.472
VIEWPOINT: N 35 47.364, W 106 46.514
Map Filename:
StableMesa_Dnew.jpg
Hike GPS File Name:
StableMesaWayTrack_DBDB.gpx
Hike GPS File:
Click
link
to download hike waytrack file
Text Author:
Dick Brown
Map Author:
Marilyn Warrant
Waypoints Author:
Dick Brown
Track Author:
Dick Brown
Maintainer:
Marilyn Warrant
Editor:
Howard Carr