Spruce Spring – Red Canyon Loop Hike
In Manzano Mountains East Region
Map File Source: NG Topo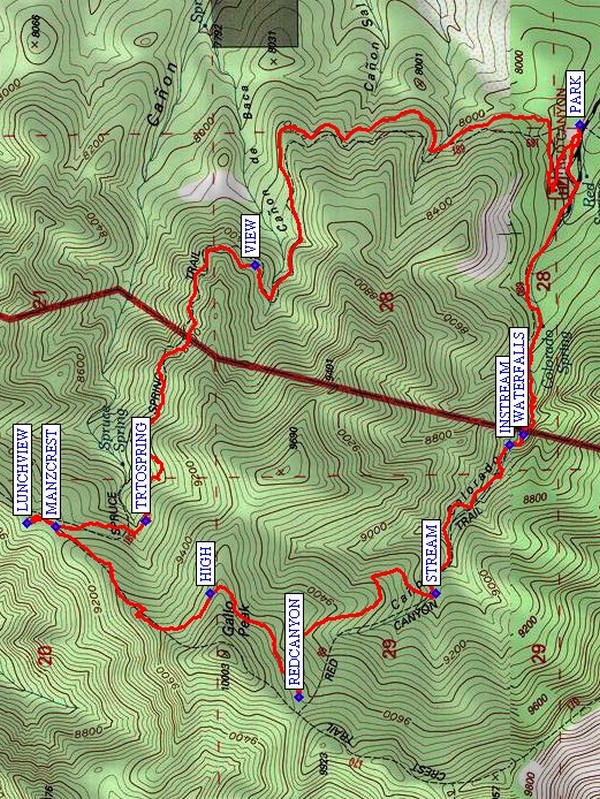 Hike Key:
H10293
Last Updated:
03/11/2021 12:00am
Last Updated By:
Marilyn Fixer
Hike Class:
D (Difficult)
Hike Distance:
7.8 mi
Minimum Elevation:
7940 ft
Elevation Change:
1754 ft
Total Uphill:
1928 ft
Total Downhill:
1928 ft
Avg. Grade:
14 %
Route Type:
Loop
On Trail:
Yes
Paved or Gravel Roads:
Yes
GPS Advised:
Yes
Drive Distance Round Trip:
120 mi
Drive Time One-Way:
1:30
Hiking Seasons:
Spring, Summer, and Fall
New Mexico Game Unit:
14
Hike Status:
Published
Highlights
Beautiful green canyon in the Manzanos. Wildflowers, stream and rock formations. Views to the west from the Manzano Crest Trail.
Cautions
Hiking poles recommended.
Trailhead Directions
From Albuquerque, take I-40 east to exit 175 for south NM 337. Take 337 south. From the stoplight, head 28.7 miles south on NM 337 through Chilili until the road ends at a T intersection with NM 55. Turn right (west) and continue another 12 miles passing through Tajique and Torreon to the town of Manzano. Watch for a sign which says: Manzano State Park; Red Canyon Campground; NM 131. After going 2.4 miles on NM 131, you are at the entrance to Manzano Mountains state park. Don't go in there. Instead, turn right; you are now on a one-lane paved road. 0.5 mi down the road you get to the forest boundary and the road turns to gravel. A few small side roads branch off, but remain on the main road for 1.8 miles, where you will see a sign for the Red Canyon campground. PARK (0.0 mi) at the horse camp at the Red Canyon campground. Spruce Spring Tr. 189 leaves from here.
Actual Hike
Hike Spruce Spring Tr. 189 through the forest and a VIEW (2.1 mi). TRTOSPRING (3.3 mi) is a short side trail that goes down to the spring for which this hike was named. You'll reach the intersection with Manzano Crest Trail 170 at MANZCREST (3.7 mi). Go on up to the right for a short distance, and have a partial lunch in the shade or up on the rock chairs with a great view of Albuquerque at LUNCHVIEW (3.9 mi). Go south along the Manzano Crest Trail past the HIGH (4.7 mi) point of the hike near Gallo Peak. When you reach the REDCANYON (5.2 mi) Trail, have the rest of your lunch in a shady spot sitting in the grass and flowers. Partway down, the trail joins the STREAM (6.0 mi). The stream crossings are easy ones and mostly on stepping stones. In one narrow place (INSTREAM (6.6 mi)), the trail becomes part of the stream for a short distance. Continue on to the WATERFALLS (6.7 mi) then back to the parking area.
Comments
Allow one extra hour for this hike. This is a beautiful hike, and cool when Albuquerque is hot. The red and yellow columbine were abundant in mid-June of 2010. There are locust bushes at several places, so wear long pants or prepare to get scratched. Hiking sticks will be a help on the steep parts of Red Canyon. The steepest uphill part is right after lunch, so take your time.
Waypoints
PARK: N 34 37.326, W 106 24.697
VIEW: N 34 38.152, W 106 25.131
TRTOSPRING: N 34 38.430, W 106 25.917
MANZCREST: N 34 38.659, W 106 25.937
LUNCHVIEW: N 34 38.733, W 106 25.925
HIGH: N 34 38.265, W 106 26.144
REDCANYON: N 34 38.040, W 106 26.463
STREAM: N 34 37.691, W 106 26.141
INSTREAM: N 34 37.504, W 106 25.683
WATERFALLS: N 34 37.468, W 106 25.651
Map Filename:
SpruceSpring-RedCanyonLoop_Nnew.jpg
Hike GPS File Name:
SpruceSpring-RedCanyonLoopWayTrack_DBMW.gpx
Hike GPS File:
Click
link
to download hike waytrack file
Text Author:
Marilyn Warrant
Map Author:
Marilyn Warrant
Waypoints Author:
Marilyn Warrant
Track Author:
Dick Brown
Maintainer:
Randy Simons
Editor:
Howard Carr