Sandia Crest To Del Agua Hike
In Sandia Mountain East Region
Map File Source: DeLorme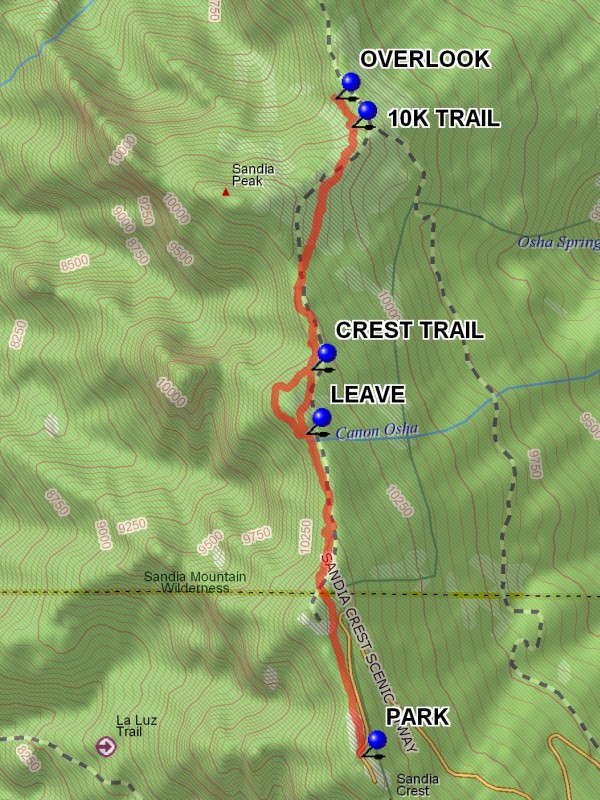 Hike Key:
H10335
Last Updated:
03/20/2023 2:38pm
Last Updated By:
Marilyn Fixer
Hike Class:
C (Challenging)
Hike Distance:
4.5 mi
Minimum Elevation:
9840 ft
Elevation Change:
810 ft
Total Uphill:
980 ft
Total Downhill:
980 ft
Avg. Grade:
11 %
Route Type:
InOut
On Trail:
Yes
Paved or Gravel Roads:
Yes
GPS Advised:
No
Hiker Limit (NF/BLM/NP):
15 (Sandia Wilderness)
Drive Distance Round Trip:
70 mi
Drive Time One-Way:
1:15
Hiking Seasons:
Spring, Summer, and Fall
New Mexico Game Unit:
8
Hike Status:
Published
Highlights
Numerous openings providing views to the west. Beautiful colors of aspens in the spring and fall. Wildflowers.
Cautions
Some uphill on the return portion of the hike.
Trailhead Directions
I-40 east to Tijeras exit. North on NM 14, west on Crest Road 536 all the way to the lower Crest parking lot and PARK (0.0 mi). Parking requires a $3 fee, the Senior Pass, or a Golden Age Passport.
Actual Hike
From parking go north toward the communication towers where there will be a poster board. The Crest Trail continues here. The trail starts by running along the east side of the communication towers fence. The main trail drops slowly to a point where you can LEAVE (1.0 mi) and head toward the edge for open views. Continue along a wide open area until it pitches down and take the trail to rejoin the CREST TRAIL (1.4 mi). The trail now has some steep down pitches until the intersection with the 10K TRAIL (2.2 mi). Just beyond this point is a nice view spot. Then continue down the trail to the Del Agua OVERLOOK (2.3 mi).
Comments
There are numerous openings providing views to the west.
Waypoints
PARK: N 35 12.655, W 106 26.961
LEAVE: N 35 13.482, W 106 27.133
CREST TRAIL: N 35 13.648, W 106 27.119
10K TRAIL: N 35 14.270, W 106 26.991
OVERLOOK: N 35 14.343, W 106 27.042
Map Filename:
SandiaCrestToDelAgua_Dnew.jpg
Hike GPS File Name:
SandiaCrestToDelAguaWayTrack_DBDB.gpx
Hike GPS File:
Click
link
to download hike waytrack file
Text Author:
Dick Brown
Map Author:
Marilyn Warrant
Waypoints Author:
Dick Brown
Track Author:
Dick Brown
Maintainer:
Ken Smith
Editor:
Marilyn Warrant