San Gregorio Reservoir Long Hike
In San Pedro Parks Region
Map File Source: NG Topo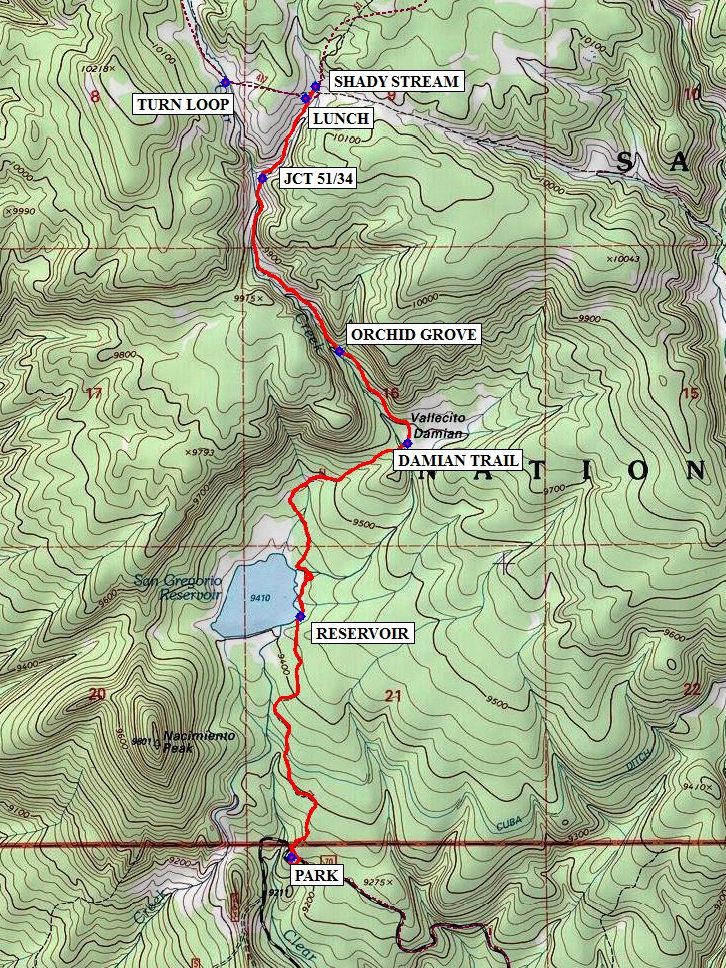 Hike Key:
H10081
Last Updated:
06/29/2021 12:00am
Last Updated By:
Marilyn Fixer
Hike Class:
C (Challenging)
Hike Distance:
7.1 mi
Minimum Elevation:
9269 ft
Elevation Change:
783 ft
Total Uphill:
806 ft
Total Downhill:
806 ft
Avg. Grade:
5 %
Route Type:
InOut
On Trail:
Yes
Paved or Gravel Roads:
Yes
GPS Advised:
No
Hiker Limit (NF/BLM/NP):
15 (San Pedro Parks Wilderness)
Drive Distance Round Trip:
190 mi
Drive Time One-Way:
2:00
Hiking Seasons:
Spring, Summer, and Fall
New Mexico Game Unit:
6A
Hike Status:
Published
Access Description:
San Pedro Parks Access
Highlights
Walk through mature aspen and evergreen forest, passing a picturesque reservoir. Then climb following a creek to high meadows filled with wildflowers.
Cautions
Numerous downed trees to scramble over and marshy areas with saplings tied together to make walking easier.
Trailhead Directions
I-25 north to Bernalillo exit 242, then west on US 550 to Cuba. Turn right (east) on SR 126 and travel 10 miles to FR 70. Turn left and drive 2-3 miles to PARK (0.0 mi) on the right for Trail 51. There are pit toilets here.
Actual Hike
The direction of this hike is in-out. Go back across FR 70 to find the trailhead. Follow Vacas Trail (Tr 51) through evergreen forest to the San Gregorio RESERVOIR (1.0 mi) on the left.
Continue north around the east side of the reservoir, cross Clear Creek on a log bridge and turn right where an intersecting trail leads north. The trail goes through forest, marsh and open areas, climbing very gradually until it reaches another log crossing of Clear Creek at about 2 miles. At the DAMIAN TR (1.9 mi) intersection, bear left and continue on Vacas Trail towards San Pedro Parks.
At ORCHID GROVE (2.3 mi) you may find some Calypso orchids in bloom especially in June). Trail 51 follows Clear Creek for another mile through forest, open areas and snow patches (in early June). Pass the JCT 51/34 (3.1 mi) signpost (Rito Anastacio Tr). Trail 51 continues climbing for another half mile to a large open meadow surrounded by evergreen and aspen.
Have LUNCH (3.5 mi) under a huge evergreen atop a hill with large downed logs adjacent, or just a couple of minutes further, you can have lunch at the SHADY STREAM (3.6 mi).
If you'd like, you can make a little loop by turning left again at TURN LOOP (3.9 mi). You'll intersect the trail you came in on back at JCT 51/34. Return back to the van the way you came.
Comments
PLAN ON A LATE RETURN. It's not a difficult hike (although at high elevation), but why hurry when it's so beautiful? Early June proved a fine time for this hike. Calypso orchids bloomed in several spots on the first 2 miles of the hike. Iris were just beginning to bloom. We also saw false hellebore, marsh marigolds, mountain bluebells, white and purple violets, wild candytuft, and more dandelions than you could count. There are numerous downed trees to scramble over and some marshy areas with saplings tied together to make walking easier. If you come later in the summer, you'll see a different, but also pleasing, crop of flowers and mushrooms. Thanks to the Palo Duro Saturday group for the extra trailhead intersection and loop waypoints.
Waypoints
PARK: N36 01.640, W106 50.807
RESERVOIR: N36 02.347, W106 50.777
DAMIAN TR: N36 03.586, W106 50.932
ORCHID GROVE: N36 03.125, W106 50.635
JCT 51/34: N36 03.633, W106 50.914
LUNCH: N36 03.869, W106 50.759
SHADY STREAM: N36 03.902, W106 50.722
TURN LOOP: N36 03.914, W106 51.047
Map Filename:
SanGregorioReservoirLongMap_MW1.JPG
Hike GPS File Name:
SanGregorioReservoirLongWayTrack_BGBG.gpx
Hike GPS File:
Click
link
to download hike waytrack file
Text Author:
Judie Schwartz
Map Author:
Marilyn Warrant
Waypoints Author:
Bill Gloyd
Track Author:
Bill Gloyd
Maintainer:
Joan Weissman
Editor:
Howard Carr