Rio Rancho Badlands Hike
In Rio Rancho Region
Map File Source: Garmin BaseCamp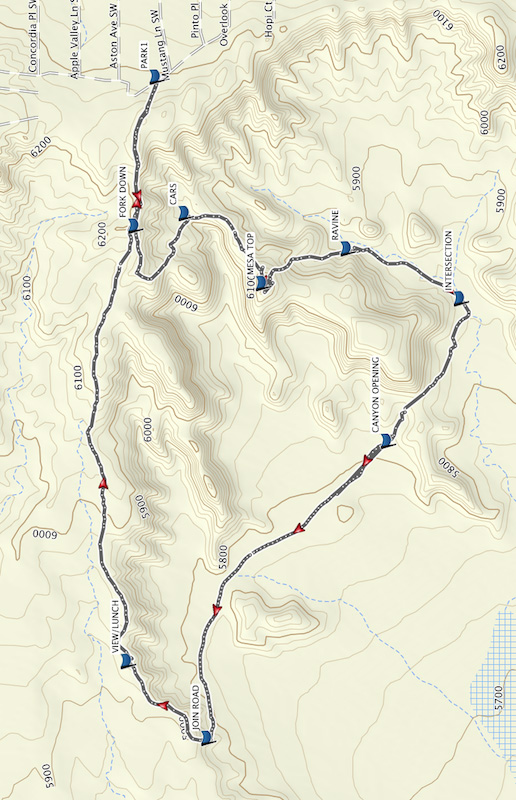 Hike Key:
H10181
Last Updated:
06/29/2021 12:00am
Last Updated By:
Marilyn Fixer
Hike Class:
C (Challenging)
Hike Distance:
6.3 mi
Minimum Elevation:
5784 ft
Elevation Change:
495 ft
Total Uphill:
882 ft
Total Downhill:
882 ft
Avg. Grade:
7 %
Route Type:
CW Loop
On Trail:
No
Paved or Gravel Roads:
No
GPS Advised:
Yes
Drive Distance Round Trip:
60 mi
Drive Time One-Way:
0:45
Hiking Seasons:
Spring, Fall, and Winter
New Mexico Game Unit:
9
Hike Status:
Published
Highlights
Mountain views in every direction. Variety of topography. Find animal tracks in the sand.
Cautions
Rigorous hike through soft sand, up and down numerous dunes. Can be hot.
Trailhead Directions
West on NM 528 (Alameda) to Rio Rancho. West on Southern Blvd approx. 10.5 miles through Rio Rancho (pavement ends after 8 mi.) then gravel road turns into dirt road at high voltage power lines. If it is wet, you should park here, otherwise turn right, then left at the microwave tower building. There are several dirt tracks, either before or after the tower building, use your judgment, which looks best. To PARK, continue to base of hills at a loop in the road near a lone tree. If road impassable, park at large turn around area.
Actual Hike
Hike uphill, keep to the right at the top. Continue straight ahead, (west) atop the prominent ridge for about .5 miles to: FORK DOWN. From this point, the easiest way is in a CW direction so turn to the left (west to southwest), following the road descending into the valley. Take time to look back on the views. The road will wind up and down hills with soft sand.
CAUTION: There are many roads and trails going in all directions so watch your GPS carefully. Very confusing. Easy to go in the wrong direction. Two trails may run parallel and meet up again.
At CARS intersection, keep to the right. At MESA TOP take note of 360 degree views, topography, and variety of trails. At bottom of canyon, RAVINE is a good place to rest out of the wind. Follow the track (south) along the back side of the hills. Watch GPS carefully for INTERSECTION, several intersecting trails in this area. Proceed to CANYON OPENING. From here, cross flat pasture land with cacti and a few trees. No trail, for the most part in this area, but you will cross many trails and tracks. Meet the main road again at: JOIN ROAD. Climb steadily uphill to the top of the ridge for about 2 miles. The ridge provides good views in all directions but especially of the badlands to the south. Take a break near VIEW/LUNCH, a good place to rest and enjoy the views. Look for a place to get out of the wind. Continue east, there will be a fence that you keep in sight north of the road on the way back. Many trails branch off and run parallel but meet up again.
Comments
Comments: You should be in good physical condition. This is a rigorous, aerobic hike! A large part of it involves hiking in very soft sand, up and down numerous STEEP sand dunes.
I do not recommend this hike without a GPS. Trails and roads abound in the area, and it is easy to get into a box where you have to back track to get out.
Not recommended on weekends when motorcycles and 4 wheel drive vehicles are most often seen.
Not recommended in summer or hot days, or if roads and trails are wet. Hike is in the open with very little shade. In winter, even with light winds, this hike can be cool. Dress appropriately.
Waypoints
PARK: N35 14.703, W106 51.871
FORK DOWN: N35 14.136, W106 52.984
CARS: N35 14.632, W106 52.287
MESA TOP: N35 12.020, W107 02.557
RAVINE: N35 14.235, W106 52.395
INTERSECTION: N35 13.957, W106 52.548
CANYON OPENING: N35 14.136, W106 52.984
JOIN ROAD: N35 14.576, W106 53.892
VIEW/LUNCH: N35 14.773, W106 53.658
Map Filename:
Rio Rancho Badlands_DM.jpg
Hike GPS File Name:
RioRanchoBadlandsWayTrack_DMDM06JAN2011.GPX
Hike GPS File:
Click
link
to download hike waytrack file
Additional File 1 Link
Click
link
to download an additional file.
Text Author:
Dawn McIntyre
Map Author:
Dawn McIntyre
Waypoints Author:
Dawn McIntyre
Track Author:
Dawn McIntyre
Maintainer:
Dawn McIntyre
Editor:
Marilyn Warrant