Ponderosa Mesa from Paliza Group CG Hike
In Jemez Mountains Region
Map File Source: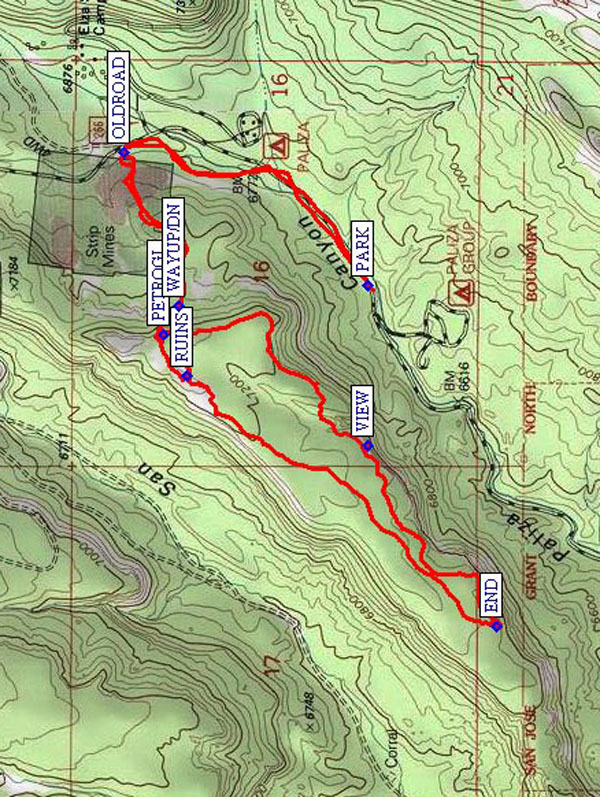 Hike Key:
H10392
Last Updated:
12/15/2020 12:00am
Last Updated By:
Marilyn Warrant
Hike Class:
C (Challenging)
Hike Distance:
5.7 mi
Minimum Elevation:
6704 ft
Elevation Change:
557 ft
Total Uphill:
843 ft
Total Downhill:
843 ft
Avg. Grade:
7 %
Route Type:
Loop
On Trail:
No
Paved or Gravel Roads:
Yes
GPS Advised:
Yes
Drive Distance Round Trip:
100 mi
Drive Time One-Way:
1:00
Hiking Seasons:
Spring, Summer, and Fall
New Mexico Game Unit:
6A
Hike Status:
Published
Highlights
Pueblo ruins, views, and wildflowers.
Cautions
Can be hot so bring extra water.
Trailhead Directions
I-25 north, US 550 west, SR 4 north, SR 290 east past Ponderosa and San Juan Road. After the reservoir on the left, there is a cattleguard, and pavement changes to gravel. Just after the Paliza Group Campground, there is a gate that may be closed. If it is, PARK (0.0 mi) in the area to the left of the gate. If it isn't, go as far up the road as you can up to OLDROAD (0.8 mi).
Actual Hike
Go through the gate, and walk along the road next to a stream until you reach OLDROAD (0.8 mi) on your left. It's a steep dirt road, but easier to walk on than going through the brush. Follow this road until you reach WAYUP/DN (1.3 mi) to get up onto the mesa. There's a long rock ledge that's a convenient resting point after all that uphill. Look for the petroglyphs (PETROGL (1.3 mi)) beside your feet. Then go towards the RUINS (1.5 mi). There is evidence of extensive Indian activity up there. Head around the northwestern edge of the bluff. Good viewpoint in all directions. Have lunch somewhere out on the END (2.7 mi) of the mesa. Heading back we explore the southeastern edge of the bluffs. Many interesting rock formations. Watch for the many clusters of concave scrapings. We could not figure out what caused them. The rocks seem to be hollow when stomped on (drumming sound). After rounding a big arc of bluff you will see, across the canyon, an open area with a lot of roads. That is the (now closed) Paliza Campground. Looking ahead and down the bluffs you will see the town of Ponderosa and perhaps the dam with water in it (9/30/03). Proceed to a point with a good overlook of that area at VIEW (3.5 mi). Then take another look at the petroglyphs at PETROGL before returning back to your parking area.
Comments
In April 2010, we were surprised to find the gate just above the Paliza Group Campground closed. This version of the Ponderosa Mesa hike is useful if you want to schedule a hike on Ponderosa Mesa before Memorial Day.
Waypoints
PARK: N 35 42.010, W 106 37.999
OLDROAD: N 35 42.534, W 106 37.649
PETROGL: N 35 42.448, W 106 38.128
WAYUP/DN: N 35 42.414, W 106 38.054
RUINS: N 35 42.398, W 106 38.236
END: N 35 41.734, W 106 38.891
VIEW: N 35 42.012, W 106 38.418
Map Filename:
PonderosaMesafromPalizaGroupCGImage_MW.JPG
Hike GPS File Name:
PonderosaMesafromPalizaGroupCGWayTrack_MWMW.gpx
Hike GPS File:
Click
link
to download hike waytrack file
Text Author:
Roger Holloway
Map Author:
Marilyn Warrant
Waypoints Author:
Marilyn Warrant
Track Author:
Marilyn Warrant
Maintainer:
Marilyn Warrant
Editor:
Howard Carr