Piedras Marcadas to Boca Negra Hike
In Albuquerque Region
Map File Source: Garmin BaseCamp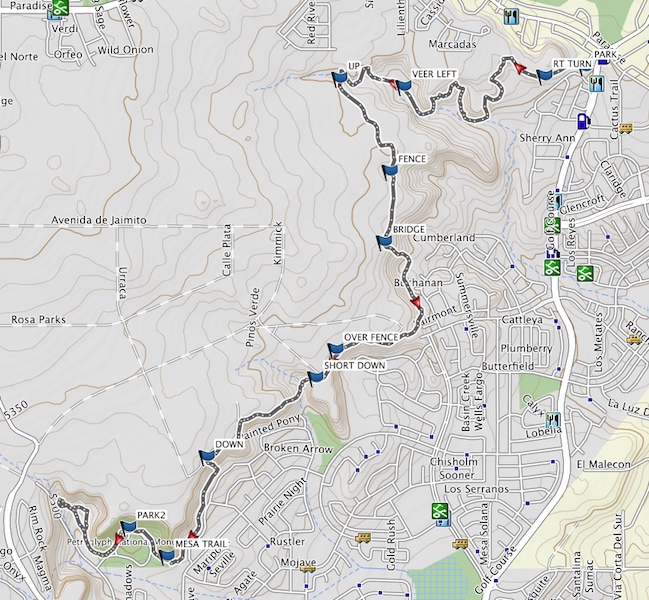 Hike Key:
H10643
Last Updated:
02/07/2022 12:00am
Last Updated By:
Marilyn Fixer
Hike Class:
C (Challenging)
Hike Distance:
6 mi
Minimum Elevation:
5165 ft
Elevation Change:
178 ft
Total Uphill:
897 ft
Total Downhill:
880 ft
Avg. Grade:
3 %
Route Type:
Oneway
On Trail:
No
Paved or Gravel Roads:
Yes
GPS Advised:
Yes
Drive Distance Round Trip:
30 mi
Drive Time One-Way:
0:15
Hiking Seasons:
Spring, Fall, and Winter
New Mexico Game Unit:
9
Hike Status:
Waiting Editor
Attractions:
Views and Wildflowers
Highlights
A chance to see hundreds of petroglyphs some not visible on established park trails. Excellent views, lots of jack rabbits and sometimes coyotes.
Cautions
Entire hike involves walking in sand with many rabbit holes. Hiking poles recommended for climbing around lava rocks. Watch for rattlesnakes!
Trailhead Directions
This is a shuttle hike so leave one vehicle at Boca Negra Canyon which is where the hike ends. Drive to Piedras Maracas TH to start.
BOCA NEGRA TH: Take Paseo del Norte west across the river to Unser, then turn left (south) on Unser Blvd until you reach Atrisco Blvd, turn left. Follow signs to Boca Negra park entrance. City vans can enter for free as well as vehicles with a National Park Pass otherwise it is $1 fee on weekdays and $3 on weekends. Park the shuttle vehicle near the bathroom which is about ¾ way around the one-way loop.
PIEDRAS MARCADAS TH: Exit Boca Negra park, turn right on Unser Blvd, go north until you reach Paseo del Norte, turn right (east) and continue until Golf Course Rd, then turn left (north). Continue to Jill Patricia (one block before Paradise Blvd), turn left, drive about ½ block, and the trailhead parking lot is on the right behind Vavoline. No fees required here.
Actual Hike
Hike west through a narrow corridor to the entrance of Piedras Marcadas Canyon. The path in this area is obvious, but look for a connecting path at RT TURN (0.2 mi) and closely follow the escarpment to PM 1 (0.3 mi), the first group of petroglyphs. It's possible to see coyotes along the mesa top in this area. You will see hundreds of petroglyphs in the next 1.1 miles to PM 9 (1.1 mi), some in large groupings. In summer, if you go before 9 or 10 AM, you will see masses of Sacred Datura spread out through the lava. The funnel shaped, white flowers appear in early evening and wilt by 10 AM.
After you pass HANDS (1.2 mi), you will climb part way up the escarpment to get around an opening now filled with tumbleweeds. Hike in a wash until VEER LEFT (1.4 mi). Watch for rabbit holes as you make your way to CRANE (1.5 mi). There is an interesting petroglyph half way up the escarpment on a flat TOP (1.5 mi) rock that is only visible from above (for those who feel comfortable climbing on rough lava).
Walk along the bottom of the escarpment and continue to the first of several COYOTE (1.6 mi) petroglyphs in this area. Carefully make your way through an opening into another small canyon that is now quite overgrown and filled with tumbleweeds. There are a several areas of petroglyphs along the lava on your right including COYOTE 2 (1.7 mi). When the brush becomes impassable, turn left and head south to find the easiest way UP (1.7 mi) the escarpment.
From here, some of the track is off trail, some on a two track, then make a turn south at FENCE (2.3 mi) and eventually you will come to a trail that leads to the BRIDGE (2.5 mi) that crosses over Paseo del Norte. (If you need to shorten the hike due to weather or heat, you could continue straight south on a two track dirt road for approximately 1 mile but you eventually need to find an opening to cross OVER FENCE (3.3 mi) which is encased in dense tumbleweeds.)
The GPX track will continue to wind downhill on a more interesting route. As you proceed downhill from the bridge, notice the tunnel on the left that passes under Paseo del Norte. This is a good place to find shade or get out of the rain if necessary. Continue along the GPX track that is in large part rabbit trails with lots of rabbit holes. You will enter a very narrow part of the National Monument with private property on both sides. The GPX track is not straight, and sometimes it follows along the edge of the escarpment. At SHORT DOWN (3.5 mi), there is a small dip in and out of a canyon.
Continue on rabbit trails to DOWN (4.1 mi). As you start hiking to the bottom, look over your left shoulder near the top of the escarpment to see a large RABBIT petroglyph. At the bottom, the path to MESA TRAIL (4.7 mi) is fairly obvious. Along the way, you may notice some cross petroglyphs which are thought to be made by sheep herders in the 1800's.
It's optional to follow the short MESA TRAIL to the top of the escarpment for 360 degree views, volcanoes to the west, the Rio Grande Valley to the east and more petroglyphs.
A short distance beyond are bathrooms and covered shelters to use for lunch at the Boca Negra parking area, PARK2 (4.9 mi). You could stop here which will shorten the hike to 4.9 miles, but take time to explore two small loops of petroglyphs here, CLIFF BASE TRAIL (4.9 mi) and MACAW TRAIL (4.9 mi).
The GPX track continues along the base of the escarpment for another 1.1 miles to another petroglyph area at the end of Boca Negra canyon. Follow the short loop back to Boca Negra parking lot, PARK2 (6.0 mi) to end the hike.
Comments
There are too many waypoints to include everything on one map. The map in this hike description shows only navigation waypoints. On the supplement page, you will find two images with details of the petroglyph waypoints in Piedras Marcadas and a separate image for those in Boca Negra. The GPX track includes both navigation and petroglyph waypoints.
As described in the hike description, there are possible variations to shorten the hike if the weather is hot or in case of rain.
No dogs allowed in Boca Negra Canyon.
Waypoints
Navigation Waypoints:
PARK: N35 11.326, W106 41.132
RT TURN: N35 11.293, W106 41.309
VEER LEFT: N35 11.258, W106 41.915
UP: N35 11.285, W106 42.190
FENCE: N35 10.965, W106 41.975
BRIDGE: N35 10.722, W106 41.998
SHORT DOWN: N35 10.252, W106 42.294
DOWN: N35 09.980, W106 42.763
MESA TRAIL: N35 09.636, W106 42.935
PARK2: N35 09.735, W106 43.099
Petroglyph Waypoints:
PM 1: N35 11.366, W106 41.437
PM 2: N35 11.354, W106 41.486
PM 3: N35 11.286, W106 41.535
PM 4: N35 11.231, W 106 41.563
PM 5: N35 11.170, W106 41.652
PM 6: N35 11.257, W106 41.656
PM 7: N35 11.280, W106 41.689
PM 8: N35 11.237, W106 41.757
PM 9: N35 11.226, W106 41.798
HANDS: N35 11.173, W106 41.814
TOP: N35 11.333, W106 42.061
CRANE: N35 11.306, W106 42.097
COYOTE: N35 11.278, W106 42.113
COYOTE2: N35 11.323, W106 42.179
MACAW TRAIL: N35 09.737, W106 43.072
CLIFF TRAIL: N35 09.718, W106 43.131
BN 1: N35 09.812, W106 43.329
BN 2: N35 09.819, W106 43.341
FACES: N35 09.826, W106 43.361
BN3: N35 09.838, W106 43.394
Map Filename:
PMtoBNMap.jpg
Hike GPS File Name:
PiedrasMarcadasToBocaNegra_DMDM.gpx
Hike GPS File:
Click
link
to download hike waytrack file
Text Author:
Dawn McIntyre
Map Author:
Dawn McIntyre
Waypoints Author:
Dawn McIntyre
Track Author:
Dawn McIntyre
Maintainer:
Dawn McIntyre
Editor:
Marilyn Warrant