Piedra Lisa South Hike
In Sandia Mountain West Region
Map File Source: Roger Holloway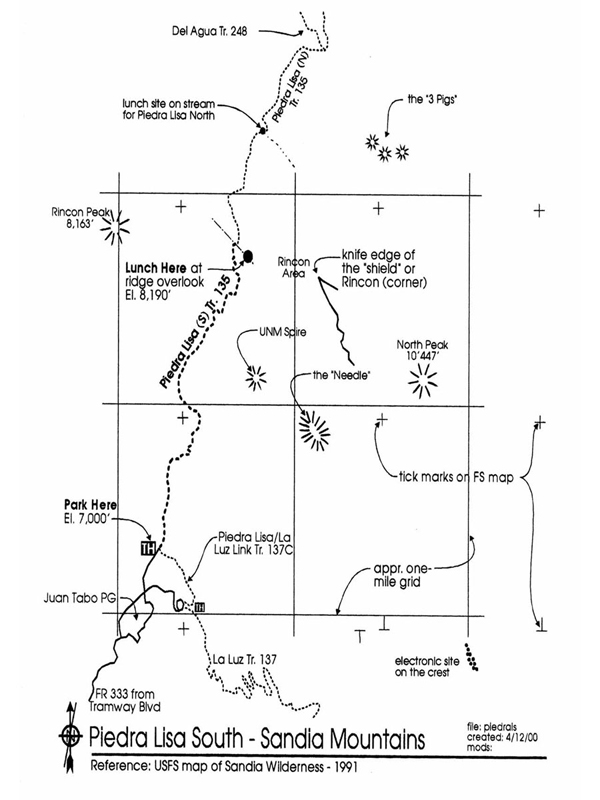 Hike Key:
H10052
Last Updated:
03/20/2023 2:36pm
Last Updated By:
Marilyn Fixer
Hike Class:
C (Challenging)
Hike Distance:
3.9 mi
Minimum Elevation:
6931 ft
Elevation Change:
1239 ft
Total Uphill:
1239 ft
Total Downhill:
1239 ft
Avg. Grade:
13 %
Route Type:
InOut
On Trail:
Yes
Paved or Gravel Roads:
Yes
GPS Advised:
No
Hiker Limit (NF/BLM/NP):
15 (Sandia Wilderness)
Drive Distance Round Trip:
30 mi
Drive Time One-Way:
0:30
Hiking Seasons:
Spring, Fall, and Winter
New Mexico Game Unit:
8
Hike Status:
Published
Highlights
Great views of the Rincon Mountains, spectacular views of the nearly vertical northwest face of the Sandias (The Shield), Sandia Crest, Mt. Taylor, and the city.
Cautions
Rather steep hike, so trekking poles are recommended.
Trailhead Directions
Tramway Blvd north past Tramway Rd. After a sweep to the left and a sweep to the right, go right on Forest Road 333 to Juan Tabo Picnic Ground. Drive past gate to Picnic Ground, stop and pay the fee (or put a Golden Age Pass on the dashboard), and continue up and around to the right on dirt road to parking area on left for Trail 135.
Actual Hike
Hike up the road (closed) for about 15 min. until the trail takes off to the right. You will first cross the dry stream bed for Juan Tabo Canyon. Then the trail takes you rather steeply in a northerly direction up the mountain. About half way up the trail you will see the massive Needle off to the right (which looks more like a shovel) and the UNM Spire (a triangular spike) down in front of it. To the left and ahead is Rincon Peak. At the top of the ridge between Rincon Peak and (Rincon area) is a rock mound where we went up and had lunch with a 360-degree view. If you continued on Piedra Lisa Spring Trail 135 down the other side, you would eventually come out on the other (northern) end near Placitas another 3 or so miles further.
Comments
This is a rather steep hike but it is pleasant, has great views. The Rincon (corner) area has some spectacular views in 360 degrees of the nearly vertical northwest face of the Sandias (the Shield), the crest, Mt. Taylor and the city. Found a small shrub that had leaves somewhat like holly but bore acorns (a variety of Live Oak according to Ted Cooley). There are, incidentally, four secondary trails leading off to the right to different features. The first one goes to a waterfall, the second, called Movie Trail, goes to "The Prow", the third, called Fletcher Trail, goes to UNM Spire, and the fourth, called Rincon Spur Trail, goes to The Knife Edge of the Shield.
Waypoints
PARK: N35 13.389, W106 29.002
Map Filename:
PiedraLisaSouthImage_RH.jpg
Hike GPS File Name:
PiedraLisaSouthWayTrack_JBJB.gpx
Hike GPS File:
Click
link
to download hike waytrack file
Text Author:
Roger Holloway
Map Author:
Roger Holloway
Waypoints Author:
John Boyd
Track Author:
John Boyd
Maintainer:
Bill Gloyd
Editor:
Marilyn Warrant