Peiffer Trail To Cat Mesa Hike
In Jemez Mountains Region
Map File Source: NG Topo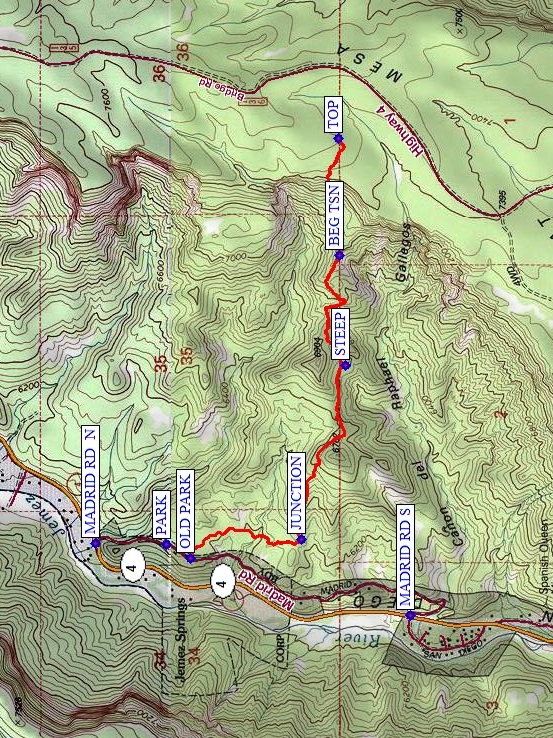 Hike Key:
H10468
Last Updated:
06/30/2021 12:00am
Last Updated By:
Marilyn Fixer
Hike Class:
D (Difficult)
Hike Distance:
4.8 mi
Minimum Elevation:
6185 ft
Elevation Change:
1295 ft
Total Uphill:
1510 ft
Total Downhill:
1510 ft
Avg. Grade:
15 %
Route Type:
InOut
On Trail:
No
Paved or Gravel Roads:
Yes
GPS Advised:
Yes
Drive Distance Round Trip:
100 mi
Drive Time One-Way:
1:15
Hiking Seasons:
Spring, Summer, and Fall
New Mexico Game Unit:
6A
Hike Status:
Published
Highlights
Colorful rocks in all directions. "The art of the cairn."
Cautions
There is a very tricky area at mile point 2.1, which is a narrow trail with edge exposure (see photo). Requires good balance, sturdy ankles, and hiking poles.
Trailhead Directions
From Albuquerque take I-25 North, US 550 West, SR 4 North to Madrid Road. Southern end of Madrid road is 14.5 miles after you turn on SR 4. Madrid road is a north/south road that parallels SR 4. Look for the southern end after 14 miles (it is shortly after a left hand turn called Zia Court). Turn right on Madrid Road. It first heads south and then turns north. From turn at SR 4 drive 1 mile to waypoint PARK. The spot at waypoint OLD PARK is now blocked with pile of rocks. The resident across the road will tell you that parking a vehicle on National Recreation land is not allowed. He advised that parking is OK further north on Madrid road just before the road starts downhill and sometimes marked by 2 cairns on west side. Pull over as best you can and make sure that there is room for a vehicle to pass you.
Actual Hike
The hike starts at the power poles near OLD PARK (0.0 mi). Hike directly East and then South following the contour line as you walk around the north side of a fairly large gulch. You will be walking on a vaguely defined trail through small open areas and juniper trees with minimal bush whacking. A previous hiker stacked some cairns, hence vaguely defined. The goal is to join the Peiffer Trail at the JUNCTION (0.5 mi) on a small saddle. At JUNCTION head East toward the mesa. The views at this point are good but be prepared for spectacular panoramic views coming up. The trail from this point is up and down, well defined and on some sections precipitous on one side. At STEEP (1.2 mi) you will start climbing in earnest.
At 2.1 miles BEG TSN is the trickiest spot. To get around this last knob before the final climb to the mesa top you hike 0.10 mi around left of knob. This stretch has 6 inch footing (sometimes less), loose rock and soil on a steep hillside. To further intimidate hikers, the tree-covered drop is some 85-100 ft.
On the final ascent there are 1 or 2 spots where you may wonder if you have lost the trail, so check your GPS and stay on track. A few spots in this section are also loose footing and steep. The last approach to the TOP (2.4 mi) of the mesa is surprisingly easy. Lunch at the top of the mesa and hike back on same trail.
Comments
HIKING POLES HIGHLY RECOMMENDED, and don't attempt this hike if high winds are expected. Do not be tempted to alter the route as you need to stay out of the gulches in summer monsoon season or any time rain is predicted.
When you return remember to turn north at the saddle to return to PARK. The Peiffer Trail continues West but dead ends about 50 ft above the road. Getting down to the road from there on the south side is private property and north side is an awful gulch.
The use of a GPS when leading this hike is recommended.
The class has been changed to E due to the tricky part of the trail.
Waypoints
Access
MADRID RD N: N35 45.228, W106 42.463
MADRID RD S: N35 44.305, W106 42.719
Hike
PARK: N35 45.021, W106 42.465
OLD PARK: N35 44.949, W106 42.515
JUNCTION: N35 44.625, W106 42.447
STEEP: N35 44.496, W106 41.820
BEG TSN: N35 44.512, W106 41.424
TOP: N35 44.516, W106 41.005
Map Filename:
PeifferTrailToCatMesaMap1_MW.JPG
Hike GPS File Name:
PeifferTrailToCatMesaWayTrack_DBDB.gpx
Hike GPS File:
Click
link
to download hike waytrack file
Text Author:
Sue Pelletier
Map Author:
Marilyn Warrant
Waypoints Author:
Dick Brown
Track Author:
Dick Brown
Maintainer:
Marilyn Warrant
Editor:
Howard Carr