Lybrook Badlands West From South Hike
In Cuba Region
Map File Source: DeLorme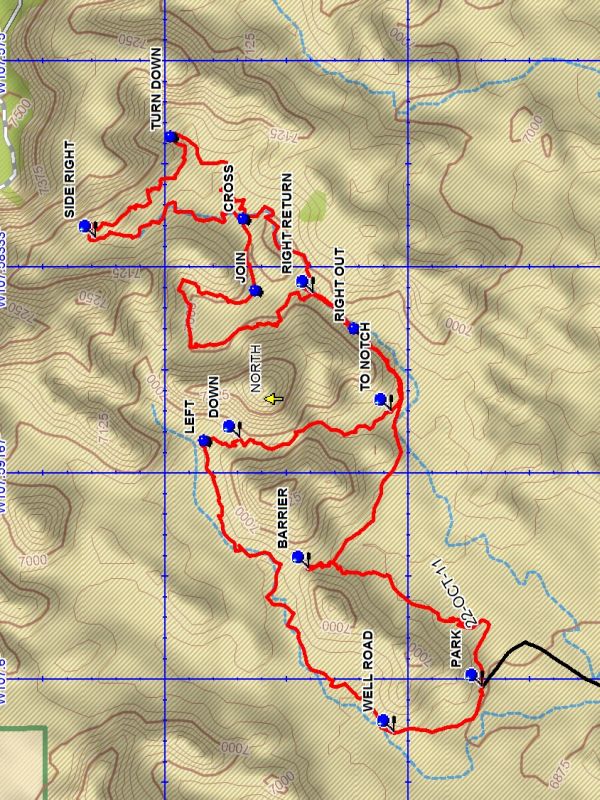 Hike Key:
H10440
Last Updated:
03/23/2021 12:00am
Last Updated By:
Marilyn Fixer
Hike Class:
C (Challenging)
Hike Distance:
6.6 mi
Minimum Elevation:
6875 ft
Elevation Change:
200 ft
Total Uphill:
240 ft
Total Downhill:
240 ft
Avg. Grade:
4 %
Route Type:
Messy
On Trail:
No
Paved or Gravel Roads:
No
GPS Advised:
Yes
Drive Distance Round Trip:
230 mi
Drive Time One-Way:
2:30
Hiking Seasons:
Spring and Fall
New Mexico Game Unit:
7
Hike Status:
Published
Highlights
A wonderland of mesas and hoodoos.
Cautions
All off-trail hike over rough and sometimes difficult terrain. Hiking poles are recommended.
Trailhead Directions
From Albuquerque take I-25 north to Bernalillo. Go west on US 550 through San Ysidro, thru Cuba (reset the odometer here), Go about 48.5 miles from Cuba to the "Chaco Culture" sign and turn left at TO-CHACO. Take the road to Chaco until the road to Chaco turns right, turning to dirt. Stay straight on the paved road to the first dirt road on the left TO-LYBROOK and turn left. After about 3 miles there will be a view into the badlands. The road descends here. Go about 1 more mile to a road on the left at NORTH-TO-HIKE. Turn left and proceed about 1.5 miles to PARK.
Actual Hike
From PARK (0.0 mi) go northwest along the streambed and into the canyon to near the BARRIER (0.7 mi), enjoying the interesting formations in the area. Then leave the canyon and continue in the streambed until SIDE RIGHT (2.5 mi) is reached and leave the streambed and proceed along the base of the cliff where there are numerous formations. At TURN DOWN (3.0 mi) go down the wash eventually you will have doubled back on your track at CROSS (2.0 mi). Climb the bank and go north until you reach a main wash at JOIN (3.5 mi) and go right up a streambed. Loop around the large cliff rimmed bowl and follow a streambed south until RIGHT RETURN (4.3 mi) is reached. Go right and follow the track you came in on and leave the streambed at RIGHT OUT (4.5 mi). Continue until TO NOTCH (4.7 mi) is reached. Go north between the surrounding cliffs and go up over a barrier to DOWN (5.1 mi). At the bottom go LEFT (5.3 mi) and follow the base or wash to the southwest to the WELL ROAD (6.3 mi). Follow the well road south to parking.
Comments
The Rating was increased to C because the hike is off trail over rough and sometimes difficult terrain. The use of a GPS for this hike is recommended.
This hike is within the BLM Lybrook Fossil Area (also known as the Lybrook Badlands). See the Lybrook Badlands Brochure for more information. Prohibited are campfires, collecting fossils or petrified wood, climbing on delicate geologic features, traveling in groups of more than eight people, and trespassing on adjacent tribal lands.
Waypoints
NORTH-TO-HIKE: N36 10.697, W107 36.416
TO-CHACO: N36 14.472, W107 42.390
TO-LYBROOK: N36 10.362, W107 40.614
PARK: N36 11.848, W107 36.022
BARRIER: N36 12.204, W107 35.735
CROSS: N36 12.338, W107 34.882
SIDE RIGHT: N36 12.643, W107 34.933
TURN DOWN: N36 12.487, W107 34.682
JOIN: N36 12.313, W107 35.056
RIGHT RETURN: N36 12.195, W107 35.066
RIGHT OUT: N36 12.111, W107 35.148
TO NOTCH: N36 12.035, W107 35.353
DOWN: N36 12.345, W107 35.419
LEFT: N36 12.419, W107 35.421
WELL ROAD: N36 12.029, W107 36.131
Map Filename:
LybrookBadlandsWestFromSouthImage_DB - Copy.jpg
Hike GPS File Name:
LybrookBadlandsWestFromSouthWayTrack_MLDB.gpx
Hike GPS File:
Click
link
to download hike waytrack file
Text Author:
Dick Brown
Map Author:
Dick Brown
Waypoints Author:
Dick Brown
Track Author:
Dick Brown
Maintainer:
Carl Gervais
Editor:
Marilyn Warrant