Holiday Mesa to Giant Footprint Ruin Hike
In Jemez Mountains Region
Map File Source: NG Topo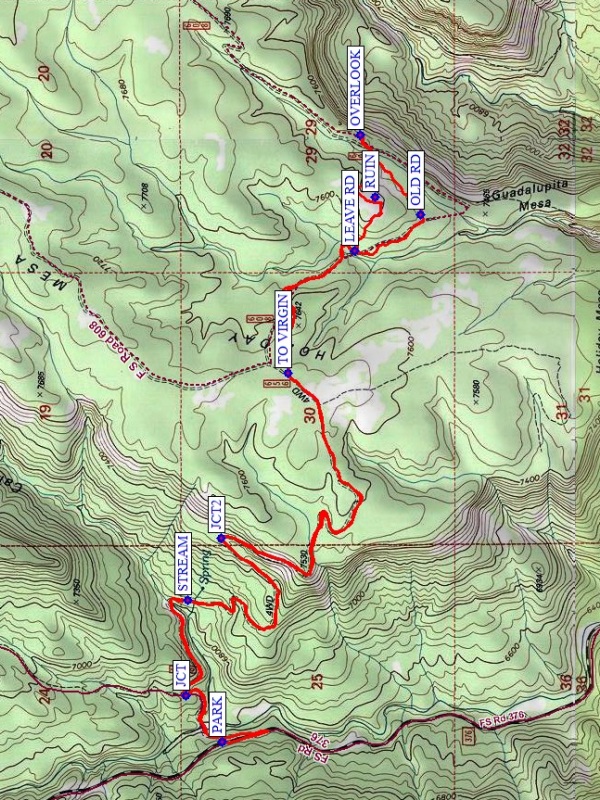 Hike Key:
H10514
Last Updated:
03/07/2021 12:00am
Last Updated By:
Marilyn Fixer
Hike Class:
D (Difficult)
Hike Distance:
9.3 mi
Minimum Elevation:
6595 ft
Elevation Change:
1059 ft
Total Uphill:
1425 ft
Total Downhill:
1425 ft
Avg. Grade:
7 %
Route Type:
InOut
Protected:
Yes
On Trail:
No
Paved or Gravel Roads:
Yes
GPS Advised:
Yes
Drive Distance Round Trip:
112 mi
Drive Time One-Way:
1:30
Hiking Seasons:
Spring, Summer, and Fall
New Mexico Game Unit:
6A
Hike Status:
Published
Highlights
Visit the extensive Pueblo ruins on Holiday Mesa and then view the colorful Virgin Canyon.
Cautions
Hiking poles helpful for the steep rocky road and fording the Guadalupe River (knee to mid-thigh depth in the spring). Water shoes required.
Trailhead Directions
Go north on I-25 to exit 242, west (left) on US 550 23 miles to San Ysidro, and north (right) on SR 4 past the Jemez Pueblo and milepost 9 to SR 485. Go West (left) on SR 485 NW through the Gilman TUNNELS for 6.6 miles to trail head. After you pass through the Gilman tunnels, SR 485 turns into unpaved FR 376. Drive 3.3 mi more and PARK-HOLIDAY (0.0 mi) on the right just after a dirt road to the right.
Actual Hike
Walk back to the dirt road, and go down to the Guadalupe River and ford it. In the spring, plan on knee-deep water, water shoes, and hiking poles for stability (possibly strong current). In the fall unless there have been heavy rains, there shouldn't be as much water. Continue going uphill on the old jeep road FS-608. At JCT (0.25 mi), the road forks, go right. In about a half mile you may hear the sound of falling water off to your right and then pass by a STREAM (0.7 mi) on your left. Shortly after that, the road becomes very rocky, which will last for about a mile. At JCT2 (1.6 mi), go right. At the top of the hill, stop for a break in the shade and step over to your right for a view. Continue on this road past a sign TO VIRGIN (3.1 mi) until you LEAVE RD (3.8 mi) to start up the hill towards the pueblo RUIN (4.1 mi). Take your time here to appreciate the ruin's extent, find a few pottery shards, and perhaps some worked obsidian (photos only, please). Have lunch here or continue on to the OVERLOOK (4.5 mi), where there are window rocks, rocks shaped like strange creatures, stone benches and many scenic views of Virgin Canyon and beyond. Walk around the hill on the way back to OLD RD (4.85 mi) and continue north to LEAVE RD then return the way you came.
Comments
The ruins are called Giant Footprint due to their size and extent. They are also called Kwastiyukwa ruins. See Photomontage of Kwastiyukwa model with original aerial photograph and Kwastiyukwa ruins for more information about this ruins, and OVERVIEW AND SYNTHESIS OF THE ARCHEOLOGY OF THE JEMEZ PROVINCE, NEW MEXICO for a large pdf document about New Mexico pueblo ruins in general.
The steep part of the rocky road is 11% grade. If you leave at 8:15 AM, don't plan to be back in Albuquerque until 6:00 PM or later (includes time to stop at Walatowa each way for a snack & pit stop).
Waypoints
TUNNELS: N35 43.953, W106 45.856
PARK: N35 46.122, W106 47.379
JCT: N35 46.237, W106 47.200
STREAM: N35 46.231, W106 46.829
JCT2: N35 46.124, W106 46.552
TO VIRGIN: N35 45.911, W106 45.912
LEAVE RD: N35 45.702, W106 45.472
RUIN: N35 45.638, W106 45.264
OVERLOOK: N35 45.686, W106 45.024
OLD RD: N35 45.493, W106 45.295
Map Filename:
HolidayMesaToGiantFootprintRuinMod3Map_MW.jpg
Hike GPS File Name:
HolidayMesaToGiantFootprintRuinModWayTrack_MW.gpx
Hike GPS File:
Click
link
to download hike waytrack file
Text Author:
Marilyn Warrant
Map Author:
Marilyn Warrant
Waypoints Author:
Marilyn Warrant
Track Author:
Marilyn Warrant
Maintainer:
Randy Simons
Editor:
Howard Carr