Golden Open Space – North West Hike
In Golden Region
Map File Source: NG Topo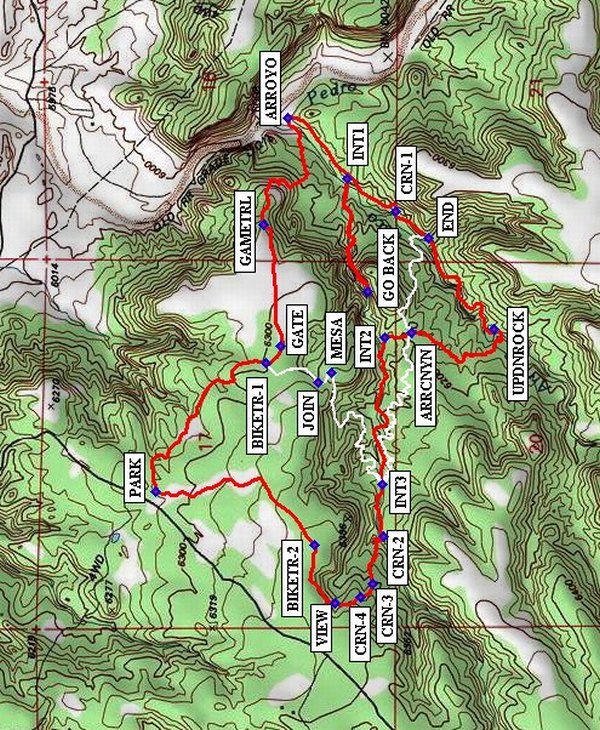 Hike Key:
H10261
Last Updated:
08/01/2023 6:34pm
Last Updated By:
Marilyn Warrant
Hike Class:
B (Moderate)
Hike Distance:
5.4 mi
Minimum Elevation:
6022 ft
Elevation Change:
360 ft
Total Uphill:
518 ft
Total Downhill:
518 ft
Avg. Grade:
4 %
Route Type:
CW Loop
Protected:
Yes
On Trail:
No
Paved or Gravel Roads:
No
GPS Advised:
Yes
Drive Distance Round Trip:
70 mi
Drive Time One-Way:
1:15
Hiking Seasons:
Spring, Fall, and Winter
New Mexico Game Unit:
8
Hike Status:
Waiting Editor
Access Description:
Golden Open Space Access
Highlights
Views from mesa, colorful canyons in arroyos, some slick rock.
Cautions
Most uphill on return. Bring hiking poles for the steep sections.
Trailhead Directions
From Albuquerque, take I-40 to North 14. In Cedar Crest just after the school on the left, turn left onto LA MADERA Road (the road to East Mountain High School). Stay on the windy but paved road until it turns to dirt at a cattleguard in 7.5 miles. It is about 2 miles from this point to [PARK] (0.0 mi).
Actual Hike
Hike southeast on the bike trail to BIKETR-1 (0.6 mi). Bear left until you come to a GATE (0.7 mi) through a fence. Go directly east to a point where there is a GAMETRL (1.0 mi). Follow the trail, which is faint at times, to the southeast, descending to the bottom of the ARROYO (1.5 mi). Don't take the big arroyo, but instead take a right and go southwest up the smaller arroyo to INT1 (1.75 mi). You'll be returning shortly to this point, so people who would rather rest can wait here. Bear right up the side arroyo until you are beyond the stone walkway and then turn around and GO BACK (2.1 mi) down the arroyo to enjoy this fascinating section in the other direction. At the intersection take the other branch up that arroyo. You'll pass a cairn CRN-1 (2.7 mi) and the current END (2.8 mi) of a new bike trail (the Arroyo Canyon Trail). Continue until the UPDNROCK (3.2 mi). Walk up that rock to leave the arroyo and head northwest. Go past another intersection with the Arroyo Canyon Trail at ARRCNYN (3.6 mi) then at INT2 (3.7 mi) descend into the same arroyo as you were in at GO BACK. Go left up the arroyo. Pass another intersection with the Arroyo Canyon Trail at INT3 (4.1 mi). Continue on to CRN-2 (4.3 mi). Leave the arroyo at this point and continue uphill past CRN-3 (4.5 mi) and CRN-4 (4.6 mi) to the VIEW (4.6 mi) at the stony head of another canyon. Make a sharp right (east) to BIKETR-2 (4.8 mi) (if you don't you'll end up walking along the boundary fence). Go northeast then north on this trail back to parking.
The hike trail described above is shown in red on the map. The white trail (the Arroyo Canyon Trail) is included on the map and in the waytrack file as an option if you need to stay out of the arroyo on the return (e.g., rain that makes the rocks slippery) and/or want a less-steep way up. The extra waypoints MESA and JOIN will help you rejoin the loop bike trail if you take the Arroyo Canyon Trail.
Comments
There are steep portions to get down into the arroyo area then back up to the mesa. There are many interesting arroyos, including the deep one with red rocks from the Abo formation that is also featured in the San Pedro Creek North hike. Many of the red rocks have round spots or streaks of white reputed to be caused by bacterial reduction of iron. There are also some beautiful green rocks in the bottoms of the arroyos.
The hike is off-trail over rough terrain. This hike is on the Golden Open Space, which is part of the City of Albuquerque's Open Space Program. This hike is best done in dry weather. Sorry, some of the uphill will be after lunch.
This hike used to be called San Pedro Creek North West.
Waypoints
LA MADERA: N35 10.421, W106 20.225
PARK: N35 16.289, W106 19.695
BIKETR-1: N35 16.021, W106 19.314
GATE: N35 15.985, W106 19.265
GAMETRL: N35 16.027, W106 18.906
ARROYO: N35 15.970, W106 18.592
INT1: N35 15.824, W106 18.769
GO BACK: N35 15.774, W106 19.102
CRN-1: N35 15.708, W106 18.866
END: N35 15.628, W106 18.947
UPDNROCK N35 15.470 W106 19.213
ARRCNYN: N35 15.671, W106 19.224
INT2: N35 15.735, W106 19.238
INT3: N35 15.740, W106 19.673
CRN-2: N35 15.737, W106 19.824
CRN-3: N35 15.763, W106 19.965
CRN-4: N35 15.792, W106 20.004
VIEW: N35 15.855, W106 20.021
BIKETR-2: N35 15.903, W106 19.851
MESA: N35 15.863, W106 19.343
JOIN: N35 15.895, W106 19.371
Map Filename:
GoldenOpenSpace-NorthWestMapRev3_MW.JPG
Hike GPS File Name:
GoldenOpenSpace-NorthWestWayTrack2_MW.gpx
Hike GPS File:
Click
link
to download hike waytrack file
Additional File 1 Link
Click
link
to download an additional file.
Text Author:
Marilyn Warrant
Map Author:
Marilyn Warrant
Waypoints Author:
Marilyn Warrant
Track Author:
Dick Brown
Maintainer:
Marilyn Warrant
Editor:
Howard Carr