Galisteo Basin – Nathan – Derek Loop Hike
In Santa Fe Region
Map File Source: Garmin BaseCamp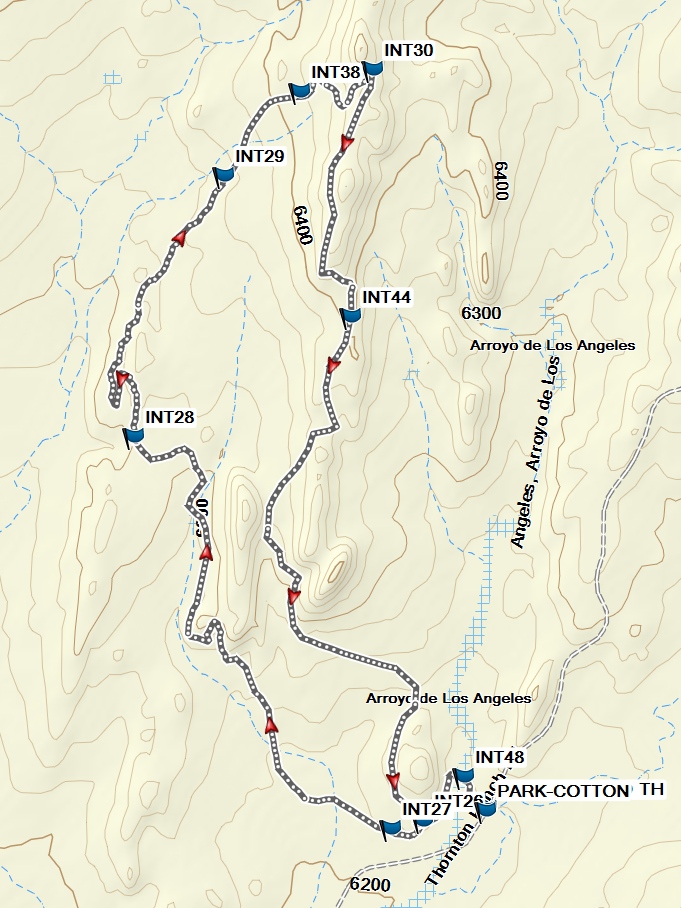 Hike Key:
H10663
Last Updated:
06/29/2021 12:00am
Last Updated By:
Marilyn Fixer
Hike Class:
B (Moderate)
Hike Distance:
5.3 mi
Minimum Elevation:
6220 ft
Elevation Change:
260 ft
Total Uphill:
435 ft
Total Downhill:
435 ft
Avg. Grade:
2 %
Route Type:
CW Loop
On Trail:
Yes
Paved or Gravel Roads:
No
GPS Advised:
No
Drive Distance Round Trip:
150 mi
Drive Time One-Way:
1:30
Hiking Seasons:
Spring, Summer, Fall, and Winter
New Mexico Game Unit:
43
Hike Status:
In Process
Highlights
Winding bike trails through pinyon-juniper forest with views of the distant mountains.
Cautions
Some steep areas-poles may be needed.
Trailhead Directions
There are two ways to get to the preserve. The first is to take I-25 to the Hwy 285 exit 290. Travel 6.2 miles to the preserve entrance on the right.
The second option is to travel east on Interstate 40 to exit 196 north on 41 approximately 33 miles to the junction of 285. Turn left. Just past the Max Coll Corridor sign 1.2 miles turn left onto Astral Valley. Drive .4 miles and turn on to Thornton Road. Continue 2.2 miles to the end of the road. This road can be impassable if muddy, wet conditions exist. If it is impassable the hike can be re-routed from Cowboy Shack TH.
Actual Hike
From the Cottonwood Trailhead, cross the arroyo, then at INT48 turn left. Pass INT26 (Derek's Delight). At INT27 (0.3 mi), take the left trail (Nathan's Trace). Stay on Nathan's Trace at INT28 (1.6 mi) by taking the right-hand (north) trail. At INT29 (2.3 mi), join Leona's Loop for a short distance, then join Julia's Crossing at INT38 (2.6 mi). Continue east to INT30 (2.8 mi) for the highest point of the hike at Derek's Delight. Turn south (right) here. Continue past the intersection with Bob Was Here at INT44 (3.4 mi) all the way back to INT26, where you'll take a left to cross the arroyo again and return to the Cottonwood Trailhead.
Comments
The Thornton family donated their ranch for hiking and residences. The preserve is managed and maintained by the Commonweal Conservancy in Santa Fe.
See the Galisteo Basin Preserve Trails website for more information.
Waypoints
PARK-COTTON: N35 26.950, W105 55.833
INT48: N35 27.008, W105 55.880
INT26: N35 26.931, W105 55.971
INT27: N35 26.918, W105 56.038
INT30: N35 28.234, W105 56.079
INT44: N35 27.806, W105 56.126
INT38: N35 28.196, W105 56.236
INT29: N35 28.051, W105 56.400
INT28: N35 27.597, W105 56.595
Map Filename:
GalisteoBasinNathan-DerekLpMap.jpg
Hike GPS File Name:
GalisteoBasinNathan-DerekLp_MW.gpx
Hike GPS File:
Click
link
to download hike waytrack file
Text Author:
Cathy Intemann
Map Author:
Marilyn Warrant
Waypoints Author:
Marilyn Warrant
Track Author:
Marilyn Warrant
Maintainer:
Cathy Intemann
Editor:
Howard Carr