Foothills North From Embudito Hike
In Sandia Mountain West Region
Map File Source: DeLorme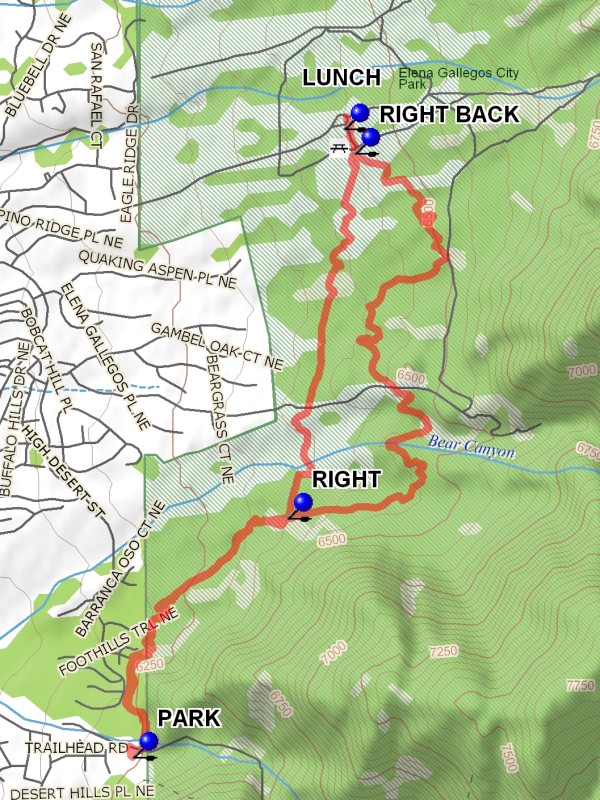 Hike Key:
H10127
Last Updated:
12/15/2020 12:00am
Last Updated By:
Marilyn Warrant
Hike Class:
B (Moderate)
Hike Distance:
6 mi
Minimum Elevation:
6185 ft
Elevation Change:
325 ft
Total Uphill:
460 ft
Total Downhill:
460 ft
Avg. Grade:
5 %
Route Type:
Lollypop
On Trail:
Yes
Paved or Gravel Roads:
Yes
GPS Advised:
Yes
Drive Distance Round Trip:
20 mi
Drive Time One-Way:
0:15
Hiking Seasons:
Spring, Fall, and Winter
New Mexico Game Unit:
8
Hike Status:
Published
Highlights
A pleasant meandering hike in the foothills to the Elena Gallegos Picnic Area.
Cautions
None.
Trailhead Directions
In Albuquerque from Tramway take Manitoba Drive. Manitoba is the first street north of Montgomery that goes east. Go east. This street is not exactly straightforward. It turns right at a T intersection, then left, then left at a T intersection, then right, then right, and finally there is Trailhead Road to the left. This road goes to the parking lot. PARK (0.0 mi) here.
Actual Hike
Leave the parking lot at the north end and take the trail that goes east and down into the arroyo. The trail curves around to the north and passes by a number of million dollar homes snuggled up against the open space land. Go RIGHT (1.1 mi) at the Y. This trail meanders back and forth, up and down for over two miles before reaching Elena Gallegos Picnic Area. Have LUNCH (2.5 mi) here someplace. To go back, shortly after leaving the paved road take a RIGHT BACK (2.4 mi). It will be 2.5 miles back to parking.
Comments
Most of this hike is on Albuquerque Open Space land.
Waypoints
PARK: N35 08.152, W106 28.887
RIGHT: N35 08.767, W106 28.400
RIGHT BACK: N35 09.706, W106 28.186
LUNCH: N35 09.770, W106 28.222
Map Filename:
FoothillsNorthFromEmbudito_Dnew.jpg
Hike GPS File Name:
FoothillsNorthFromEmbuditoWayTrack_DBDB.gpx
Hike GPS File:
Click
link
to download hike waytrack file
Text Author:
Dick Brown
Map Author:
Marilyn Warrant
Waypoints Author:
Dick Brown
Track Author:
Dick Brown
Maintainer:
Not Assigned
Editor:
Marilyn Warrant