Embudo – Three Gun Spring – Embudito Hike
In Sandia Mountain West Region
Map File Source: Garmin BaseCamp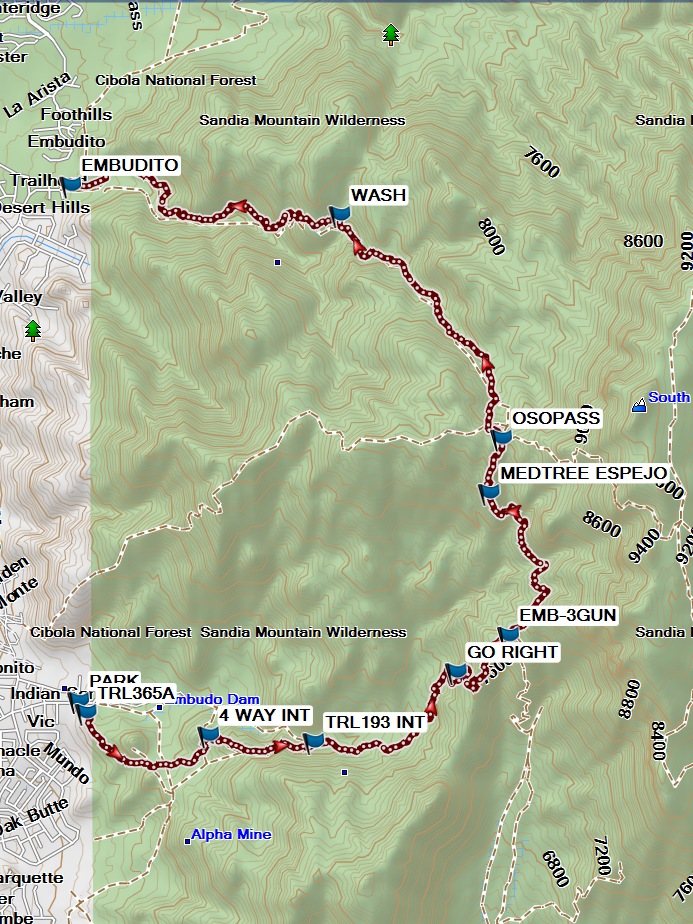 Hike Key:
H10382
Last Updated:
03/20/2023 2:27pm
Last Updated By:
Marilyn Fixer
Hike Class:
E (Most difficult)
Hike Distance:
8.2 mi
Minimum Elevation:
6172 ft
Elevation Change:
2290 ft
Total Uphill:
2550 ft
Total Downhill:
2440 ft
Avg. Grade:
13 %
Route Type:
Oneway
On Trail:
Yes
Paved or Gravel Roads:
Yes
GPS Advised:
No
Hiker Limit (NF/BLM/NP):
15 (Sandia Wilderness)
Drive Distance Round Trip:
22 mi
Drive Time One-Way:
0:45
Hiking Seasons:
Spring and Fall
New Mexico Game Unit:
8
Hike Status:
Published
Highlights
A challenging hike with views from the west side of the Sandias, cactus, wildflowers. Dense forest at the top of Embudito.
Cautions
Bring hiking poles for the Embudito downhill part (little round pebbles). This part of the hike can also be hot, so bring plenty of water.
Trailhead Directions
Arrange to leave a shuttle car at the Embudito trailhead. Drive the van of hikers plus the shuttle driver to the Embudo trailhead and [PARK] (0.0 mi).
Actual Hike
Starting from the upper trailhead, go through the pass-thru to TRL365A (0.1 mi). Hike up this trail past a 4 WAY INT (0.9 mi) to join the Horse Bypass trail to TRL193 INT (1.5 mi), where you join the Embudo Trail. Continue on a steep uphill past a confusing point at GO RIGHT (2.5 mi) to the intersection of Embudo with the Three Gun Spring trail at EMB-3GUN (3.2 mi). This is a good place to have a snack. Turn north on Three Gun Spring, and continue uphill until you find a good place for lunch (some will want to get most of the uphill out of the way and have lunch at the pass). The trail gets more tree-covered as you go north. You'll go by the Espejo Medallion Tree on the right (MEDTREE ESPEJO (4.3 mi)). At OSOPASS (4.6 mi), go straight onto the Embudito trail, and head down past the WASH (6.3 mi) to the foothills and the EMBUDITO (8.2 mi) trailhead where you left the shuttle car. Wait while the van driver and the shuttle car driver head back to the Embudo trailhead and retrieve the van.
Comments
This hike takes a while to do plus the time for the shuttle. Plan on returning a little bit late to the senior center.
Waypoints
PARK: N35 05.925, W106 28.879
TRL365A: N35 05.874, W106 28.839
4 WAY INT: N35 05.776, W106 28.176
TRL193 INT: N35 05.747, W106 27.608
GO RIGHT: N35 06.050, W106 26.837
EMB-3GUN: N35 06.208 W106 26.555
MEDTREE ESPEJO: N35 06.828, W106 26.660
OSOPASS: N35 07.064, W106 26.593
WASH: N35 08.033, W106 27.466
EMBUDITO: N35 08.161, W106 28.922
Map Filename:
Embudo-3Gun-EmbuditoMap1_MW.jpg
Hike GPS File Name:
Embudo-3Gun-EmbuditoWayTrackEd_MW.gpx
Hike GPS File:
Click
link
to download hike waytrack file
Text Author:
Marilyn Warrant
Map Author:
Marilyn Warrant
Waypoints Author:
Marilyn Warrant
Track Author:
Marilyn Warrant
Maintainer:
John Cooper
Editor:
Howard Carr