El Calderon Hike
In El Malpais Region
Map File Source: DeLorme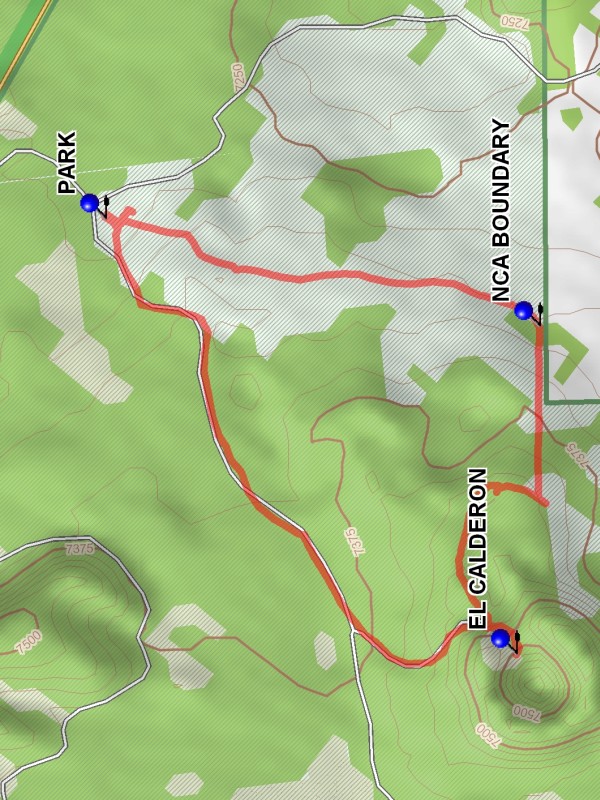 Hike Key:
H10160
Last Updated:
12/15/2020 12:00am
Last Updated By:
Marilyn Warrant
Hike Class:
B (Moderate)
Hike Distance:
3 mi
Minimum Elevation:
7270 ft
Elevation Change:
230 ft
Total Uphill:
230 ft
Total Downhill:
230 ft
Avg. Grade:
4 %
Route Type:
CW Loop
On Trail:
No
Paved or Gravel Roads:
No
GPS Advised:
Yes
Drive Distance Round Trip:
180 mi
Drive Time One-Way:
1:30
Hiking Seasons:
Spring, Fall, and Winter
New Mexico Game Unit:
13
Hike Status:
Published
Highlights
Visit several bat cave entrances and a small extinct volcanic cone.
Cautions
Sections of this hike are rough, with ankle twisting chunks of lava.
Trailhead Directions
From Albuquerque take I-40 west to exit 81 at the west end of Grants. Go south on SR 53 for 19.3 miles to CALDERON TURN. Turn left and travel 0.3 miles to PARKING.
Actual Hike
From parking go south until you reach the NCA BOUNDARY (0.9 mi). Turn west and proceed until the base of El Calderon is reached. Then circle counterclockwise to the east side and go west to the lip of EL CALDERON (1.7 mi). After viewing the crater go back out and go north on the path which will turn east and take you back to parking.
Comments
This is a short hike, but sections of it are rough, with ankle twisting chunks of lava.
Waypoints
CALDERON TURN: N 34 58.415, W 108 00.128
PARK: N 34 58.183, W 108 00.195
NCA BOUNDARY: N 34 57.510, W 108 00.399
EL CALDERON: N 34 57.546, W 108 01.018
Map Filename:
ElCalderon_Dnew.jpg
Hike GPS File Name:
ElCalderonWayTrack_JBJB.gpx
Hike GPS File:
Click
link
to download hike waytrack file
Text Author:
Dick Brown
Map Author:
Dick Brown
Waypoints Author:
Dick Brown
Track Author:
Dick Brown
Maintainer:
Not Assigned
Editor:
Marilyn Warrant