East Fork Box Wade Hike
In Jemez Mountains Region
Map File Source: NG Topo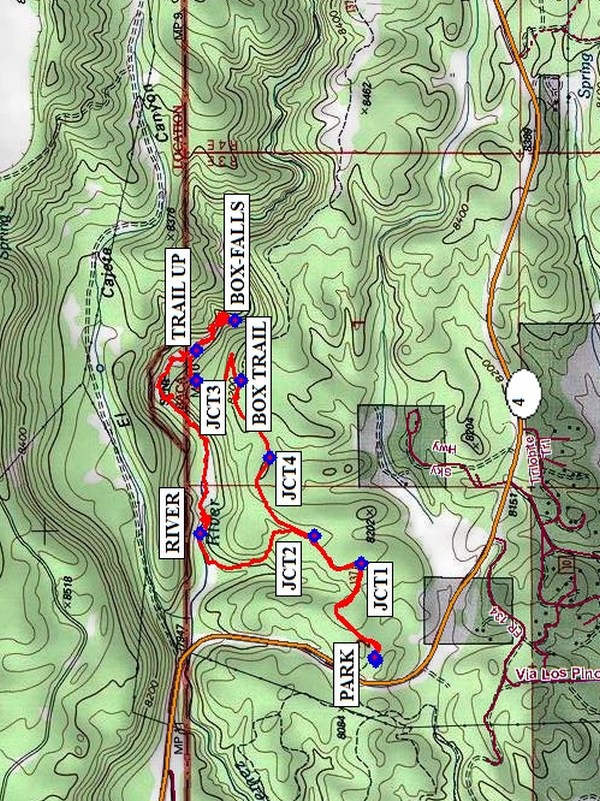 Hike Key:
H10302
Last Updated:
12/15/2020 12:00am
Last Updated By:
Marilyn Warrant
Hike Class:
B (Moderate)
Hike Distance:
4.7 mi
Minimum Elevation:
7948 ft
Elevation Change:
271 ft
Total Uphill:
502 ft
Total Downhill:
502 ft
Avg. Grade:
9 %
Route Type:
Loop
On Trail:
No
Paved or Gravel Roads:
Yes
GPS Advised:
Yes
Drive Distance Round Trip:
140 mi
Drive Time One-Way:
1:45
Hiking Seasons:
Spring, Summer, and Fall
New Mexico Game Unit:
6A
Hike Status:
Published
Highlights
Wildflowers, aspens, and rock walls. Deep pools and waterfalls at "the Box."
Cautions
Bring trekking poles and water shoes.
Trailhead Directions
From Albuquerque take I-25 to Bernalillo. At Bernalillo take US 550 to San Ysidro. Take SR 4 north to La Cueva. Stay on SR 4 and go east for 5.5 miles to the point where the highway crosses over the South Fork of the Jemez River. From there it is less than a mile to a small picnic area on the left near the top of the hill where there is parking at PARK (0.0 mi). The trail starts here.
Actual Hike
Start hiking on the main Trail #137. At each of the two trail junctions (JCT1 (0.4 mi) and JCT2 (0.6 mi)), take the trail to your left and go down to the RIVER (1.1 mi). Depending on rainfall and time of year, you may be able to cross a couple of times on rocks, but eventually you'll need to don your water shoes. You'll need to take your hiking boots with you, however, since you won't be returning the way you came. When you reach the BOX-FALLS (2.4 mi), pick a spot on the rocks for lunch. We came up a steep TRAIL UP (2.1 mi), but there is reputed to be an easier way up that intersects our trail at JCT3 (3.3 mi) if you wade further downstream. You'll go by the trail sign BOX TRAIL (3.5 mi) that you may have noticed on the East Fork – Las Conchas hike. Then go right at JCT4 (3.9 mi), and return the way you came. (You could just stay on Trail #137 and you'll end up at the same place.)
Comments
This hike is a great one for a hot summer day. Be sure to bring hiking sticks and your water shoes. The Jemez is always cooler than Albuquerque, and you get to have wet feet (and as much more of you as you wish) for much of the hike. There are deep pools at the waterfalls. There are many beautiful flowers near the stream, as well as handsome cliffs.
Waypoints
PARK: N35 49.202, W106 35.432
JCT1: N35 49.237, W106 35.138
JCT2: N35 49.351, W106 35.057
RIVER: N35 49.629, W106 35.050
TRAIL UP: N35 49.639, W106 34.502
BOX-FALLS: N35 49.544, W106 34.415
JCT3: N35 49.640, W106 34.595
BOX TRAIL: N35 49.531, W106 34.594
JCT4: N35 49.461, W106 34.825
Map Filename:
EastForkBoxWadeImageRev_MW.JPG
Hike GPS File Name:
EastForkBoxWadeWayTrackRev_KSKS.gpx
Hike GPS File:
Click
link
to download hike waytrack file
Text Author:
Marilyn Warrant
Map Author:
Marilyn Warrant
Waypoints Author:
Ken Smith
Track Author:
Ken Smith
Maintainer:
Marilyn Warrant
Editor:
Howard Carr