David Canyon Loop Hike
In Cedro Peak Region
Map File Source: NG Topo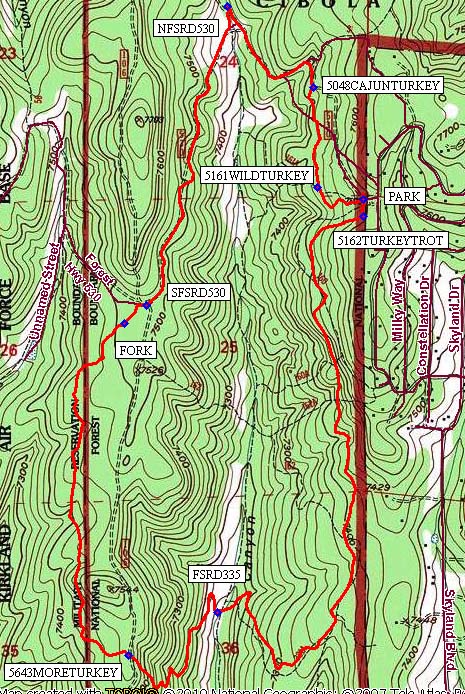 Hike Key:
H10098
Last Updated:
06/29/2021 12:00am
Last Updated By:
Marilyn Warrant
Hike Class:
C (Challenging)
Hike Distance:
6.9 mi
Minimum Elevation:
7159 ft
Elevation Change:
440 ft
Total Uphill:
783 ft
Total Downhill:
783 ft
Avg. Grade:
5 %
Route Type:
Loop
On Trail:
Yes
Paved or Gravel Roads:
Yes
GPS Advised:
No
Drive Distance Round Trip:
60 mi
Drive Time One-Way:
0:45
Hiking Seasons:
Spring and Fall
New Mexico Game Unit:
14
Hike Status:
Published
Highlights
A pleasant loop hike down the east ridge of the canyon and back up the west ridge. Nice ponderosa pines at this altitude.
Cautions
Take plenty of water and sun protection. Treking poles may be useful to some senior hikers on a few rocky slopes.
Trailhead Directions
From I-40 East take Exit 175 South to Tijeras. Go 9.5 miles south on NM 337. Turn right on Raven Rd and follow it 1.8 miles. Turn right on Mars Court. Drive about 200 ft through the open gateway and PARK (0.0 mi) along the loop before the 2nd gate. The trailhead is next to the first gate (south gate).
Actual Hike
The trail starts at a sign post near the gate entrance to the parking area (south). The post will show TR 162 Turkey Trot and TR 161 Wild Turkey. Follow 5162TURKEYTROT (0.1 mi), south for 2 miles where it bends west to drop into David Canyon at FSRD335 (2.1 mi). The trail switches back up the west side of the canyon, (switchbacks, rocky footing).
At the top of the ridge, continue on 5643MORETURKEY (3.1 mi). Be sure to watch for a FORK (4.5 mi) on the trail. Take the right fork (northeast) to join the south Forest Service road, SFSRD530 (4.6 mi). (Just FYI, FR 106 crosses FR 530 and heads up to a knoll). Turn right on FR 530, and hike on the road, gradually downhill back into David Canyon.
Near the bottom of the canyon (north), where forest roads 530 and 335 intersect, NFSRD530 (5.7 mi), continue to follow FR 530, now hiking southeast (trail turns sharp right, almost back on itself). Turn right (south) at 5048CAJUNTURKEY (6.3 mi). Turn left on TR 161 at 5161WILDTURKEY (6.6 mi) for a gradual uphill climb back to the parking lot.
Comments
The David Canyon Loop hike trails are shown in the lower left part of the Manzanita Mountains Trail System map.
Hike data were determined using a Garmin GPSMap 62 and Garmin BaseCamp's DEM for TOPO US 24K Southwest.
Waypoints
PARK: N34 59.032, W106 20.994
5162TURKEYTROT: N34 58.982, W106 20.993
FSRD335: N34 57.820, W106 21.513
5643MORETURKEY: N34 57.694, W106 21.832
FORK: N34 58.669, W106 21.845
SFSRD530: N34 58.721, W106 21.766
NFSRD530: N34 59.598, W106 21.477
5048CAJUNTURKEY: N34 59.361, W106 21.172
5161WILDTURKEY: N34 59.067, W106 21.155
Map Filename:
David Cyn_160313_BG.jpg
Hike GPS File Name:
DAVIDCYNLP_160313_BG.gpx
Hike GPS File:
Click
link
to download hike waytrack file
Text Author:
Bill Gloyd
Map Author:
Bill Gloyd
Waypoints Author:
Bill Gloyd
Track Author:
Bill Gloyd
Maintainer:
Bill Gloyd
Editor:
Marilyn Warrant