Dale Ball Trails – Randall Davey Audubon Center Round Trip Hike
In Santa Fe Region
Map File Source: Garmin BaseCamp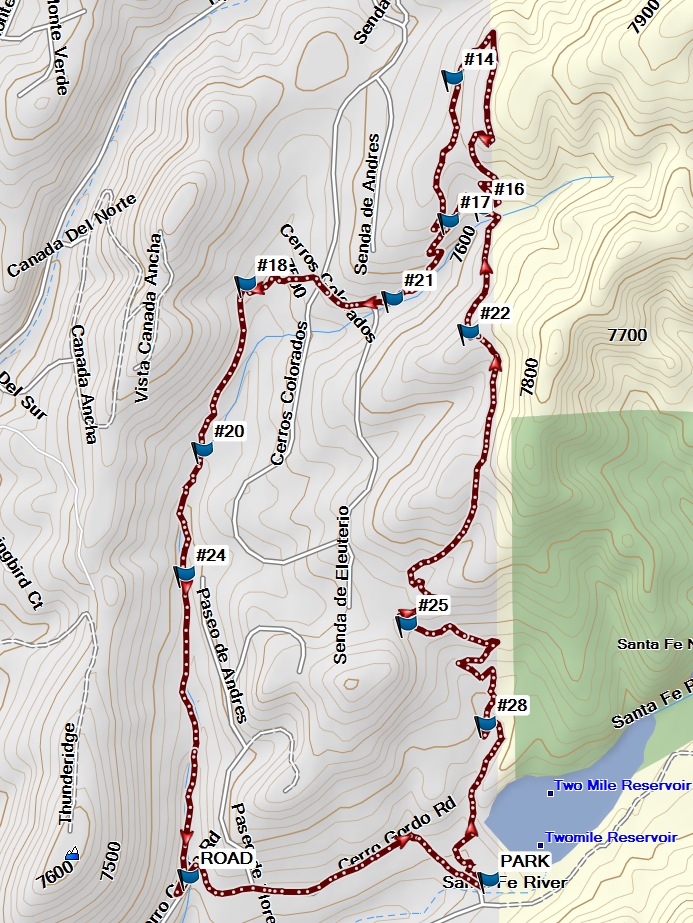 Hike Key:
H10660
Last Updated:
04/12/2022 10:33am
Last Updated By:
Marilyn Fixer
Hike Class:
B (Moderate)
Hike Distance:
4.5 mi
Minimum Elevation:
7280 ft
Elevation Change:
450 ft
Total Uphill:
680 ft
Total Downhill:
680 ft
Avg. Grade:
6 %
Route Type:
Loop
On Trail:
Yes
Paved or Gravel Roads:
No
GPS Advised:
No
Drive Distance Round Trip:
65 mi
Drive Time One-Way:
1:15
Hiking Seasons:
Spring, Summer, Fall, and Winter
New Mexico Game Unit:
44
Hike Status:
In Process
Highlights
This hike also provides access to the Randall Davey Audubon Center, the Nature Conservancy Preserve and the northern portions of the Dale Ball Trails system. This is a very well-marked trail with maps posted regularly along the trail. This is an urban trail through juniper and pinon forest.
Cautions
Poles are recommended for steep rocky areas.
Trailhead Directions
I-25 north to Old Pecos Trail/466 Exit 284. Turn right on East Zia and left onto Old Santa Fe Trail. Go another 1.12 miles and turn right onto Camino del Monte Sol. Turn right again onto Camino de Cruz Blanca and St. John's College. Continue east on Camino de Cruz Blanca toward Calle Romolo. Stay straight onto Camino Cabra. Turn right onto Canyon Road, portions unpaved. At Cerro Gordo turn left and immediately into the parking lot for the preserve and Dale Ball Trail Head. Find the sign with the trail head.
Actual Hike
The hike begins at the Cerro Gordo Trailhead. We will park in the lot and start our hike at marker #28, #25, #22, #16, #15, #14, #17, #21, #18, #20,#24 across the road and follow the road back to the trail head and parking lot for a total of 4.3 miles. We will then drive to the Randall Davey Audubon Center for lunch. After lunch, we'll walk around the nature trail shown on the map.
Comments
The Santa Fe Foothill Trails brochure provides useful maps and information for the Dale Ball Trail system, La Tierra Trail system and Arroyo Hondo Open Space.
The hike data were derived from a track recorded by a Garmin GPSMap 64s, with trackpoints during breaks deleted.
Waypoints
RANDALL: N35 41.403, W105 53.300
PARK: N35 41.183, W105 53.735
#28: N35 41.389, W105 53.740
#25: N35 41.521, W105 53.870
#22: N35 41.904, W105 53.768
#16: N35 42.066, W105 53.746
#14: N35 42.238, W105 53.795
#17: N35 42.049, W105 53.801
#21: N35 41.947, W105 53.892
#18: N35 41.966, W105 54.134
#20: N35 41.749, W105 54.203
#24: N35 41.586, W105 54.233
ROAD: N35 41.187, W105 54.226
Map Filename:
DaleBallNearRandallMap_MW.jpg
Hike GPS File Name:
DaleBallNearRandallWayTrack_MW.gpx
Hike GPS File:
Click
link
to download hike waytrack file
Text Author:
Cathy Intemann
Map Author:
Marilyn Warrant
Waypoints Author:
Cathy Intemann
Track Author:
Marilyn Warrant
Maintainer:
Cathy Intemann
Editor:
Howard Carr