Bosque del Apache – Canyon Trail Hike
In Socorro Region
Map File Source: Garmin BaseCamp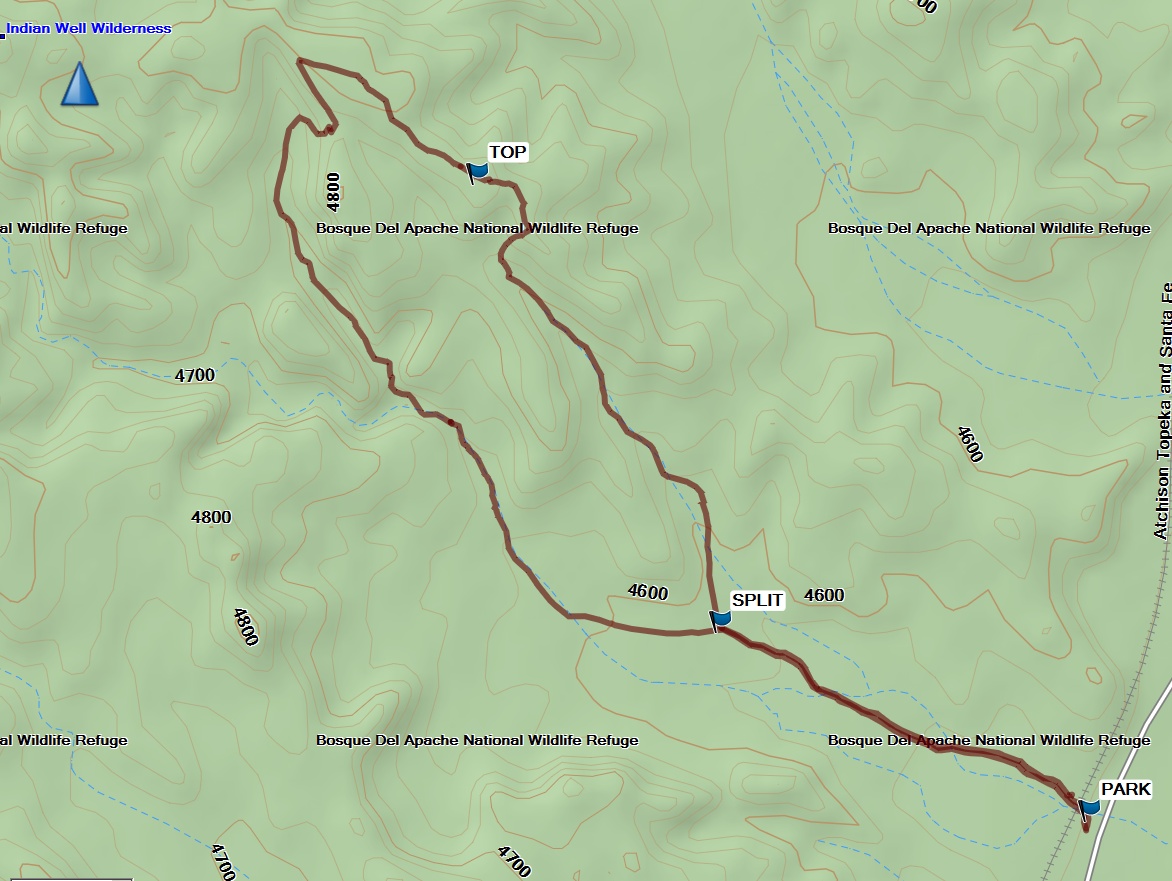 Hike Key:
H10684
Last Updated:
03/04/2021 12:00am
Last Updated By:
Marilyn Fixer
Hike Class:
B (Moderate)
Hike Distance:
2.5 mi
Minimum Elevation:
4550 ft
Elevation Change:
285 ft
Total Uphill:
650 ft
Total Downhill:
650 ft
Avg. Grade:
6 %
Route Type:
Lollypop
On Trail:
No
Paved or Gravel Roads:
No
GPS Advised:
No
Drive Distance Round Trip:
200 mi
Drive Time One-Way:
2:30
Hiking Seasons:
Spring, Fall, and Winter
New Mexico Game Unit:
20
Hike Status:
Published
Highlights
A 360 degree view, including an overlook of the Bosque del Apache.
Cautions
Some steep sections, so bring your hiking poles.
Trailhead Directions
Take I-25 to Socorro. From Socorro, drive eight miles south on I-25 to exit 139, continue east one-fourth mile on US 380 to the flashing signal at San Antonio, turn right onto Old Highway 1, continue south nine miles to the Visitor Center for a pit stop. Then continue south from the Visitor Center past the main entrance to the refuge on the left for approximately a mile. Trailhead and parking area are on the right. A railroad trestle crosses the area.
Actual Hike
This trail loops through the southern edge of the Indian Well Wilderness Unit. From PARK, follow the trail to SPLIT (0.4 mi) and take the left-most branch. Continue hiking uphill to TOP (1.5 mi) for a 360 view of the surroundings. Then it's downhill to SPLIT (2.1 mi) then back the way you came.
Comments
Named for a distinctive geological formation in the foothills that trapped and held water which was used by Native Americans and settlers alike, the Indian Well wilderness area also provides access to the Chihuahuan Desert.
The Canyon National Recreation Trail takes visitors through native Chihuahuan desert and into Solitude Canyon, a deep ravine carved into sandstone by flash floods over the ages. Scenic vistas of the canyon and the refuge are favorite photo opportunities. The abundance of burrows, holes, nests, and middens gives evidence to the snakes, lizards, birds, bats, rabbits, kangaroo rats, and other desert wildlife that are active along the trail, especially in the cooler morning and evening hours.
Waypoints
PARK: N33 47.283, W106 54.139
SPLIT: N33 47.438, W106 54.516
TOP: N33 47.807, W106 54.765
Map Filename:
BosqueDelApache-CanyonTrailMap_MW.jpg
Hike GPS File Name:
BosqueDelApache-CanyonTrail_MW.gpx
Hike GPS File:
Click
link
to download hike waytrack file
Text Author:
Pam Bliss
Map Author:
Marilyn Warrant
Waypoints Author:
Marilyn Warrant
Track Author:
Marilyn Warrant
Maintainer:
Cathy Intemann
Editor:
Dawn McIntyre