Bird House Ridge Loop Hike
In Cedro Peak Region
Map File Source: NG Topo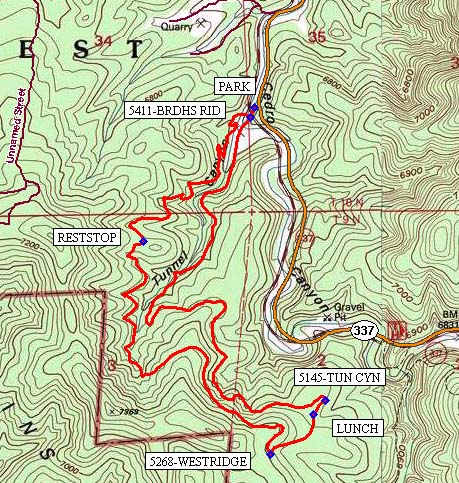 Hike Key:
H10520
Last Updated:
06/27/2021 12:00am
Last Updated By:
Marilyn Fixer
Hike Class:
C (Challenging)
Hike Distance:
4.8 mi
Minimum Elevation:
6593 ft
Elevation Change:
638 ft
Total Uphill:
1114 ft
Total Downhill:
1114 ft
Avg. Grade:
7 %
Route Type:
CCW Loop
On Trail:
Yes
Paved or Gravel Roads:
Yes
GPS Advised:
No
Drive Distance Round Trip:
40 mi
Drive Time One-Way:
0:45
Hiking Seasons:
Spring, Summer, and Fall
New Mexico Game Unit:
14
Hike Status:
Published
Highlights
Beautiful, woodsy well-groomed trail close to home. As the name implies, you'll hear a number of bird sounds along the trail.
Cautions
Bring hiking poles for the steep parts. For snow, boot clamp-on traction devices work well.
Trailhead Directions
From Albuquerque take I-40 east to exit 175. Go south to Tijeras. From the traffic light in Tijeras go south on NM 337 (Old Highway 14) for 3.5 miles to Tunnel Canyon. PARK (0.0 mi) on the right.
Actual Hike
Start out on the Tunnel Canyon trail. In less than 50 meters at 5411-BRDHS RID (0.1 mi), take the well-marked trail on the right heading west up the hill. Continue following this trail up the ridge until you reach a hard-earned RESTSTOP (1.0 mi).
After that, keep gaining altitude and eventually reach a plateau. At the intersection of the 5268-WESTRIDGE (2.5 mi) trail, turn left (northeast) and start down the hill.
As they say, the rest is all downhill, but be mindful not to slip and fall. Most will enjoy a break at the not-too-scenic LUNCH (2.7 mi) spot. Shortly thereafter, reach the intersection 5145-TUN CYN (2.8 mi) and turn left (west). Follow this trail all the way back (2 miles) to PARK.
Near the end of the trail on your right, note the historic tunnel, which likely is the canyon's namesake.
Comments
The Bird House Ridge trail was constructed under the supervision of the Sandia Ranger District and the Cebola Forest Service in 2011 and 2012. It is an excellent trail for both hikers and bikers. There are some views of the Cedro Peak to the east and views of the surrounding forests. It is uphill for the first half of the trail and quite strenuous. The entire rest of the hike is downhill, mostly in the trees and quite relaxing.
The Birdhouse Ridge Loop hike trails are shown on the middle-left of the Manzanita Mountains Trail System map.
Hike data were determined using a Garmin GPSMap 62 and Garmin BaseCamp's DEM for TOPO US 24K Southwest.
Waypoints
PARK: N35 02.795, W106 22.992
5411-BRDHS RID: N35 02.765, W106 23.006
RESTSTOP: N35 02.402, W106 23.389
5268-WESTRIDGE: N35 01.777, W106 22.934
LUNCH: N35 01.894, W106 22.780
5145-TUN CYN: N35 01.935, W106 22.738
Map Filename:
BirdhsRidgeLp_BG.jpg
Hike GPS File Name:
BirdhsRidgeLp_BG.gpx
Hike GPS File:
Click
link
to download hike waytrack file
Text Author:
Bill Gloyd
Map Author:
Bill Gloyd
Waypoints Author:
Bill Gloyd
Track Author:
Bill Gloyd
Maintainer:
Bill Gloyd
Editor:
Marilyn Warrant